5761 Views
Very much in the center of Rome, the piazza of Campo dei Fiori is one of the city's liveliest. Visitors, expats and long-time residents pass through this square at all times of night and day. And the daily market, held Monday to Saturday from 8 am to 2 pm, is the only one where you can still find fresh veggies in center of the city. There are restaurants and bars galore, yet there are only a few good places among them to eat and drink. Many restaurants cater to tourists and skimp on quality—such as the bars around the periphery of the piazza, though these are okay places for a drink and a spot of people watching.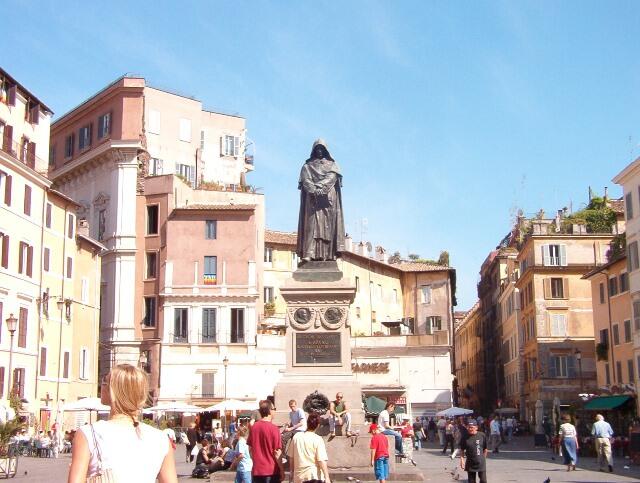 The first thing to know about Campo dei Fiori is that it means "field of flowers," and there are several theories about how the piazza derived its name. The simplest says that in Ancient Rome, this part of town was a field of flowers. Second is that the statue in the middle of the piazza is of Giordano Bruno, who was burned at the stake by the Catholic Church in the late 16th Century for being a proponent of Copernicus's teachings. His glowering face is angled toward the Vatican.
A walk around Campo dei Fiori wouldn't be complete without a jaunt into Piazza Farnese, the large square with two bathtub-shaped fountains. The palazzo that dominates the piazza is worth a visit just for its dreamy ceiling frescoes by Annibale Carracci, and its courtyard where you can appreciate the lovely architecture. Behind the palazzo is the charming Via Giulia, a very straight and wide street by Roman standards that makes a pleasant place for a stroll.
The Market
Though there are many tourist-touting stalls in the market, there are also some selling produce to Rome's residents. My favorite treat if I'm passing through is a tall cup of freshly squeezed pomegranate juice. There are also several stalls where you can check out the seasonal fruits and vegetables, and some selling easily packable items like dried porcini mushrooms and spices—though stay away from the radioactive yellow limoncello!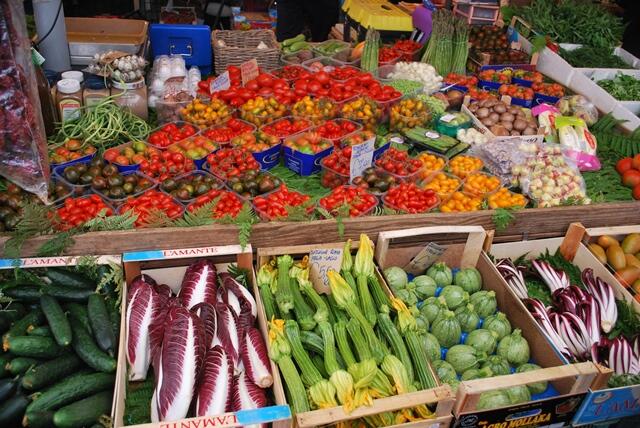 Gelato
Carapina
This new-to-Rome gelateria opened last spring and is another great place to get your natural gelato fix. Before it opened you had to go all the way to Florence to try Carapina's gelato. Order and receive your creamy cone through the window facing the road for fun.
Via dei Chiavari, 37
+39 06 689 3843
carapina.it
Open: Mon – Sat 11 am – 8.30 pm
Restaurants near Campo dei Fiori
Like I said, most of the restaurants in this area leave something to be desired. But there are still places where you can be delighted by delicious Italian food.
Settimio al Pellegrino
This is one of those places where everything you've ever heard about Italy comes true. To get in, you have to make a reservation, and even then you have to ring the doorbell and announce yourself. The place always looks closed with its drawn white curtains, but don't be fooled! Once you've made it past the threshold, your choices of pastas and meat dishes are limited but that's because here you can always be sure to get fresh food. For dessert try their exquisite montblanc.
Via del Pellegrino, 117
+39 06 688 01978
Open Baladin
This isn't Italian food, but it is the place to be on any night. With micro-brewed beers on tap, homemade potato chips in the fryer and large local burgers on the grill, Open Baladin makes for the perfect alternative. This restaurant gets busy, especially on weekends, and reservations are highly recommended.
Via degli Specchi, 6
+39 06 683 8989
openbaladinroma.it
Open: daily 12 noon – 2 am
Roscioli
A long-time favorite on Via dei Giubonari, Roscioli is known best for its carbonara and great selection of cheeses and meats in its deli cases up front. If you're looking for something a little more casual, try Roscioli's bakery just around the corner. Here you can get a good slice of pizza or a bag of sweets (try their brutti ma buoni).
Restaurant: Via dei Giubonari, 21/22
+39 06 687 5287
salumeriaroscioli.com
Open: Mon – Sat 12.30 pm – 4 pm and 7 pm – 12 midnight
Bakery: Via dei Chiavari, 34
+39 06 686 4045
anticofornoroscioli.it
Open: daily 7 am – 7.30 pm
Campo dei Fiori comes alive at night…
Bars
Most of the bars around Campo attract crowds of foreign study abroad students and young Italians. They have names like "Drunken Ship" and "Sloppy Sams," but some break the mold…
Jerry Thomas Speakeasy
The Jerry Thomas Speakeasy offers a very different drinking experience. In true speakeasy fashion, you've got to ring the bell and know the password to get in (available on their website). The bartenders also dress the part and are not kidding around in their knowledge of mixology.
Vicolo Cellini, 30
+39 06 968 45937
thejerrythomasproject.it
Open: Tue – Sat 10 pm – 4 am
L'Angolo di Vino
This cozy wine bar is the perfect solution to the loud crowds in Campo. There is a good selection of wines and snacks and it's a good place to go if you're looking to share an intimate bottle of something good with friends or someone special.
Via dei Balestrari, 12
+39 06 68 64 413
angolodivino.it
Open: Tue – Sat 10.30 am – 3 pm; daily 5 pm – 1 am