2700 Views
Back in 2015, we interviewed the two stars of our Italian cooking class, Nonna Bruna and Nonna Antonella… But our cookery lessons in Rome have been so popular that we've needed to recruit another Italian grandma! We're proud to introduce you to Nonna Giuliana; born and bred in Rome, Giuliana lived abroad with her husband for 21 years before returning to the Italian capital in 1994. Happy to be home, she is now teaching our guests how to become true Italian cooks… We caught up with her for a few minutes to find out what she loves most about Rome and its food.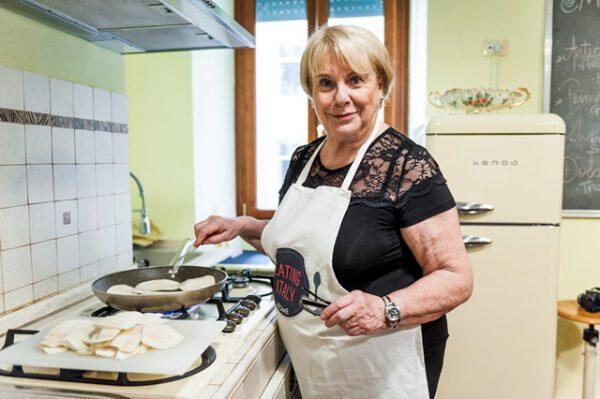 1) Tell us about you and your family.
I have been married for 46 years. I have 2 daughters and 3 grandchildren. They are all great in the kitchen, except my husband!
2) Who first taught you to cook?
I can thank my own nonna for teaching me many things, including cooking.
3) The biggest perk about working for Eating Italy Food Tours is…
Getting to entertain people and meeting new people from all over the world!
4) What makes Rome the greatest city on the planet?
The city's deep culture and long history.
5) Don't leave Rome without…?
… Throwing a coin in the Trevi fountain, so that you will be sure to return!
6) What is Rome's best kept secret?
It's the little things and surprises behind every corner, that almost go unnoticed, that make Rome truly unique.
7) If tonight was your last supper in Rome, what might we catch you eating?
My favourite Roman dishes are pasta cacio e pepe (pasta with pecorino and black pepper) and carciofi alla giudia (Jewish-style artichokes).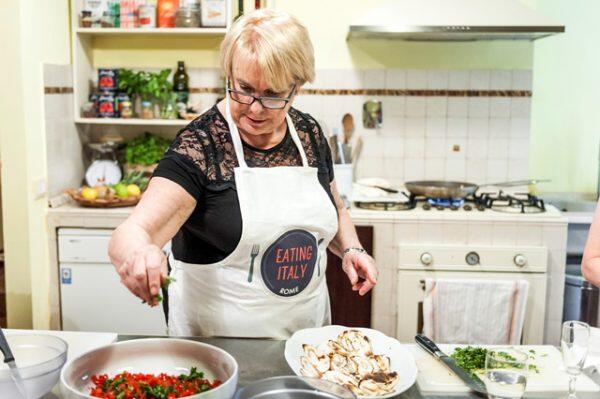 8) So you're hosting your own dinner party at home. What knock-out dish are you going to prepare?
My guests always love my home made lasagne "in bianco" with white sauce and seasonal vegetables.
9) What is your favorite part of the cooking class?
Getting people to participate in the creation of my dishes and making them happy with my cooking!
10) What are your hobbies outside the kitchen?
I am passionate about decoupage, and I really like to restore and change the appearance of old furniture.