3562 Views
In the 19th century, De Pijp (the Pijp) neighborhood was supposed to become a new center of Amsterdam, with a brand new railway station on the current location of Sarphatipark. But instead of luxurious villas and large avenues, the Pijp became famous for its exotic restaurants, vibrant bars and the biggest street market in the city. If you visit Amsterdam, don't stick to the crowded center of the city, and instead give the Pijp a chance to enchant you.
Eating and Drinking – Best Restaurants in de Pijp
De Pijp is a very multi-cultural neighborhood, which becomes apparent in the cuisine offered by restaurants and cafés in the area. Bazar is perhaps one of the most famous Turkish and Moroccan restaurants in the district; with its colorful lamps and mosaics on the walls, the interior will make you feel like you're indeed in the middle of a colorful marketplace. The meat served in Bazar is halal, and I can definitely recommend all lamb dishes. For dessert, order a glass of mint tea with a selection of Turkish sweets: the baklava is to die for!
Albert Cuypstraat 182
+31 (0)20 675 0544
bazaramsterdam.nl
Open: daily 10 am – 12 midnight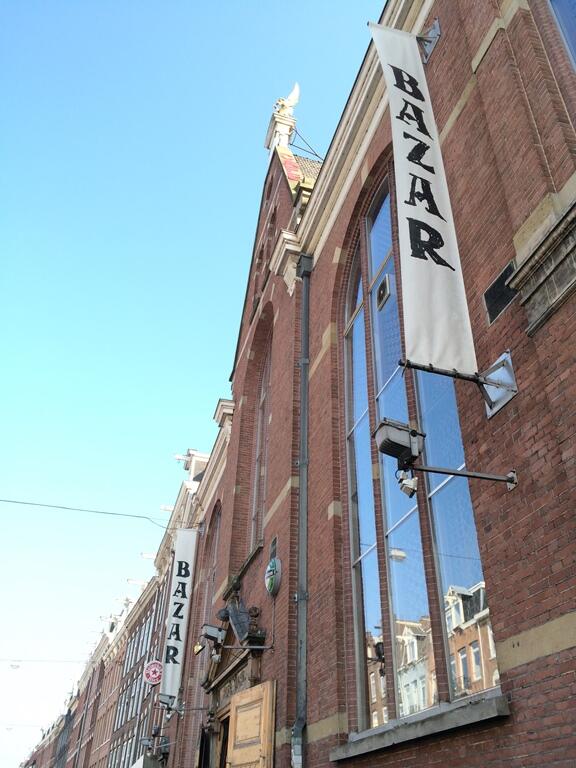 Recently opened Sir Hummus is also a very unique hotspot. Run by 3 friends from Israel, it serves the best hummus I have ever tasted. Their menu makes it clear what Sir Hummus specializes in, because it includes only 3 dishes (classic hummus, hummus with boiled egg, and hummus with shredded beef), all of them served with a small salad and fresh pita bread straight from a next-door bakery. If you'd like to give making your own hummus a try, Sir Hummus also sells the ingredients, including tahini imported from Israel.
Van der Helstplein 2
+31 (0)20 664 7055
sirhummus.nl
Open: Tue – Fri 12 noon – 7 pm; Sat – Sun 12 noon – 5 pm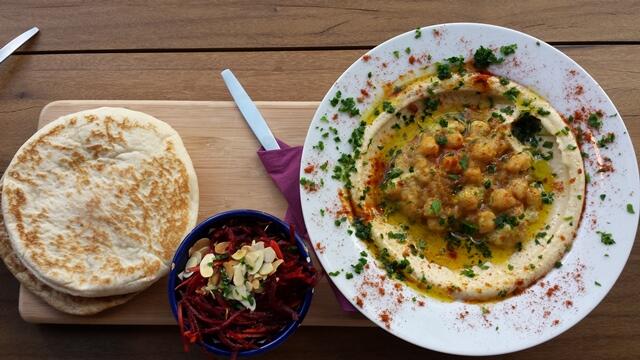 De Pijp also has many Dutch cafés with special beers on tap and the usual deep-fried snacks. With spring on its way, you should sit outside on the terrace of Het Paardje, where the sun shines almost the entire day. Pilsvogel is also one of the favorite meeting spots of the Pijp's residents.
Het Paardje, Gerard Douplein 1
+31 (0)20 664 3539
cafehetpaardje.nl
Opening times not available
Pilsvogel, Gerard Douplein 14
+31 (0)20 664 6483
pilsvogel.nl
Open: Sun – Thu 10 am – 1 am; Fri – Sat 10 am – 3 am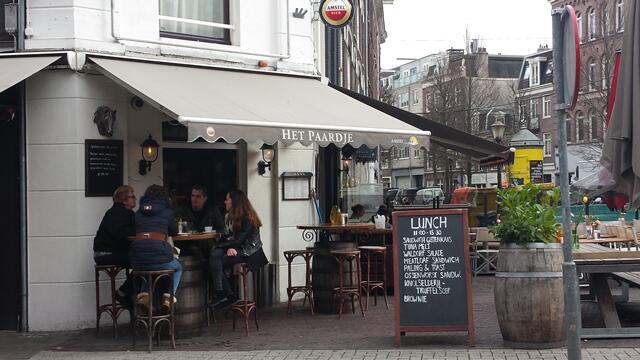 De Pijp by Night
De Pijp is a great place to be during the evening. Unlike the bars in the center, those here are much less touristy and serve drinks at reasonable prices. You will find many locals at Café De Groene Vlinder (Café Green Butterfly), Café Flamingo, and Chocolate Bar, but be careful if you tend to get claustrophobic. These Amsterdam bars are relatively small and get jam-packed on Friday and Saturday evenings. If you don't mind the crowds, you should definitely try Flamingo's gin and tonic with a cucumber ribbon.
Café De Groene Vlinder, Albert Cuypstraat 130
+31 (0)20 470 2500
cafe-de-groene-vlinder.nl
Open: Mon – Thu 10 am – 1 am; Fri – Sat 10 am – 3 am; Sun 10 am – 12 midnight
Café Flamingo, Eerste van der Helststraat 37
+31 (0)20 670 9007
cafeflamingo.nl
Open: Sun – Thu 10 am – 1 am; Fri – Sat 10 am – 3 am
Chocolate Bar, Eerste van der Helststraat 62-A
+31 (0)20 675 7672
www.chocolate-bar.nl
Open: Sun – Thu 10 am – 1 am; Fri – Sat 10 am – 3 am
If you get hungry while partying, you should definitely try a burger from The Butcher. They're not the cheapest burgers in town (one costs around €10) but the succulent, organic beef is definitely worth the price. The interior might not be the coziest – sterile, white tiles on the walls indeed remind you of a butcher's – so the point seems to be to satisfy your hunger and carry on with your night. The Butcher is also veiled in mystery, since out the back there's a secret bar only accessible to customers who know the password. But then again, I've also heard that buying a bottle of the most expensive champagne can get you in as well.
Albert Cuypstraat 129
+31 (0)20 470 7875
the-butcher.com
Open: Sun – Tue 12 noon – till late; Wed – Sat 11 am – till late
De Pijp is also home to a live jazz bar called De Badcuyp, which is an interesting illustration of how the district changed over time. De Badcuyp was originally a public bathhouse, since many residents didn't have a shower at home. Now, the bar attracts musicians from all over the world and hosts small, intimate jazz concerts.
Eerste Sweelinckstraat 10
+31 (0)20 675 9669
badcuyp.nl
Open: Tue – Fri 12 noon – 9.30 pm; Sat – Sun 1 pm – 9.30 pm
Twilight De Pijp Food Tour
If the abundance of restaurants and cafes overwhelms you, book a food tour around de Pijp organized by Eating Amsterdam! Starting late April, there will be a new edition of the tour (other tours are the Jordaan Food & Canals Tour and Jordaan Walking Tour) that will guide you around this vibrant neighborhood in the evening, when the area is most captivating, and allow you to get a truly international taste of the varied and cosmopolitan cuisine on offer.
Things To Do in de Pjip
This huge marketplace is definitely a place to visit, even if just out of curiosity. You can buy fresh fish, vegetables and fruit, but also clothes, antique furniture and unique interior decorations. Perhaps the biggest attraction is the fact that the market is guarded by seagulls and herons waiting on the roofs of cars for leftover fish to be thrown away at the end of the day.
Albert Cuypstraat
albertcuypmarkt.nl
Open: Mon – Sat 9 am – 5 pm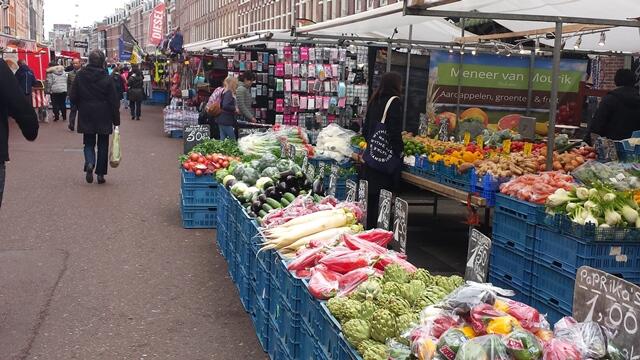 Sarphatipark
Even though Sarphatipark is much smaller than Vondelpark or Westerpark, it is definitely one of the prettiest parks in Amsterdam. It is named after Jewish doctor and philanthropist Samuel Sarphati, whose monument from the 19th century dominates the park. For me, as I work in the area, Sarphatipark is a great refuge for a walk during my lunch break. The pond full of ducks and seagulls is like an oasis in the middle of the busy city.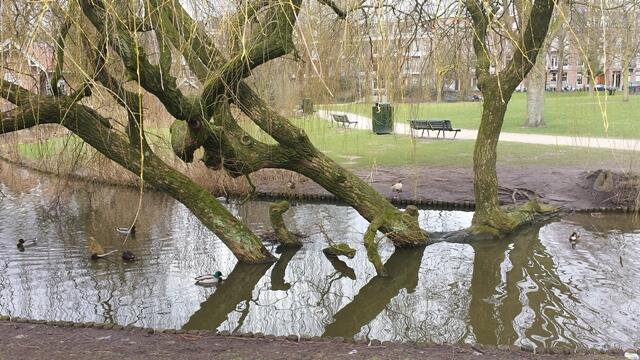 Heineken Museum
The Heineken Museum is definitely not a favorite place of the Pijp's residents. When passing by the museum on bikes, they get annoyed by careless, tipsy tourists staggering into the bike lane. Yet the museum is one of the highlights of the Pijp and you should definitely see what all the fuss is about. Most of all, the museum is a fun place to learn about the history of Heineken and the beer-making process. You can even experience how it feels to be a bottle of beer yourself during an interactive 4D movie!
Stadhouderskade 78
+31 (0)20 523 9222
heinekenexperience.com
Open: Mon – Thu 11 am – 7.30 pm; Fri – Sun 11 am – 8.30 pm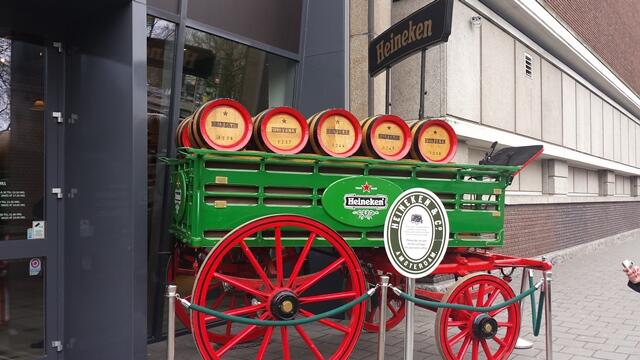 How to Get to de Pijp
The Pijp district is located just south of the center of Amsterdam. The easiest way to get there is by taking tram 16 or 24 from Central Station and getting off at Stadhouderskade or Albert Cuypstraat tram stops. You can also reach the area via tram 3 (tram stop Ceintuurbaan or Tweede van der Helststraat) if you're coming from Amsterdam West or Amsterdam East, rather than Central Station. On foot, it will take you around 20 minutes to walk from Dam square down Rokin and Vijzelstraat to the Pijp.