7051 Views
If you're looking for the best food in Rome, don't forget about dessert. The Eternal City is known for its amazing pasta alla carbonara and cacio e pepe, but did you know there are also some chocolate hotspots not to be missed? A hot chocolate on a rainy day, chocolate ice cream, pralines and of course chocolate bars. From raw and vegan to traditional recipes: let us show you the best places.
S.A.I.D. in San Lorenzo
This former chocolate factory is an absolute paradise for any chocolate lover. Stepping into this historical landmark that's been producing artisanal chocolate since 1923 is an immersive experience. It's a shop, café and restaurant in one: you can just look around and buy some chocolate to enjoy at home, order a cappuccino with a dessert, or have lunch/dinner in the restaurant. And if it's a rainy day, don't forget to try their amazing hot chocolate: guaranteed to brighten up your day.
S.A.I.D. is hidden on a small side street in San Lorenzo, an up and coming neighborhood on the south side of Rome. From its discrete outside, you'd never guess what's going on inside, but once you walk in you'll feel like you've entered Willy Wonka's chocolate factory in real life: the walls and counters are decorated with old tools and utensils that were used in the factory back in the days – even the big, copper mills that were used to mix the chocolate are still there.
This is not just one of the best places for desserts in Rome: you can also have a full meal here. The cozy, tastefully decorated restaurant area is a great place for a date or a dinner with friends. Some of the dishes on the menu are chocolate-inspired as well: the tuna filet, for example, is topped with pistachios and cacao nibs. There are even cocktails with chocolate: for example the Chocolate Martini with dark cacao cream.
said.it/en
Via Tiburtina 135
Grezzo in Monti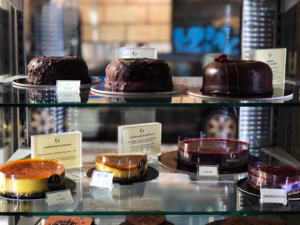 Are you vegan, allergic to gluten or lactose intolerant? Or do you just prefer to eat healthily? Then this is the spot for you: Grezzo is a raw patisserie in the center of Rome and sells chocolate, cake, sweets, cookies and ice cream. Everything here is raw (meaning the temperature never rises above 42 degrees Celsius) and free of sugar, lactose and animal products. Instead, they use only biological and pure ingredients. Can that still taste good? Hell yes! Go try it for yourself.
Founder Nicola Salvi wanted to create a place where people "could enjoy sweets and desserts in Rome without feeling guilty". When he opened Grezzo in 2014, it was the first raw patisserie in the world. Not long ago, they opened a second location in Turin, Italy's chocolate capital.
The small shop in the middle of the lively Monti neighborhood draws you in with its strong cacao smell. Grezzo works with raw cacao, meaning they don't toast the beans before turning them into chocolate, resulting in a crispier type of chocolate with a bit of a bite: you can still taste the structure of the cacao nibs. My favorites are the praline with hazelnut filling and the chocolate ice cream – but if I'm looking for something lighter, I also love their sorbet ice flavors, such as mango. Their regular chocolate bars are also pretty good, especially if you're a lover of dark chocolate, like me.
grezzorawchocolate.com
Via Urbana 130
Moriondo e Gariglio in Rione Trevi
This historical shop in the center of Rome, behind the Pantheon, is the oldest one on this list and probably the oldest chocolate shop in the entire city. The company was founded in 1850 by two cousins from Turin, who used to work for the Royal House of Savoy (Italy's royal family before the country became a republic). When Italy was unified, they decided to move their chocolate laboratory to Rome.
The sweets, chocolate bars and other treats (more than 80 different types in total) you can find in this historical shop are all produced according to techniques and recipes that have been handed down from generation to generation. The production is still done by hand, like in the 19th century, and none of their products contain glucose or sorbitol.
Stepping into the shop feels a bit like stepping into a time machine thanks to the original 19th-century interior. In the glass display case in the back, you'll find a selection of bonbons according to 'historical recipe'. If you're looking for a romantic gift, Moriondo e Gariglio is also a great place: they offer heart-shaped chocolates, from small ones in a nice box to big ones filled with sweets.
moriondoegariglio.com
Via di Pie' di Marmo 21-22
Quetzalcoatl Chocolatier at the Spanish Steps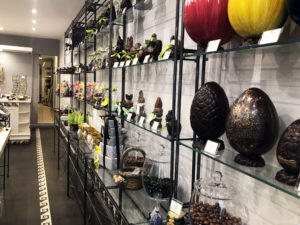 Don't ask me to pronounce the name of this place – just trust me when I tell you this is a mandatory stop if you love desserts and are wandering through Rome's center. Besides chocolate in all shapes and sizes, you'll find the yummiest macarons, ice cream and more. They also make real pieces of art out of chocolate: for Easter, for example, there are bunnies and baby chickens.
'Maitre chocolatier' and owner Jacques Olivier Petrillo, who was born in Marseille to a French mother and an Italian father, opened his first shop in Rome in 1998. Thanks to his heritage, the shop offers some classic French sweets, such as marrons glacés and éclair au caramel, as well as Italian chocolates.
My personal favourites are the macarons with gianduja (a type of chocolate paste with hazelnut from Turin)– a perfect combination of French and Italian delicacies – and the tartufi bonbons with dark chocolate. If you're feeling experimental, try the bonbon with hot pepper – but be sure to try it after any other bonbons or chocolate bars. "It's like tasting wine: you save the heavier tastes for last," is the advice I get before I indulge in some of the best chocolate in Rome.
chocolatissimo.it
Via delle Carrozze 26
Ready to taste the best desserts in Rome? Join one of our food experiences in the Eternal City and discover the local cuisine!