10278 Views
Deciding where to eat in Rome without spending your entire travel budget on food can be a challenge. That's why it's a great idea to leave the center and discover the up-and-coming neighborhoods of the Eternal City. In San Lorenzo, you won't find sophisticated bars or fancy restaurants, but authentic pizzeria's, street art and industrial techno parties.
As Rome's neighborhoods all have their own feel and atmosphere, it can be hard to find the city's hidden gems – especially outside of the city center. If you're into the bohemian vibe of Pigneto and Testaccio, then San Lorenzo is also for you. Because of its industrial background, it's definitely not one of Rome's prettiest neighborhoods. Originally a working-class district, its residents still get together at the different circoli, community centers, where (predominantly left-winged) politics are discussed.
San Lorenzo also has a sad yet interesting history. It's one of the few parts of Rome destroyed during the Second World War. In some places, traces of air raids are still visible. As a working-class area, far away from the city center and the Vatican, San Lorenzo was a 'safe' target. The bombs would disrupt the industrial activities of the nearby freight yard without damaging important religious buildings. The Parco dei Caduti ('park of the fallen') still commemorates the 1500 lives that were taken. San Lorenzo's history is still very much alive: singer-songwriter Francesco De Gregori even wrote a famous song about it.
What to see
You'll probably come to San Lorenzo to immerse yourself in its nightlife or food culture, but don't forget the cultural and historical highlights. One of its most important sights is the Basilica di San Lorenzo Fuori Le Mura (Basilica of Saint Lawrence outside the Walls), as it's one of the Seven Pilgrim Churches. Be sure to visit the church before 12.00 or after 16.00, as it closes between these times. It's definitely worth it to step inside and marvel at the beautiful mosaic of Jesus and his apostles in the ceiling of the dome. The church is surrounded by the city's biggest cemetery, the beautiful Cimitero del Verano. Many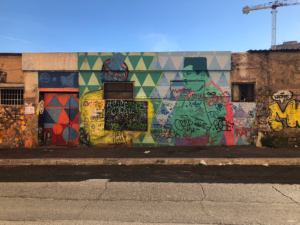 famous Italians are buried here, amongst whom Marcello Mastroianni (the famous actor from Fellini's La dolce vita) and Goffredo Mameli (the composer of Italy's national anthem).
San Lorenzo is also a must-visit for street art lovers. Like in other neighborhoods on the southern side of Rome, you'll find lots of murals, stickers, posters and political messages throughout the streets here. Particularly impressive is the long wall along Via dei Sardi on which the silhouettes of 107 women who died by homicide have been painted. You'll also find works by the Roman-born, internationally acclaimed street artist Alice Pasquini, for example in Via dei Sabelli. Via Dei Lucani boasts a big collection of impressive works by different artists.
Where to eat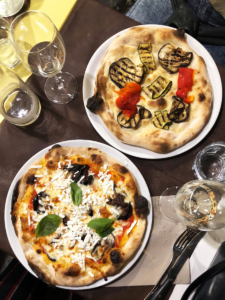 Looking for the best food in Rome? You might just find it here, in San Lorenzo – if you're looking for unsophisticated, Roman cuisine for a good price, that is. You can basically walk into any osteria or pizzeria for a good Roman pizza or a filling plate of cacio e pepe , including a drink and a coffee, for around 10 euros.
Are you in San Lorenzo during lunchtime when the sun's out? Be sure to have a sandwich at Mejo Pani Enoteca (Via degli Apuli 36) looking out over Piazza dell'Immacolata, the district's main square. Feel like sharing a coffee with a friend? Giufà Libreria Caffè (Via degli Aurunci 38) is a charming, tiny bookshop and bar in one – a great place to connect over a cappuccino.
At San Lollo (Via dei Latini, 57), you'll find the best Roman-style pizzas, but also tasty bruschette and fritti (fried veggies, dough or fish) that are great for sharing. If you still have room for dessert, be sure to drop by Gelato San Lorenzo (Piazzale Tiburtino 1): their ice cream is 100% artisanal and natural.
A mandatory stop for chocolate lovers is S.A.I.D., the old chocolate factory (Via Tiburtina 135). Hidden away in a tiny dead-end street, this place has been crafting the tastiest bonbons since 1923. It now houses a shop, tearoom, bar and restaurant in one. If you're visiting during colder days, be sure to try the heavenly hot chocolate.
Where to party
As it houses the main location of Università La Sapienza, San Lorenzo houses a big student population. This results in lots of cool bars with cheap drinks and – of course – an abundant choice of late night snacks, from Italian pizza and sweets to Turkish kebab.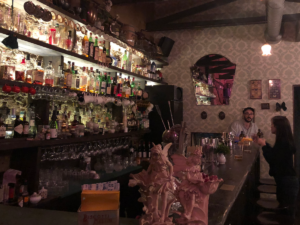 The main location of San Lorenzo's nightlife is concentrated around its main square, Piazza Dell'Immacolata. Usually crowded with tipsy youngsters looking for a good time, the place is crammed with small bars selling cheap drinks. Especially during spring and summer, most people just get their booze in plastic cups and stay on the square's benches. Bar dei Brutti (Via dei Volsci, 71-73) is one of these places: you can get a gin and tonic for 2,50 here (but hey, don't blame me for the hangover the day after).
A big party hotspot is Ex Dogana (Viale dello Scalo S. Lorenzo 10), Rome's former customs building. During spring and summer, DJs plays feel-good 90s and 00s songs on the courtyard until midnight, after which the party continues inside. There are also art exhibitions, tribute concerts to classic pop bands and techno parties. Unfortunately, the owners announced the closing of the place at the end of 2018, but for now, parties are still going at least until June 2019.
If your budget allows for a bit more and you're willing to splurge on cocktails in a cool setting, try Black Market (Via dei Sardi 50 – ring the bell to enter). The owner has a couple of branches in Monti, too. This location in San Lorenzo is especially homey, with an interior like your grandmother's living room – in a good way. It's the perfect place to get together and connect with friends in a cozy setting.
Looking for an authentic experience in Rome?
All in all, San Lorenzo may not be aesthetically beautiful, it definitely makes up for that in authenticity. If you're looking for good food, the coolest street art, and a vibrant nightlife, this is your place. So next time you're wondering where to party, drink or eat in Rome, be sure to put this up-and-coming, bohemian neighborhood on the top of your list.
Curious about the best food in Rome's other neighborhoods, like Testaccio or Trastevere? Join one of our food tour experiences in Rome, and discover the real Roman cuisine!