4068 Views
East London is not only famous for its trendy hang outs, cool eateries and hip markets. It's also home to a number of quirky and interesting hotels. Whether you're looking for a little bit of luxury or a penny saving stay, we promise that there's a hotel in East London for everyone. From rooftop pools and bowling alleys to contemporary cool and vintage style, we've searched far and wide for the East End's quirkiest hotels. So if you're looking to stay somewhere a little bit different then follow our guide and remember to let us know your favourites!
5 Quirky Hotels in East London
Ace Hotel London, Shoreditch
acehotel.com/london
100 Shoreditch High Street, London E1 6JQ, England
Nestled in Shoreditch, Ace Hotel is no doubt one of the trendiest hotels in East London. With record players in your room, a basement bar and even a photo booth in the lobby, this certainly isn't your average London hotel! Ace Hotel's contemporary décor, original artwork and vintage furniture just oozes cool. Their rooms are stylish yet spacious and one even comes with an electric guitar. But don't forget that there's plenty to keep you entertained during your stay. You can grab a bite to eat at Hoi Polloi, take a wander around the art gallery or dance the night away to live music in the lobby bar.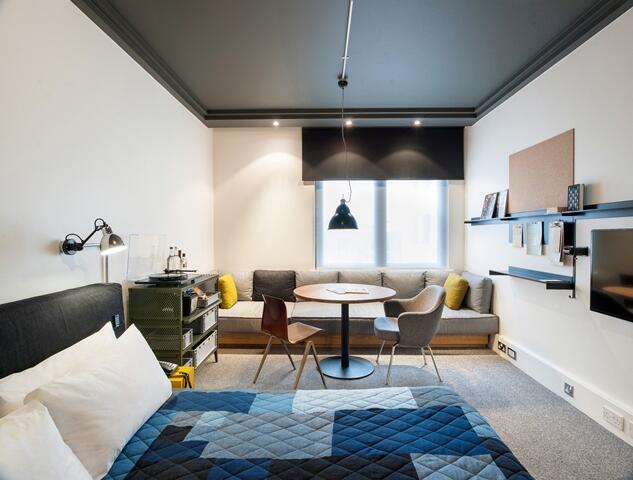 Rookery Hotel
rookeryhotel.com
12 Peter's Lane, Cowcross Street, London EC1M 6DS

A stay at the Rookery Hotel is guaranteed to take you back in time. Set in the heart of East London, this hotel combines indulgent luxury with period charm. The Rookery Hotel is decorated in an opulent Georgian style and adorned with original features. Each room contains beautiful antiques, silk curtains and plush furnishings. But if you're looking for an entirely unique experience then book one of the Rookery's themed suites. A night in the Sir Walter De Manny or the Dr Theophilus Garencières room certainly won't disappoint.
The Zetter Hotel
thezetter.com
St John's Square, 86-88 Clerkenwell Rd, London EC1M 5RJ
Generic hotel experiences are a thing of the past at The Zetter Hotel. Located in Clerkenwell, this hip and trendy hotel is packed with quirky personality. Each and every room at The Zetter Hotel has been designed individually to ensure that no two experiences are the same. Its 59 rooms are bursting with mod cons, chic furnishings and even a personally selected vintage library. Also, The Zetter Hotel is extremely eco-friendly and has previously won a Gold award from Green Tourism. What's not to love? Next time you're in East London, make sure that you book a room at The Zetter Hotel!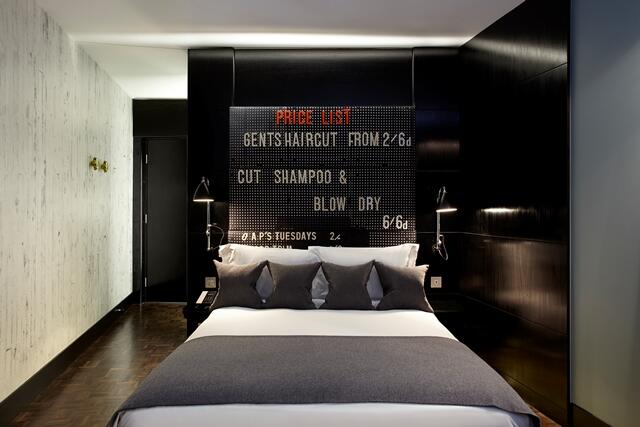 The Hoxton Hotel
hoxtonhotels.com
81 Great Eastern St, London EC2A 3HU
A short stroll from some of East London's most popular haunts is The Hoxton Hotel. This is the perfect place if you're looking to try something a little different. Why not book a quirky concept room? Take your pick from the Salt Beef and Mustard, A Slice of Hoxton or one of the many other East End inspired rooms. Each suite is individually designed and bursting with London style! Also, make sure that you keep an eye out for The Hoxton Hotel's sale which often offers rooms for only £1 per night, perfect for any savvy traveller.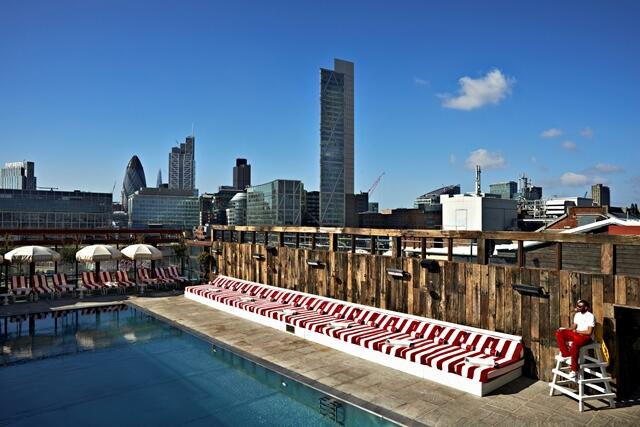 The Shoreditch Rooms
shoreditchrooms.com
Shoreditch House, Ebor Street, Shoreditch, London E1 6AW
The Shoreditch Rooms are East London's best kept secret. The rooms may only be available in Tiny, Small or Small+ but they certainly aren't lacking in comfort. You'll be provided with a rainforest shower, Cowshed products and plenty of gadgets to play with. Guests of the Shoreditch Rooms are also allowed access to Shoreditch House. So you can have a drink at one of the trendy bars, go for a spin in the bowling alley or even take a dip in the rooftop swimming pool (don't worry it's heated!).
London just doesn't get cooler than this… So next time you're in East London and looking for somewhere to rest your weary head, book yourself into one of these quirky hotels. You'll never want to leave!
Andaz Liverpool Street Hotel
andazliverpoolstreet.com
40 Liverpool Street, London EC2M 7QN
Located in the heart of the City and bordering vibrant East London, the five-star lifestyle Andaz Liverpool Street hotel, the first of Hyatt's Andaz brand, provides the perfect location for business and leisure guests alike. An original London railway hotel, Andaz is housed in a beautiful red-brick building dating back to 1884. Once inside, it transforms into a 21st century masterpiece, with a stunning blend of traditional and contemporary features, 267 modern guest rooms including 15 suites, 7 restaurants and bars, and a health club with state-of-the-art equipment and treatment rooms, cementing its reputation as one of the most stylish hotels in London. With no reception desk or check-in queue, guests are invited to relax in the Lounge while the check-in comes to them via handheld iPads – offering the highest level of personal and uncomplicated service. Rates are inclusive of complimentary wifi, local landline calls and non-alcoholic mini-bar. Looking for a room with a view? Four of the hotel's large king-sized rooms have a street art wall, as the Andaz invited 4 local artists to come in a paint their view of the local area.
* * *
Planning your trip to London? Read about our  5 favourite things to do in London
Our food tour in London is the perfect way to explore London if you like culture, history, and food