3439 Views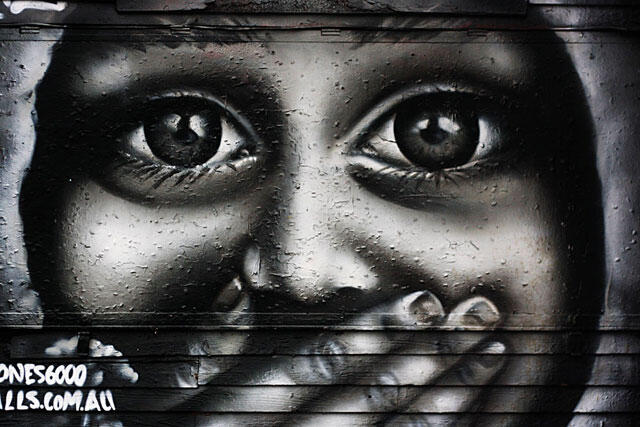 East London may be well known for its delicious curries and fantastic vintage shopping – okay, and the hipsters – but one of the main attractions of the area is undoubtedly the vibrant and expansive street art to be found around every corner. Ranging from permanent installations to commissioned murals to the ever-changing graffiti-covered surfaces, Shoreditch represents one of the most dense concentrations of street art in all of London.
Some of the more famous works – like Balloon Girl by Banksy – have been boarded over or removed, but many long-standing pieces have histories as rich as the area they inhabit. One example of this is the mural below, which was painted after the race riots in the area and represents the community coming together instead of ripping itself apart.
A more recent bit of history centers around The Sacred Crane, painted by the Belgian street artist Roa. Nested on Hanbury Street and painted in 2010, the crane was originally meant to be a heron, but Roa is said to have changed the direction of the piece mid-way through due to Bengali residents of the area asking him if it was a crane, a bird sacred to their culture.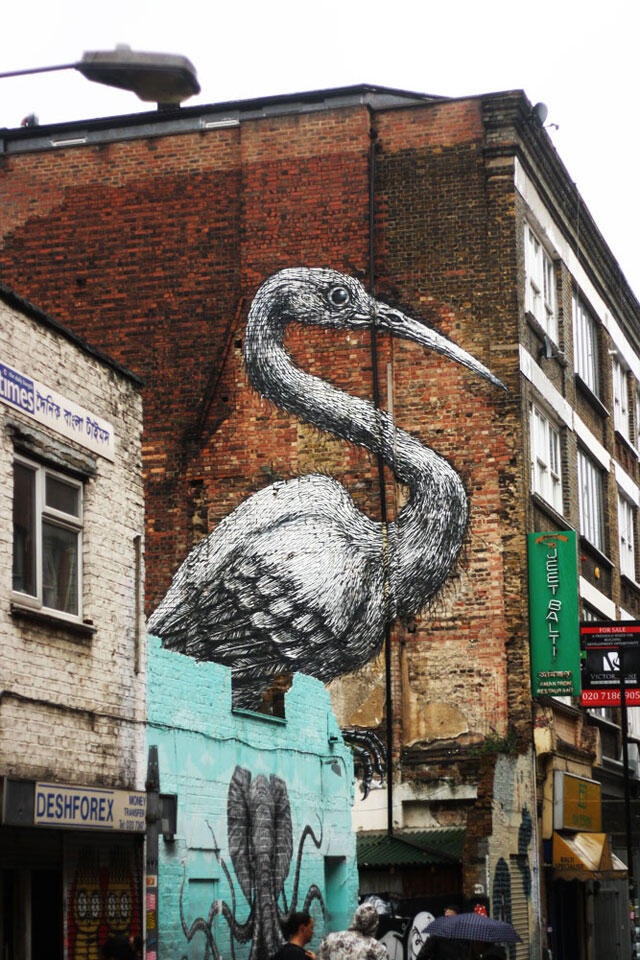 Sometimes, the art in East London confuses as much as it delights, due to the likelihood that giant sculptures will appear, seemingly overnight, with no explanation. Residents may have thought that producers of The Hunger Games franchise were engaging in a bit of stealth marketing when this giant bow and arrow appeared in their midst in 2012: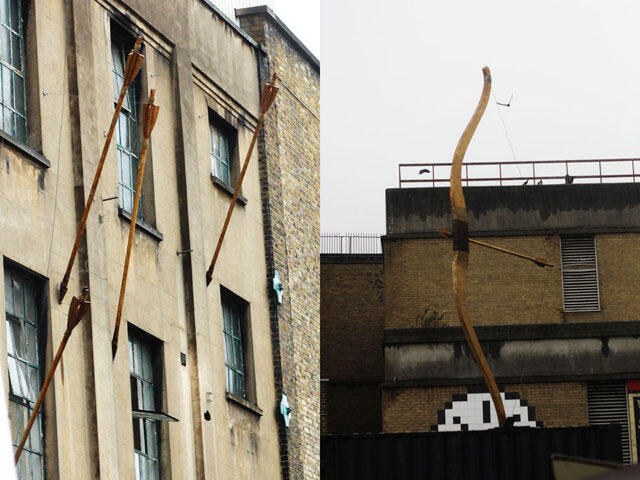 If it seems as though there is a lot to navigate if you want to truly immerse yourself in the street art scene in East London, that's because there is! Luckily, there are entire blogs and tours devoted to helping you discover and enjoy the art in the area.
You might notice a familiar face behind that bow and arrow, but here's a better look: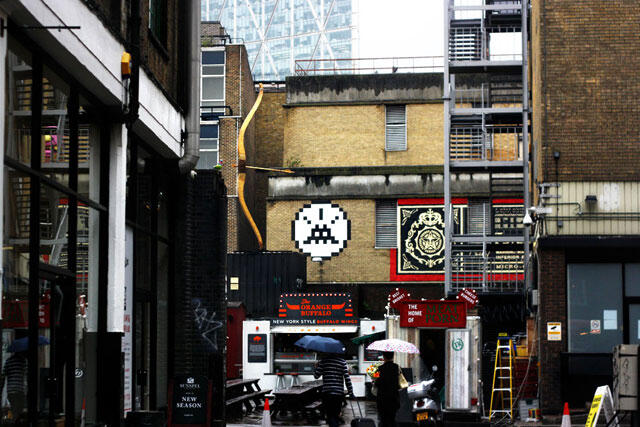 That little guy is courtesy of the French street artist Invader. Most of his artwork consists of ceramic tiles shaped in the likeness of the famous characters from the iconic game Space Invaders. While Invader usually works quickly and installs his tiny creations under cover, one of the larger examples of his work (above) can be found right in the heart of Shoreditch!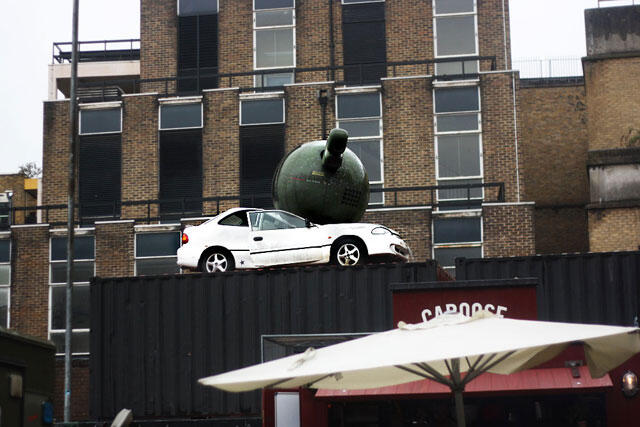 Ever been stuck in traffic and thought to yourself, Man, this couldn't get any worse? You should probably count yourself lucky your predicament didn't echo the scenario depicted in this installation! As just one of many pieces of art in the area that force you to ask yourself just how they managed to do that, the car is both conspicuous and also quite at home in its surroundings overlooking a coffee joint and a food truck in one of the popular lunch-break areas in the neighborhood.
Street art around London, and particularly East London, is a living thing; it constantly changes and evolves and grows with the neighborhood. Do yourself a favor and strap on your walking shoes, grab a big cup of coffee to-go, and give yourself a few hours to discover the masterpieces that are just around every corner!
All images via Bobbi O'Gilvie.
* * *
If you're looking for more things to do in London, read our list of Top 9 London Attractions. Our food tour in East London is the perfect way to explore the Street Art and Food of East London