5948 Views
We think that Prague, with its playgrounds and puppet theaters, castles and museums, is a pretty great place to take your kids. It also just happens to be a great place for dining out with them, too. This post focuses on dining establishments with a children's play area (dětský koutek) but just about any better pub or pizzeria will have a children's menu; and many restaurants will make smaller portions of entrees, for a lesser price, upon request. These are some of our favorite places for dining with the family.
T-Anker
Prague's best-kept beer garden secret is located on the top floor of the Kotva department store. Serving mixed grilled delights (and a great burger) as well as 9 beers on tap, the terrace is also home to a small playground and kids' tables. The children's menu is basic but the spaghetti sauce and chicken fingers are well made and the view out over the ancient rooftops of the Old Town must been seen to be believed. The staff is painstakingly patient with high chairs, kids' menus, and crayons at the ready.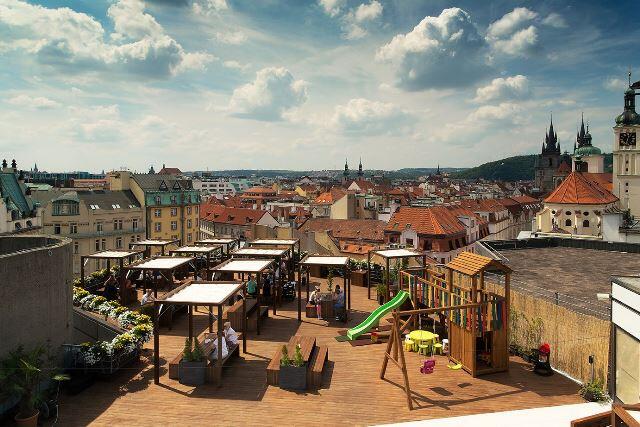 Náměstí Republiky 656/8, Prague 1
+420 722 445 474
t-anker.cz
Open: Mon – Fri 11 am – 11 pm; Sat – Sun 11 am – 11 pm

Pizza Nuova
A generous play area complete with cartoons isn't the only kid-approved thing about this local favorite, serving authentic Naples-style thin-crust pizza once name-checked by Heston Blumenthal. Here kids under 6 eat free and are served small tastes of homemade antipasti, pizza, and pasta from the grown-up all-you-can-eat menu—and given a balloon to go!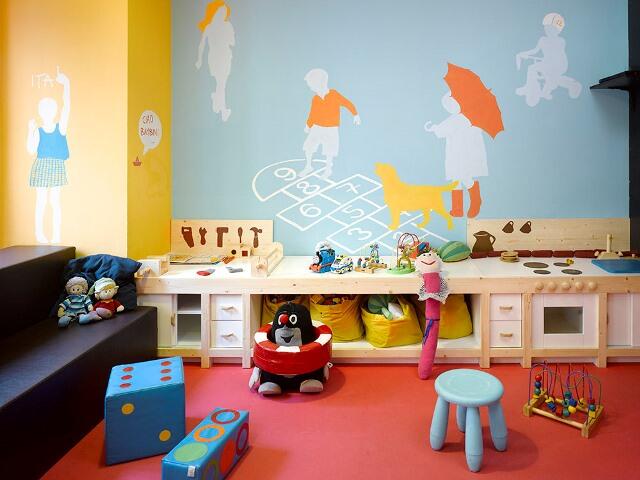 Revoluční 1, Prague 1
+420 221 803 308
pizzanuova.ambi.cz
Open: Mon – Sun 11.30 am – 11.30 pm
Vinohradský Parlament/Bruxx
These two separate dining venues occupy one lovely historic building off Peace Square. Branded Staropramen beer gastropub Vinohradsky Parlament focuses on pub classics with an upmarket twist, while Bruxx offers the Czech take on Belgian fare: Moules-frites and fruity beer. The restaurants share a very cute play area (and a children's menu of everything from milkshakes to meatballs) and there is free babysitting on the weekends – a convenient option for parents who want to take a breather of the beer variety.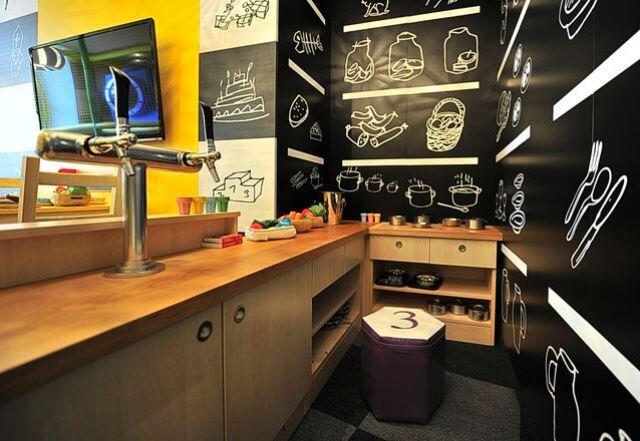 Náměstí Míru 9, Praha 2
+420 224 250 404
vinohradskyparlament.cz
bruxx.cz
Open: Mon – Wed 11 am – 12 midnight; Thu – Fri 11 am – 1 am; Sat 11.30 am – 1 am; Sun 11.30 am – 11.30 pm
Mistral Café
A hidden gem just a couple of blocks from Old Town Square in Josefov, Mistral Café's friendly waiting staff, cozy kid's play area, and simple yet sophisticated menu has made it a local family favorite, especially for a lazy Sunday lunch. We highly recommend the fish and chips for grown-ups and the homemade fish fingers and lemonade for wee ones.
Valentinská 11/56, Prague 1
+420 222 317 737
mistralcafe.cz
Open: Daily 10 am – 11 pm
Cafe Pointa
In the Prague Castle district, family-friendly dining options can be difficult to come by, especially if you have very small children. Cafe Pointa is a welcoming space with a bright, sunny play corner and rather extensive kid's menu that is located near the Letohrádek summer palace. The perfect place to fuel up before your castle visit or to refresh afterwards.
Na Valech 2
+420 233 321 289
we-like-it-fresh.wix.com/cafepointa
Open: Mon – Fri 9 am – 10 pm; Sat – Sun 9 am – 9.30 pm

Žofín Garden Restaurant Sunday Brunch
Brunch is truly a family affair in Prague, and a number of world-class hotels and restaurants offer family brunches complete with babysitting. This one takes place every Sunday from 11 am to 3 pm. Served buffet-style in a heated tent next to the restaurant's historic gazebo, themed activities—not to mention a chocolate fountain and unlimited pancakes—are sure to please tots, while parents can delight in unlimited champagne.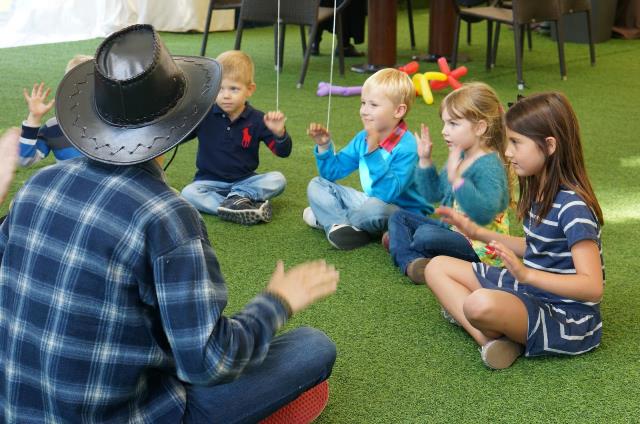 Slovanský ostrov 226, Prague 1
+420 774 774 774
zofingarden.cz
Open: Mon – Sat 11 am – 9 pm; Sun 11 am – 3 pm
Výtopna Railway Restaurant
If you have a stroller, be warned that this Wenceslas Square train-themed eatery is atop a massive flight of stairs. But after seeing the look of joy on your child's face when your food is delivered by model train, the climb will have been worth it. The kid's menu isn't super inventive (chicken nuggets and fries) and the choices for adults are pretty basic (we recommend the halušky) but it's convenient and affordable for the area and, if you're under 10, obviously, awesome.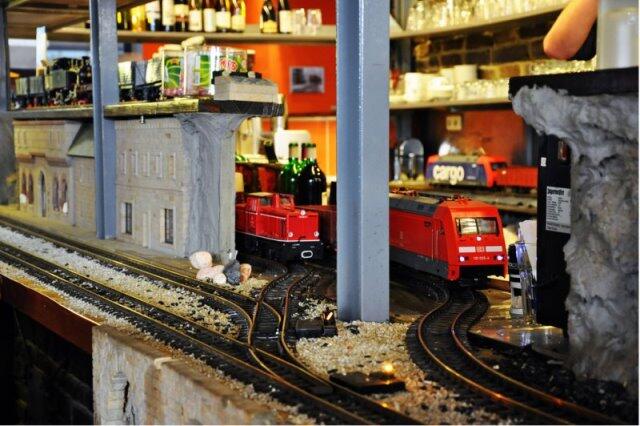 Václavské nám. 56 (Palác Fénix), Prague 1
+420 725 190 646
vytopna.cz
Open: Mon – Sun 11 am – 12 midnight; Fri – Sat 11 am – 1 am
Králík v rádiu
Local moms adore this retro-styled Vršovice cafe with an enormous, quaintly furnished play area where you can enjoy homemade soups, pastas, quiches, cakes, and coffee on comfy couches next to vintage rocking horses. A bit of a hike from central Prague but if you want to see how Czech moms do it, this place is a must-visit!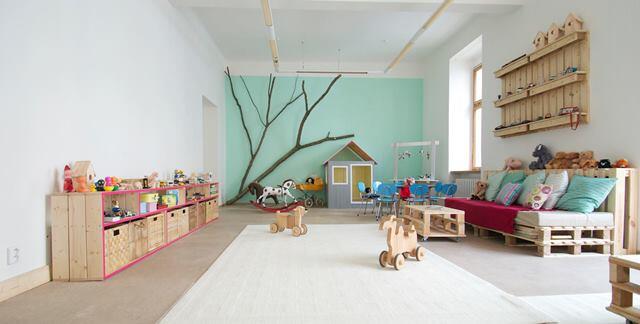 Charkovská 18, Prague 2
+420 732 428 929
facebook.com/pages/Králík-v-rádiu
Open: Mon – Fri 9 am – 8 pm; Sat – Sun 10 am – 8 pm