5628 Views
Come visit some of our favorite places in Rome!
Flavio al Velavevodetto Trattoria (Restaurant), Rome, Italy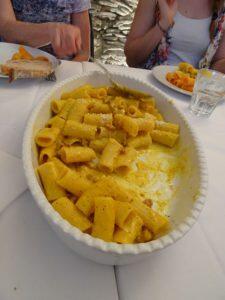 "I've had a passion for cooking since I was fifteen years old, watching my mother and my grandmother cook for the family. This passion grew a little every day, even though I did everything but cook to earn a living. Finally, when I was 45 years old, that passion exploded, strong enough to convince me to quit my old job and start working immediately as a professional cook."
– Flavio
In an atmospheric setting built into the side of Monte Testaccio, this renowned restaurant serves up authentic Cucina Romana under the watchful eye of chef Flavio de Maio. Don't miss their award-winning Carbonara as well as the excellent Roman offal and meat dishes. Oh, and their tiramisu with a chocolate surprise is to die for.
To find Flavio al Velavevodetto:
Phone Number: 06 5744194
Address: Via di Monte Testaccio 97