16196 Views
This post was originally published on June 3, 2013 and was updated in November, 2017.
At first glance, Italy may seem like the worst vacation spot for those with celiac disease. Defined as an autoimmune disorder caused by a reaction to gluten, a protein most commonly found in wheat, celiacs must avoid bread, pasta, pizza, and flour rich desserts, otherwise known as the patron saints of the Italian diet. Cue image of celiac diner consuming a sad sparse dinner of vegetables as she watches her dinner companions indulge in ribbons of creamy spaghetti and thick bites of torta della nonna. Luckily though, Italy is one of the most gluten-free friendly places around.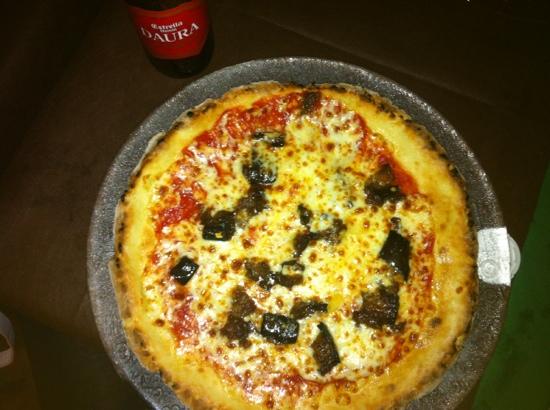 Italian celiacs have an ally in the Associazione Italiana Celiachia, an organization whose goal is to inform celiacs about their condition, champion the needs of celiacs to health and political administrations, and promote scientific research of celiac disease. Some of the AIC most recent successes: gluten-intolerant Italians are allowed a small salary each month from the government in order to cover the expenses of gluten-free products, and gluten-free festivals are commonly held. Such an awareness of celiac disease has also expanded to the Italian dining experience.
Those who require a gluten-free diet have a range of restaurants to choose from and can easily indulge in traditional pasta dishes and crisp Roman-style pizza. After all, Italians hold food in high regard: it plays an enormous role in their culture, and is the center of social and family life. And perhaps more so than other cultures, Italians recognize the glee and delight a beautifully prepared meal can bring. Thus, it makes sense that they have found a way to overcome gluten obstacles without depriving their own people and tourists of the "goodness" of their cuisine.
When visiting Italy, take the time to print out an Italian Gluten-Free Restaurant card found here.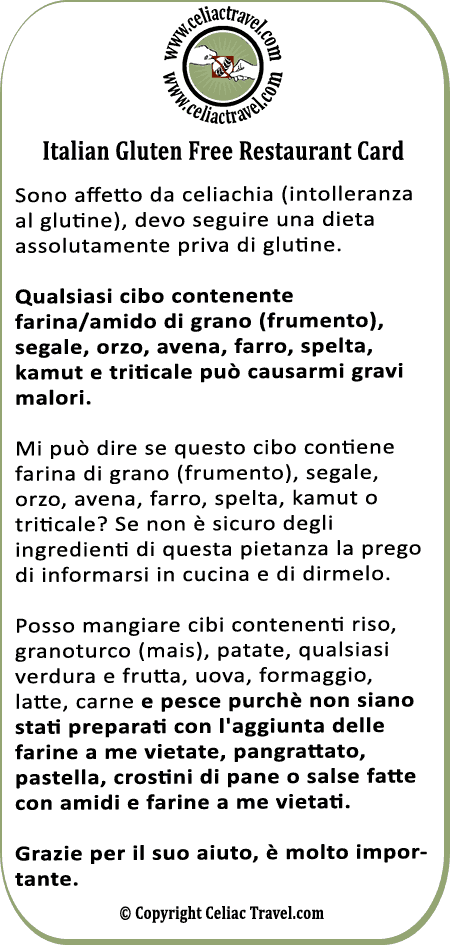 If you're not familiar with the language or are gluten-intolerant and simply want the assurance that what you're eating won't cause you to spend the day queasy and hotel bound, the card provides instructions for the chef and staff on what you are unable to consume and reminds them to be extra careful when preparing your meal.
Another option is dining at an entirely gluten-free restaurant, or a restaurant that offers a gluten-free menu (the latter typically offers the same dishes on their original menu but prepared with gluten-friendly ingredients). Spoiler alert: pasta and pizza are most definitely available. If you're planning on touring various cities in Italy, you might be interested in Marie Ann Roglieri's The Gluten-Free Guide to Italy, a comprehensive guide to gluten-free dining throughout the country.
* * * * * * * * * * * * * * * * * * * * * *
Heading to Florence?
Avoid the tourist traps and taste the best of Florence's bohemian Oltrarno area! Eat authentic Florentine dishes, drink delicious Tuscan wine, and explore artisanal stores.
Join us on our Brand New Florence Artisan Food Tour:
* * * * * * * * * * * * * * * * * * * * * *
Because we love food just as much as you do and we want you to be able to experience the pleasure of Roman cuisine, we've compiled a list of the best gluten-free restaurants here in the Eternal City. Enjoy and buon appetito!
Il Viaggio
The mission of this restaurant? "La buona cucina non deve essere un lontano ricordo per chi soffre di intolleranza al glutine," or "good cuisine doesn't have to be a distant memory for those who suffer from gluten intolerance." Il Viaggio's original and gluten-free menus are identical in their offerings and feature delectable dishes: saffron risotto with braised veal and gnocchi with cacio (cheese), pepper, and pears are some of the standouts. If you are looking for more traditional Rome dishes, carbonara and tiramisu' are available. The restaurant also uses separate utensils and cookery when preparing gluten-free meals. In addition, Il Viaggio offers gluten-free cooking classes!
www.facebook.com/Ristorante-Il-Viaggio
Ristorante Nini
Located within the Phenix Hotel, Ristorante Nini specializes in classic Roman cuisine and offers menus for both vegetarian and gluten-free diners. Recently renovated, Nini's dining room is spectacularly elegant and modern. It's recommended to make a reservation.
Sans de Blé
This charming little bakery offers a bevy of gluten-free pastries to pair with your morning cappuccino. Savory items are also available.
La Scaletta
This restaurant's gluten-free menu features classic Calabrese and Roman dishes and gathers fresh ingredients daily from local vendors. My favorite dish: the eponymous "La Scaletta" pizza with spicy Calabrese n'duja.
La Pilotta da Mario
Mario is frequently in the dining room making the rounds and is available to answer your culinary questions. Located near St. Peter's, La Pilotta da Mario is also surprisingly un-touristy.
La Pilotta da Mario
Address: Via di Porta Cavalleggeri 35, 00165
Tel: +39 06 632 643
'O Masto Pizzeria
Both gluten-free and original recipe pizzas are available. While thick crust Neapolitan pies are their specialty, you can also choose a thinner, crispier crust.
Mama! Eat
Mama! Eat features a friendly staff and "senza glutine" pasta, panini, pizzas, fritte, and beer.
* * * * * * * * * * * * * * * * * * * * * *
Like this? Check out Eating Europe on social media!
We're on…
With more Italian foodie ideas, mouthwatering pics and much more.