3831 Views
With winter settling in, and as Jack Frost begins nipping at your nose, it's time to get your skates on. No, I'm not talking about the fact that there's only X number of shopping days till Christmas – the kids will wait! You need to get to the nearest rink and go ice skating in London.
There is a long history of ice skating in London, with Frost Fairs on a frozen River Thames dating back as far as the 16th century. Some argue that the first artificial rink was created in Chelsea in 1876, others say it was in Covent Garden in 1844. Whatever the truth, today there are many places you emulate great Olympic skating champions like Torvill & Dean, or maybe just hold onto the edge for fear of falling over.
7 Places To Go Ice Skating in London
Broadgate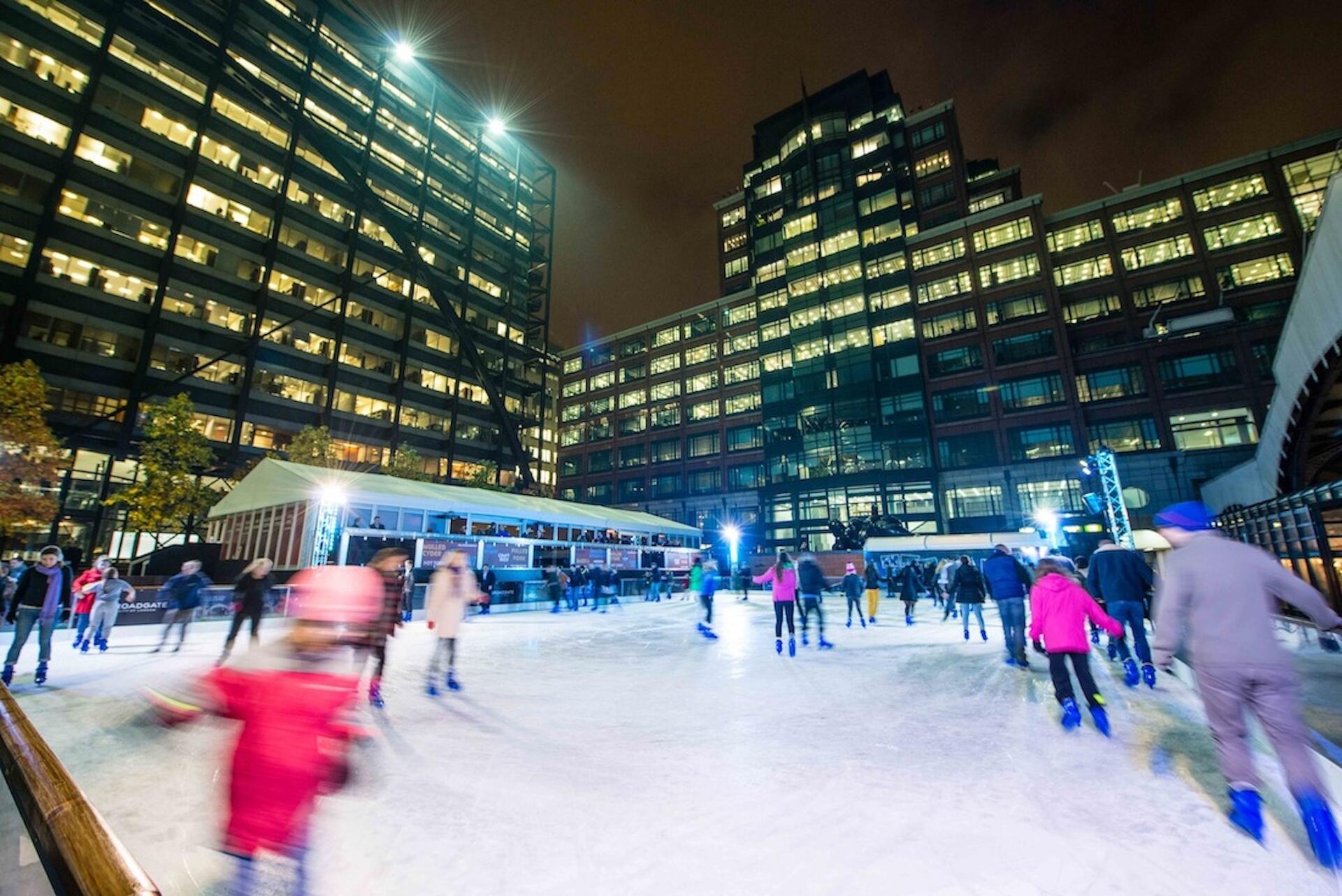 London's longest running outdoor ice rink will return to the City this winter from November 16 through January 25. Broadgate Ice Rink is a great destination for festive outings with family, friends, colleagues, or simply a post-work spin around the ice. Set against the stunning City skyline, neighbouring Broadgate Circle's winter terrace will become a festive haven, complete with a resplendent tree bedecked in icy white lights.
Experience Christmas around the globe with French fancies from Aubaine, Mince Pie truffles at Yauatcha City or twists on the traditional Christmas fare such as Red-legged partridge, wild boar in blankets, walnut stuffing and chestnut Dauphinoise at The Botanist. Guests will be able to enjoy a meal under the stars at one of the hub's myriad of restaurants, with heaters, cosy rugs and blankets perfect for wrapping up warm.
Ice skating costs £9 for children and £13 for adults, with various discounts and concessions for groups.
Somerset House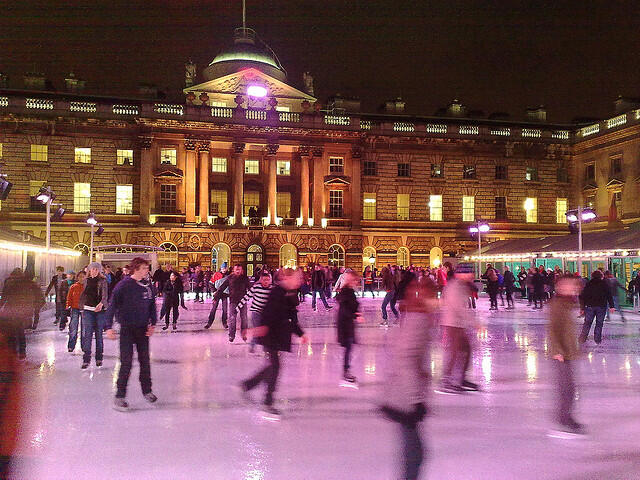 One of the best places to celebrate the season in London is the outdoor ice rink at Somerset House. It's one of the coolest rinks for ice skating in London and this year it's open daily from November 14 to January 5, 2014. Here you can skate against one of London's most elegant backdrops, Somerset House's 18th century courtyard.
To give your skating experience that bit of extra zing, it's possible to add champagne & chocolate to the occasion, or dine at Tom's Kitchen, one in a small chain of restaurants serving British comfort food – perfect for warming up after a skate. Each Tuesday evening from 6pm-9pm the spirit of the festive season comes to the ice rink with music, mulled wine, and mince pies. You can even do a bit of late night shopping at the Somerset House Christmas Arcade Market.
Ice skating prices vary between £7.50 and £17.
Alexandra Palace
Have you ever watched the TV show Dancing on Ice and found yourself wistfully wishing you could skate like the stars? Head to Alexandra Palace and you just might be able to emulate your favourite celebrity – or even spot them. It's where the majority of them do their training.
Ally Pally, as the locals call it, has an ice rink open all year round, so there's no need to wait for the cold weather to hit to for a spot of ice skating in London. Alexandra Palace even has classes for all ages to give you a fighting chance of taking on the ice. And if you fancy yourself as a bit of a John Travolta on ice then try their Friday and Saturday night disco between 8pm and 11pm.
Tower of London
Make your ice skating go with a historic swing at the Tower of London. The rink is set in the hollow of the dry moat that surrounds the tower and within the fortress battlements, making it one of the most striking settings for skating in the city of London.
It is also beautifully illuminated after dark, while beside the ice rink, the Ice Bar & Café serves a selection of winter drinks and festive snacks.
For a memorable wintery London experience, skating within the battlements of the almost 1,000-year-old tower will surely take some beating.
Ice at the Tower is open daily from 10am to 10pm from November 16 to January 5, 2014. However, as even the Beefeaters can't skate every day, it is closed on Christmas day.
Hyde Park
There's little more heart-warming than the twinkle of Christmas lights in a child's excited eyes and each year Hyde Park's Winter Wonderland brings festive cheer children big and small. You can saunter around the park stopping off at stalls on the Christmas markets, take the kids to the Magical Ice Kingdom tourist attraction, hop on the Giant Wheel ride and see the clowns at Zippos Christmas Circus and Cirque Berserk shows. But it's also a great place for ice skating, as it stakes it's claim to Britain's largest open air rink.
Slip on your skates and glide around the illuminated rink, which surrounds the park's Victorian bandstand. The rink is lit by more than 100,000 lights adding a touch of sparkle to the festivities
It runs daily from 10am to 10pm from November 22 to January 5 2014, but is closed on Christmas day. Tickets cost £10.50 for adults and £8.50 for children. As this is a popular event, advance booking is highly recommended.
Eyeskate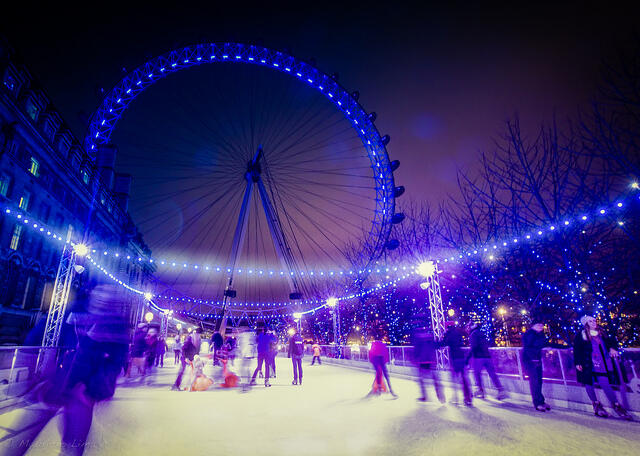 Nestled on the Southbank of the River Thames, beneath the iconic London Eye is one of London's newest must-do winter events, the Eyeskate. Now it's maybe an unusual name, but the London Eye provides a fabulous location where you can enjoy a good skate.
And if ice skating isn't enough fun on its own you can also combine a trip on the London Eye with a skating session. There are a number of London Eye/Eyeskate packages that also include a glass of mulled wine, winter cocktails, or even champagne as you take in the wintery views of the city.
The rink is open daily from 10am to 9pm from November 27 to January 5. Prices are £10.50; children £7.50.
Canary Wharf
Who wants to skate around a rink when you can skate along a path? London's only skate path, beneath the soaring skyscraper in Canada Square, Canary Wharf leads skaters on a glittering trail through fairy-lit trees then back into the main rink.
This year sees an extended season and the rink will also be bigger than ever with a viewing terrace for non-skaters and even a VIP lounge. Finish your saunter along the skate path with a drink at the rink-side Boisdale's Jukebox Bar which has a 1950's themed menu.
Natural History Museum
Perhaps the most cultured of London's ice skating venues – and why shouldn't you mix skating with a little learning at the museum? The gardens of the magnificent Natural History Museum is the setting for an unforgettable skate at a 1,000 square metre ice rink. Fulfil your Hollywood-style Christmas fantasies while skating beneath the Christmas tree in the centre of the rink and 76,000 fairy lights strewn around the overhanging trees. Afterwards head to the cafe for hot chocolate and festive fare.
The rink is open until January 5 2014. Ticket prices start from £8.
With so many options for ice skating in London you'll be spoilt for choice and not short for festive cheer. And when you do get off the ice and head to one of the neighbouring bars, mine's a mulled wine!
***
Ready for something a little more hardy than mulled wine?  Join us for a moving feast along the streets of London's East End on one of our highly rated food tours!