3863 Views
If you've done our Taste of Testaccio Tour, you're bound to remember the delectable cannoli at Dess'Art, a fantastic little bakery (see more photos here) that's been serving up both sweet and savory fare at the Testaccio market for the past two years. We caught up with Dess'Art's founder and pastry-chef, Costanza Fortuna, who filled us in on why she loves baking, what it's like working with her husband Roberto, and of course, tips on how to make authentic cannoli at home.
1. How did you get interested in cooking and baking?
I first got interested in cooking out of necessity – my mother worked and when she came home she was usually too tired to make anything very involved so I started preparing meals myself. I discovered it was not only fun to eat something new every night, but cooking also relaxed me!
2. What's one of your earliest memories in the kitchen?
I remember my nonna cooking for us grandkids. I always looked at her with mix of admiration and love – she taught me so much in and out of the kitchen.
3. Who were your cooking "role models" growing up?
The basics of cooking I learned from the women on my mother's side, but I went on to perfect my technique at culinary school, where I studied under excellent and experienced pastry chefs. I also learn something new every day working with my husband Roberto (a professional chef)!
4. Speaking of Roberto, how did you two meet?
In a kitchen, where else? We both worked as chefs at the same restaurant.
5. What are the good parts and hard parts of working together?
The good part is that we motivate and learn from each other daily. The worst part is that sometimes we fight like two roosters in a hen house!
6. What is your favorite thing to make?
Even though I'm a pastry chef, the thing I like to cook the most is meat, especially recipes that require using the oven and have long and complicated preparations. I also love making breads.
7. When did you open the business? And why did you choose the Testaccio market?
I opened Dess'Art 2 years ago, because I wanted to be my own boss. I'm also surrounded by other vendors, so this is a great place to start. It's intimidating opening your own business at first, and I felt like I wasn't alone!
8. Where do you see Dess'Art in the future?
It would be nice one day to have a little bakery with tables for visitors to sit down and enjoy my food, maybe with a cup of tea or a glass of wine.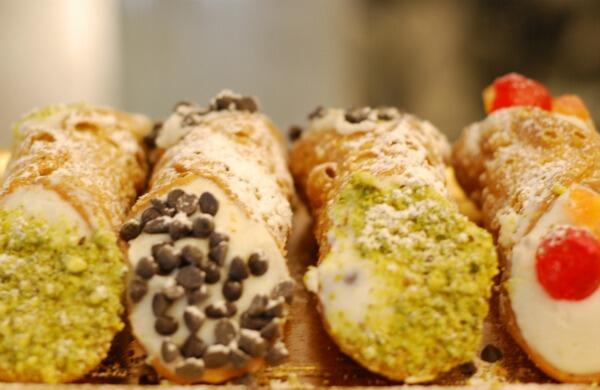 9. Where does your cannoli recipe come from? And what makes the cannoli at Dess'Art so special?
My recipe came from an old book that my great-grandmother left me. It's filled with wonderful tips and advice on all sorts of recipes. In regards to what makes our cannoli so special, I'd have to say the love we make them with! And obviously our high-quality ingredients.
10. Any tips for making great cannoli?
The way of making cannoli is very simple, so don't overthink it or add too many extra ingredients! It's important to fry the shells until they're dark with lots of bubbles, and remember: the ricotta has to be Sicilian and made with sheep's milk! For an extra special touch, garnish the ends with some crushed up pistachio nuts.