2991 Views
In 2012, Nicole Monaco moved to London to set up our first food tour, which launched in the British capital in 2013. Born in Melbourne, Australia, and with Italian roots, she has a thoroughly foodie heritage that made her quite simply the only woman for the job. Two years later, we catch up with her to find out what attracted her to the business of tour guiding, her top tips for travelers, and what she likes to do when she's not busy being the First Lady in Food…
1. How did you come to be a tour guide for Eating London Food Tours?
I was living in Rome where Eating Italy first started, and actually went on one of the food tours before I even worked for the company. My friend was a guide for Eating Italy and I was completely jealous of her job… I would've done anything to do what she was doing, but my working holiday in the boot-shaped country was sadly coming to an end! It was time to take on bigger and better adventures in the UK… How was I going to survive without my coffee and pizza and pasta? Did I make the right decision? Well, to my surprise, London was a melting pot of more cuisines than I had ever smelt in my life…I was salivating! Yes, I had made the right decision!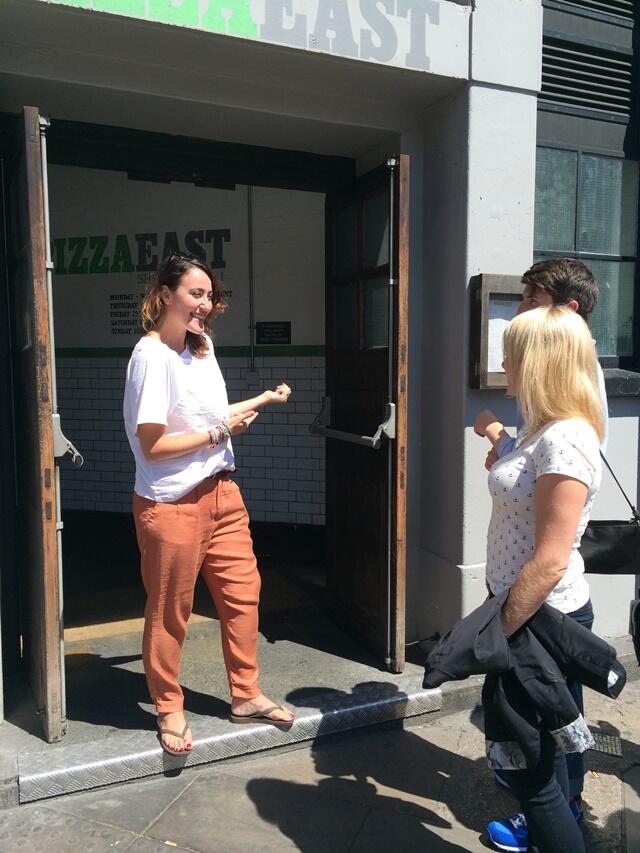 Then I was put in touch with the company director, Kenny Dunn, and asked if I would like to develop an Eating London version of the food tour concept… what? Wow, was this really happening? You're telling me I get to eat my way around London and get paid for it? Obviously my answer was yes, and that is how I came to be a tour guide for Eating London… 2 years on and I've never looked back!
2. What do you like most about the job?
There are more than a few things I like about my job. Firstly, the relationship I have made with the neighborhood. I feel a sense of belonging in a country that is not my own. I know everyone, from the postman to the local shop owners to my favorite homeless man; it really makes me feel like I am a valuable part of the community and gives me a sense of pride in what I do. Secondly, when I see people on my tour discovering things for the first time, to make them happy and make them laugh, I can walk away satisfied knowing that I have given them a unique experience.
3. And what's your pet peeve?
I must say the one thing that drives me crazy is never knowing what to wear in London… the weather is like 4 seasons in one day. Actually mainly winter, who am I kidding! I was told before I moved here it's 9 months winter, 3 months bad weather!!! With a negative there is always a positive, like sneaking into one of the many cozy pubs for a cheeky pint, or finding a cute cafe for a hot "cuppa" tea…now I know why the British love their tea!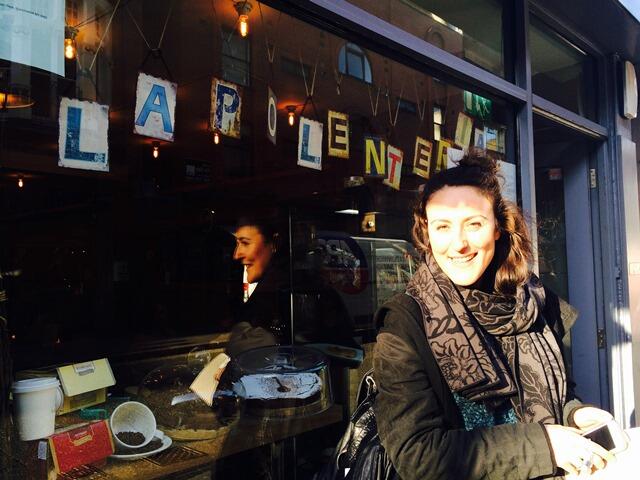 4. What were you doing before you started at Eating London?
My past profession was a textile and clothing designer, having completed my degree in this field. I then worked with some of Melbourne's top designers along with having a label of my own. I have always been a creative person, and although my career path has moved in a different direction, working with Eating London still allows me to express my creativity.
5. Where did you grow up?
I grew up in Melbourne, Australia, which is actually a big foodie and coffee destination. In an Italian household where food was first and foremost one of the most important parts of daily life, no less! We always sat down for hours around the dinner table as a family… especially if my grandmother was around, we weren't allowed to leave if there was food left over… that would be a sin!
6. What do you love to do when you're not working?
Exploring and travelling Europe as much as I can. I love culture and languages and different foods and all the colors of the world – it is the thing that makes me feel most alive. If I am not travelling I like meditating and long walks through nature with my husband – making sure to live a grounded, organic and down-to-earth life.
7. And finally… what's your top tip for anyone visiting London?
My top tip is to go off the beaten track, get rid of your map and get lost in the streets… live like a local, eat like a local and mix with the locals. Don't be afraid of things that are different – if you don't take small risks, you won't reap big rewards, and you will probably miss out on some of the best food on offer!