5400 Views
We all know that Italy's main cities like Rome and Florence are beautiful, but what's sometimes even more beautiful (and less crowded) is the Italian countryside. The best way to see it is to rent a car and let the bends in the roads surprise you. But you can't drive forever, so here's a few things that we like to do when we get out of town.
Catch a village festival
It's probably difficult to imagine small towns in Italy as anything other than sleepy. And on most days it's true, especially if you show up when all the locals are eating lunch. From about 1:30 pm to 4:00pm, most shops are closed and few roam the streets. If you're looking to experience a town with a little more activity then I would suggest going during a festival. There are several types of festivals held in the small towns and countryside around Italy, but my favorites are those centered around food. Known as sagra, a food festival celebrates the food or drink in season. Usually everyone gets a plate, choosing from variations on the featured food, and a glass of wine, and sit in the town's main piazza communal style on long wooden benches. There are usually stalls of things for sale, and in the summer a sagra can even be accompanied by entertainment at night like a comedy show.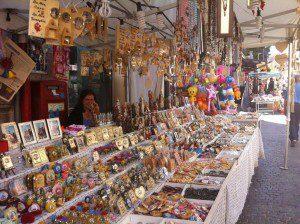 Other kinds of festivals usually happen during the summer. A small town will host events to draw its citizens out of hot houses on summer nights to watch a musical or dancing performance in the piazza. These events are for people of all ages and it's refreshing to see the young mingle with the old. Sometimes a small town will host a big event like the Jazz Festival in Perugia or the White Truffle Festival in Alba. On top of all this, every small town has it's market day, which makes for a great time to explore what the countryside has to offer.
Eat, eat, eat!
Not that I have to remind you to eat in Italy! But eating in the countryside takes on a whole new meaning. What a delight to stumble into some medieval village that seems fast asleep but for the restaurant where conversation and activity are flowing. Or if you're driving through the lovely backroads stop off at a restaurant with plenty of cars parked in front for some delicious and super-fresh variations of the dishes you're used to in the city. In addition to the freshness, a meal in the countryside is usually cheaper, just another reason to indulge in four courses!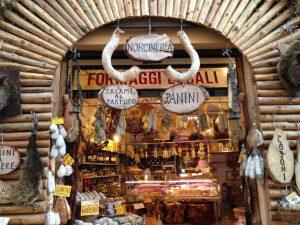 What better excuse to get out of town than to learn how to cook like an Italian? Stay in a stunning agriturismo or simply go for the day to put your cooking skills to the test. You will leave with the ability not only to identify the vegetables and meats of Italy, which can be helpful during your stay, but also to stun your friends back home with your new recipe for handmade pasta. Taking a cooking class is also a great way to meet others with similar interests from all over the globe.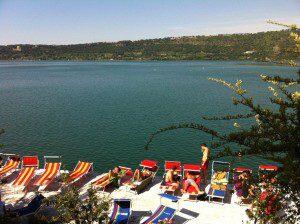 Play outside
Italy's terrain is surprisingly various. You've got the pristine sea all around and the mountains slicing through its middle. There are the valleys of Emilia-Romagna and the gentle roll of Tuscany. What better way to enjoy all this natural beauty then go play in it? Stop off at a lake for a swim, go horseback riding in Umbria, take a hike in the National Park of Abruzzo, snorkel in the Aeolian Islands, climb Mt. Etna, ski in the Alps, and that's just some of the outdoor activities that you can do throughout the Italic Peninsula.
Stay in an agriturismo
An agriturismo is usually a farm that produces wine or food and has rooms for visitors to stay in. Spending nights in an agriturismo might just be one of the most relaxing things you can do on your Italian holiday. Immersed in nature, an agriturismo can be simple or the most accommodating—such as offering a pool or even a spa or sports. Once you start looking at those beautiful stone farmhouses, you might be tempted to spend your whole Italian vacation at one, lounging by the pool looking out over the Umbrian hills.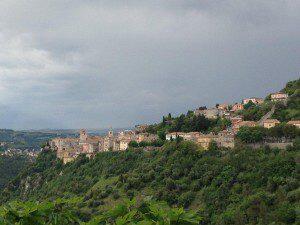 Taste wine
It's well known that Italy has some of the best wines in the world. If wine is your thing, then head to the countryside where the grapes are grown. Tuscany is an obvious choice, with several wine-making regions. Pick up a map at the tourist office in town, and navigate the curving country roads to your favourite vineyard. Another great wine area to head to is Umbria around the village of Montefalco for their rich Sagratino di Montefalco. Wine tasting can be combined with an agriturismo stay as many produce their own wine and will give you a tasting of their goods if you ask.
Visit hill towns
Just another one of the pleasures of taking a drive through the Italian countryside is coming upon a medieval town on a hill in the distance. As you get closer you see it's not as large and hostile as it looks with its stone walls and foreboding towers. Taking a walk through its narrow streets puts you side-by-side with a truly Italian way of life that seems so distant to the modern bustle. Men still gather every afternoon in the main piazza while the women go out to chat and pick up the ingredients for supper. There should be at least one cafe open with chairs outside, so pull up a seat and watch the slow life of the country pass by.
What's your favourite thing to do in the beautiful Italian countryside?
* * *
Contact [email protected] with Blog Enquiry in the subject title for any feedback or requests for a topic you want us to cover. Voted one of the best things to do in Rome, Eating Italy Food Tours offer a Rome walking food tour through one of Rome's oldest and most characteristic neighborhoods.