20993 Views
As much as I enjoyed eating traditional Italian foods when I was younger, I lived with the idea that American desserts were superior to Italian desserts. Sure, Italians had Tiramisu and Gelato, but those were nothing compared to raspberry topped cheesecakes, towering chocolate layer cakes, and fudgy brownies. There were very rarely surprises and creativity in Italian desserts as far as I could see.
This post was originally published in 2014 and has be revised for accuracy. 
The Italian restaurants I went to offered the same list of Italian desserts (Panna Cotta, Tiramisu) and I was slightly disappointed when offered the usual cantuccino or two with coffee after lunch at my nonna's house. Even worse were the lunches where I was given—gasp!—a bowl of strawberries. Where were my chocolate chip cookies, cupcakes, and apple pie a la mode?!
Italians, I was convinced, were great when it came to pasta and pizza, but missed the mark when it came to Italian desserts.
Since learning to bake and living in Italy, however, I've learned to appreciate the simplicity of Italian desserts. I've realized that often the best way to finish off a multi-course meal is not with a slice of pie but rather a few simple delicious biscotti (or cookies); not necessary an ice cream sundae when you have a scoop of pistachio gelato that tastes exactly like toasted pistachios; and you do not really need a three-layer devil's food cake when you have a Italian dessert called Torta Caprese!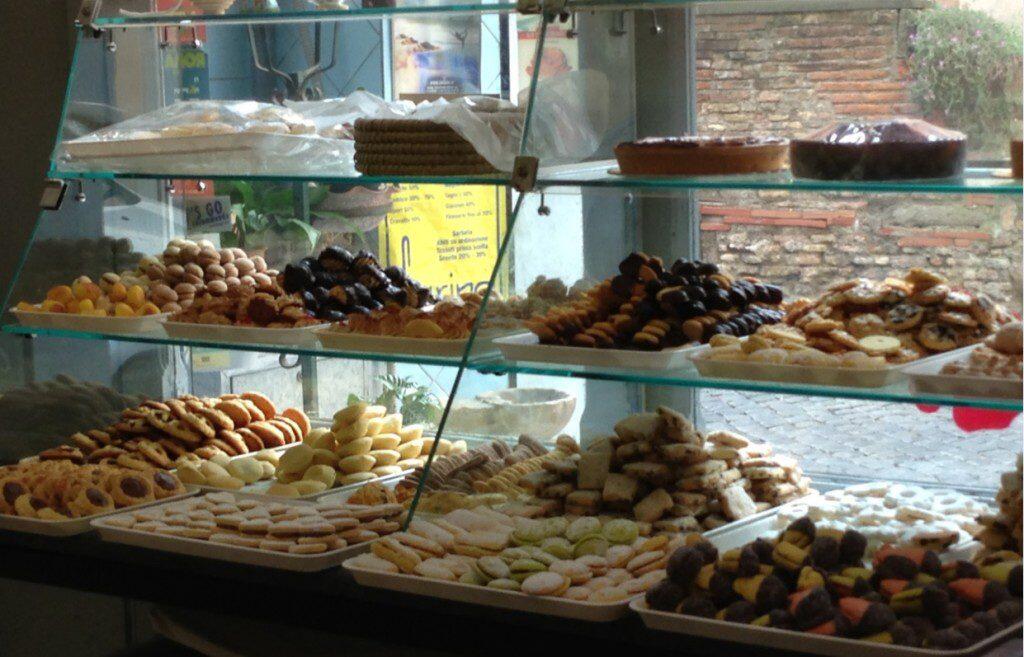 Torta Caprese, for those of you who don't know, is a chocolate cake made with ground almonds that originate from the island of Capri, near Naples. Its ingredients are simple– only eggs, butter, chocolate, and almonds—and makes for a very dense and intensely chocolatey cake. The use of ground almonds gives this cake a certain richness and another layer of flavor, means that this cake is a great Italian dessert for Italian food lovers who cannot eat gluten.
View this post on Instagram
Following a Torta Caprese recipe is actually a bit less time consuming than your average layer cake. It is extremely simple and elegant in its presentation, and the perfect Italian dessert for a dinner party, birthday, or special occasion. I like to serve this Italian dessert with a dusting of powdered sugar, but I bet whipped cream and raspberries on the side would be good too. Now I'll share my favorite Torta Caprese recipe with you – enjoy!
Torta Caprese Recipe
Torta Caprese Ingredients 
1 3/4 sticks (196 grams) unsalted butter
1 ¼ cups (196 grams) blanched whole almonds
6 ounces (168 grams) fine-quality bittersweet chocolate
4 large eggs
1 cup (225 grams) granulated sugar
Powdered sugar to garnish
Steps:
Preheat the oven to 170 degrees Celsius or 350 degrees Fahrenheit.
Butter and flour a 10-inch springform pan. In a small pan, melt the butter and let it cool.
In a food processor, finely grind the almonds and chocolate. Separate the eggs, putting the yolks in a large bowl and the whites in another large bowl.
In a bowl with an electric mixer beat the egg yolks with the sugar until very thick and pale; then add the almond chocolate mixture and the butter and beat together.
In another bowl, with cleaned beaters, beat the egg whites with a pinch of salt until they form stiff peaks. Whisk one-fourth of the egg whites into the mixture. Fold in the remaining whites gently and spread the batter evenly in the pan.
Bake the Torta Caprese for 50 minutes, or until it begins to pull away from the side of the pan and a toothpick inserted into the middle of the cake comes out with moist crumbs attached. Cool the cake completely before releasing the sides of the springform pan. Dust the cake with powdered sugar and serve the best Italian dessert. Serves 8–10. (Adapted from Bon Appetit magazine).
View this post on Instagram

We hope you enjoy this Torta Caprese recipe! Next time you're in Italy, taste desserts like this on our Rome food tours!