1988 Views
When I was younger, I assumed that everyone went to her grandparents' house on Sundays to have lunch. And by lunch, we didn't eat just any lunch: our lunch began around 12:30 with an antipasto (prosciutto and melon and fried zucchini flowers, for example) and continued to a dish of pasta, at least four different side dishes and a second course. Our lunch finished around 4:00 with dessert and espresso. When I was younger, I felt confused and then slightly smug when my classmates told me that they ate meatloaf or peanut butter sandwiches at their grandmothers' houses for lunch. Poor things.
Lunches at my paternal grandparents' house—Nonna Ada and Nonno Jim, as we call them—have always consisted of and continue to consist of some of the best food I've ever eaten. Both of my nonni are from Calabria, from the tiny town of Grotteria to be exact. They came to the US in 1934 (him) and 1953 (her). Though I know their stories well by now, I am always fascinated to hear about my grandfather's decision to move to the US at age 14, what Ellis Island was like and what going to school was like as an immigrant.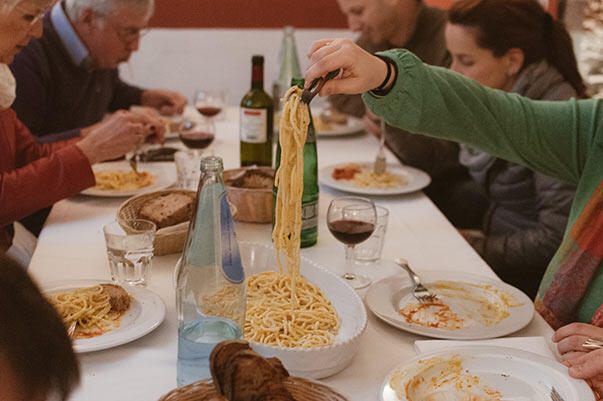 Equally fascinating is my grandmother's stories of leaving her family and coming to the US at 25 when she married my grandfather, learnt English and raised children in a country that was not her own. I know that initially it was not at easy, but that cooking was a way for her to bring Italy to her new home in Providence, Rhode Island, and was a source of comfort. And now, learning her recipes and cooking with her is so much fun.
Even when I'm in Italy I find myself craving my grandmother's cooking, most often her meatball and tomato sauce. It has been my favorite dish for as long as I can remember. When I was little, I remember being given my plate of pasta, and then keeping an eye on the kitchen, waiting for my Nonna to bring out the dish of meatballs and the little bowl of extra sauce on the side for those who wanted it. To the dismay of my family, I am almost always guilty of hogging the extra tomato sauce she puts on the table—there's never enough to go around for 8 people when I'm there—but thankfully Nonna Ada knows this and always has extra sauce to back up the extra sauce.
These meatballs can be made in advance and heated up in the next day —the flavors will have more time to develop and the dish will taste even better. They are good on their own as a secondo, as my Nonna serves them, but would also be good Italian American style over pasta, both of which make sure no drop of sauce goes to waste.
Meatballs in tomato sauce! Yum! by Arnold Gatilao
Recipe: Meatballs in Tomato Sauce
Ingredients
Tomato Sauce:
Olive oil
1 small onion, chopped
1 stalk celery, chopped
1 carrot, chopped
2 (32-ounce) cans crushed tomatoes
4 to 6 basil leaves
2 dried bay leaves
Meatballs:
1 pound (450 grams) of ground beef
2 eggs, beaten
1–2 garlic cloves (depending on how much you like garlic) very finely chopped
½ cup (110 grams) of parmesan cheese
1 cup (50 grams) stale white bread torn into pieces
1 tsp salt
¼ teaspoon black pepper
Instructions:
To make the sauce: In a large pot, heat some oil over medium high heat (it should be enough to coat the bottom of the pan and sauté the vegetables). Add the onions and cook until soft and translucent, about 2 minutes. Add the celery and carrots and season with salt and pepper. Sauté until all the vegetables are soft, about 5 minutes. Add the tomatoes, basil and bay leaves and simmer covered on low heat for 1 hour or until thick, stirring every now and again to make sure the sauce doesn't stick to the bottom. Remove the bay leaves from the sauce and taste to see if you need to add more salt or pepper.
To make the meatballs: Moisten the stale bread in a bowl with a little water, and then use your hands to tear the bread into even smaller pieces. Combine all the ingredients in a large bowl, mixing well with your hands. Shape the meatballs by rolling them into pieces that are roughly the same size (you can use a large spoon to make sure you use about the same amount of meat for each meatball). There should be about 24 meatballs. Place the meatballs in the sauce, reduce heat to medium-low and simmer for 15–20 minutes or until the meatballs are cooked through. Using a slotted spoon, take out the meatballs and place them in a serving bowl or platter, and set aside. Eat the meatballs as a secondo with extra sauce, and some good Italian bread to make sure you enjoy every bit of the sauce.