7344 Views
Monti is Rome's hip enclave located near the city center and the monuments of Ancient Rome, the Colosseum and the Forum. It's a small neighborhood set between the two wide roads of Via Cavour and Via Nazionale on the north and south, and to the east and west it is defined by the Forum of Augustus and the church of Santa Maria Maggiore. Unlike the rest of Rome, Monti's charm doesn't lie only in its churches, monuments or narrow cobbled streets, but in its shops, restaurants, bars and the people who flock to these places.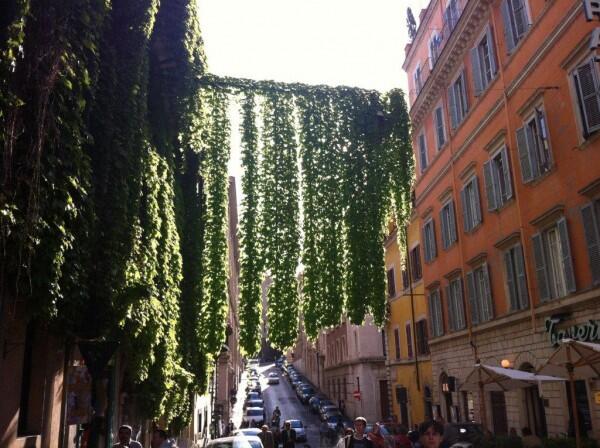 The Ultimate Guide to Monti, Rome
Some history
In the Ancient Roman times, Monti was called Suburra and was where the not-so reputable characters lived. During that time a huge wall was built to block the sight of the slums from the Forum, and a large chunk of this wall still exists behind the Forum of Augustus. In medieval times, Monti was densely populated and earned the name Monti for being the spot where three hills of Rome converge: the Esquiline, Quirinal and Viminal. (The symbol of Monti can be seen on the area's buildings and shops: it is three hills made up of three mounds, arranged in a triangle.) When Mussolini came into power in the 1930s, he destroyed a large tract of this part of the city, which on the one hand uncovered the ancient Roman ruins of the Forum but on the other, made the space for the horrendous Via Fori Imperiali.
When to go
Monti fills up in the late hours when people come to meet with friends in its bars or in the piazzetta (the local name for Piazza Madonna dei Monti). And evening is certainly the busiest time in the area, leading into the night as shoppers give way to diners and to those going out. During the day, Monti serves best as an escape from the hordes at the Colosseum and the Roman Forum. Slip into these charming streets for a good Roman lunch or simply to while away the time in a cafe.
Where to shop
Via Boschetto is the most shop-filled street of the area. And taking a walk down it will mean going at it in fits and starts because in every-other window there's something interesting to see. Some notable shops are Le Nou (Via Boschetto, 111) for handmade clothes such as dresses made to size, Pulp (Via Boschetto, 140) to stock up on your vintage gear and Rice* (Via Boschetto, 96) for Danish kitchenware in bright, cheerful colors and designs. Please remember that many shops in Monti take a long lunch, usually from 1:30 pm to 4:30 pm, so save your shopping for the mornings or evenings.
On the weekends head to Mercato Monti on Via Leonina (Via Leonina, 46; mercatomonti.com) if you're looking for something a little different to bring home. The artists here make all sorts of accessories and clothes, and there is usually a good vintage and used selection of everything from vests to rotary-dial telephones.
Where to shop for food
For edible shopping, Monti also has plenty of great options. There's Grezzo Raw Chocolate (Via Urbana, 130; grezzoitalia.it), which just opened, to satisfy your sweet tooth with delicious desserts or, in the summer, gelato. If you're craving the opposite, try Aromaticus next door (Via Urbana, 134; aromaticus.it). This shop sells potted herbs of many varieties, and if you're traveling there are also portable foodie gifts available like jams and accessories for your garden. Another food shop is Mercato Mia (Via Panisperna, 225; miamarket.blogspot.it/) where you can pick up some delicious canned tomatoes or other regional (Lazio) specialties.
Where to eat lunch
Dall' Antò (Via Madonna dei Monti, 16; dallanto.com) is a great simple place to go for lunch or a quick dinner. There's usually a huge chickpea flour flatbread from which one of the Antonios will cut you off a tasty piece. Also too tasty to pass up is the crepe made out of chestnut flour stuffed with ricotta. Another Monti favorite for lunch is Piadineria (Via Boschetto, 98; lapiadineria.com) where fresh, flat sandwiches are made for all the hungry workers in the area. Both Aromaticus and Mercato Mia, listed above, serve a small menu for lunch. After lunch, be sure to get a gelato at Fatamorgana (Piazza degli Zingari, 5; gelateriafatamorgana.com) where you'll have a good selection of favorite and unusual flavors, all made from fresh ingredients.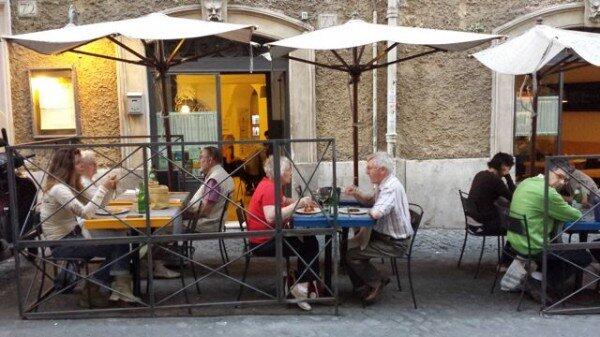 Where to eat dinner
Though Catherine has written a great roundup of Monti's restaurants already, it doesn't hurt to mention a few of the most delicious here. If you are looking for something that's a step above the normal trattoria, try Asino d'Oro (Via Boschetto, 73). The menu changes here seasonally. Another local favorite is Taverna dei Fori Imperiali (Via della Madonna dei Monti, 9) where you can get the usual Roman fare as well as some unusual extras that will surely please. And if you're looking for something tasty and trendy, try Urbana 47 (Via Urbana, 47; urbana47.it) where the food and atmosphere won't disappoint.
Where to go out
Again, Catherine has written a great roundup of Monti's bars, but I can't help naming a few here. Most notably, the piazzetta, though it's not a bar, it's where everyone seems to end up at night. Beer or wine can be bought from the surrounding bars and enjoyed from a plastic cup on the stone steps of the fountain that was designed by Giacomo della Porta. Also good is Black Market (Via Panisperna, 101) where you can enjoy a drink in the comfortable atmosphere. In the summer, this bar moves to the Lungo il Tevere, the white tents that line the river on the embankment.