2612 Views
If, like me, you've not been as organised as you'd have liked with your festive plans this year (must start that Christmas shopping…), have no fear! There are, of course, lots of New Year events to choose from in the city, and tickets to many are still available. Here are six great ways to spend New Year's Eve in London—including partying with dinosaurs and sampling Spam sandwiches.
Where to See Fireworks in London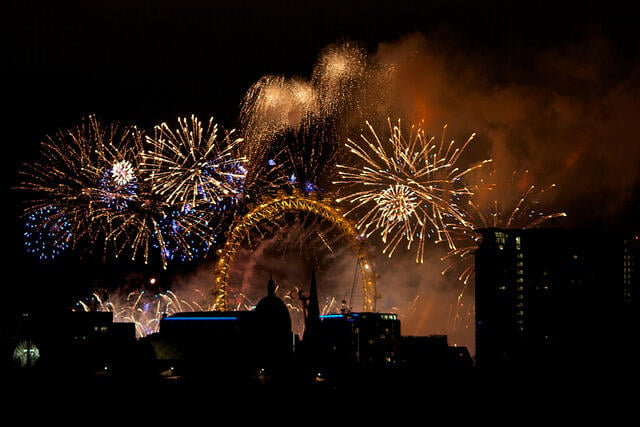 The fireworks at the London Eye brings in crowds of around 250,000 people every year. It's the biggest annual display in Britain and is a fantastic sight. There are special designated viewing areas which you'll need to get to before 10.30pm to make sure you get a good view, and bear in mind that public transport will be busy and journey times longer. The display and public transport between 11.45pm on 31st December and 4.30am on 1st January is free.
Vintage New Year's Eve
The Southbank Centre is hosting a fancy Vintage New Year's Eve Party where there's loads going on over four floors, including 50s' rock 'n' roll, swing bands, dance tuition, a hair and beauty parlour, and vintage photo booth. You won't miss out on the London fireworks display either, as there's a private terrace overlooking the Thames to ensure one of the best views available. The event starts at 7pm, with dining beginning at 7.30pm. Early bird tickets are on sale for £95 per person for the party and an extra £65 to include three-course dinner too.
Prehistoric New Year's Eve Party
Forget about partying like it's 1999 – you could be partying like it's 225 million years ago at the O2 Shepherd's Bush Empire! Here you'll find a Prehistoric New Year's Eve Party, complete with dinosaur guests and a 'T-Rex on the decks'. Partying commences at 10pm and continues until 3am. Early bird (or reptile?) tickets can be bought for £10 each, and include a wristband allowing free entry into all Propaganda events in January.
The Artist at the Royal Albert Hall
For those looking for a New Year's event involving fewer extinct animals, the Royal Albert Hall will be screening the acclaimed silent film The Artist in HD, with the soundtrack performed at the same time by the London Symphony Orchestra. Hollywood glamour-style dress is encouraged but not compulsory. Screenings are at 3pm and 7pm, with tickets costing between £25 and £65.
Dark Circus Night
Come along to the Grand Hall, St. Pancras for an evening of theatrics and acrobatics at the New Year's Eve Dark Circus Party. Expect risqué costumes, adventurous cocktails and unforgettable circus performances. The night goes on from 9pm-3am, with tickets priced at £40. Don't forget your fancy dress…
Blitz Party
Get into that wartime community spirit and let yourself be transported back to the 1940s at the Blitz Party on Great Suffolk Street. The warehouse will be transformed into an air raid shelter, where you'll find yourself enjoying authentic wartime snacks amid sandbags and military bunk beds. There will be films, live swing bands and of course dressing up, although ladies thankfully have the option to wear tights rather than paint their legs with Bisto. From 9pm-3am, with tickets costing £40 each.
Whichever historical era you decide on, enjoy the company of good friends with good food and good spirits (of both kinds) to mark the end of 2013. Eating London wishes you a very Happy New Year, and here's to more culinary adventures in 2014!
***
What better way to start the new year off right than join us for a walking tour around London's East End? A great beginning to a great year!