3834 Views
As a reluctant Tube traveller, I'm pretty well-versed in London bus timetables and route numbers. 'You get on the underground and I'll meet you there in three hours' doesn't always go down too well, though. One of my favourite things about getting around by bus is that you actually get to see some of the city. And there's bus fun for all types of occasions – including weddings – as these London bus tours show.
Traditional London Bus Tour
The Original London Sightseeing Tour has three routes and stops at over 80 places, and you can get on and off as much as you like within 24 hours. It's a sure-fire way to see the city's most popular attractions, and tickets are cheaper when you book online in advance – £25 per adult and £11.50 per child (under 16).
Alternatively, if you're feeling flush, you can hire a restored traditional London bus with Timebus Tour and the see the sights all by yourself or with family and friends. The route is open to negotiation: tours of central London take between 1 and 2 hours but you can also venture a bit further afield and see, for example, Victoria and Albert-related sites in Knightsbridge, or Jack the Ripper crime scenes in the East End. Rates are agreed on an individual basis.
Harry Potter Tour
Three hours of Potter-related locations await onboard the Harry Potter Bus Tour. See the entrance to the Ministry of Magic and Gringotts Wizarding Bank, the inspiration behind 12 Grimmauld Place, and push the trolley through Platform 9 ¾. The tour runs on selected Saturdays, Wednesdays, and Thursdays, and costs £25 per adult and £18 per child.
Time Travelling Tour
A great tour for kids, the Time Tour Bus features a Back to the Future style mad professor who claims to have built a time-travelling bus from bits dating from the Victorian period to the distant future. There are video cameras and plasma screens installed inside, and the professor takes his passengers through London's past, present and future with a little help from a phone which helpfully connects him to historical figures. I need to get myself one of those! Tours run at 2.45 pm on Saturdays and Sundays, and tickets are £20 for adults and £14 for children.
Ghost Bus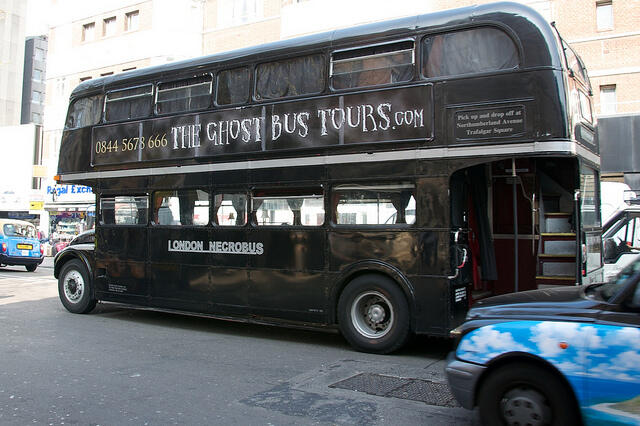 In similar theatrical style, but perhaps less suitable for young children, is the Ghost Bus Tour. The company claims the bus itself was once used to transport corpses and mourners to funerals and has been restored with new seating, lamps and curtains. The route includes the Houses of Parliament, Westminster Abbey, and the Tower of London. Expect grisly tales of murders and executions and the odd comic moment from the onboard actors. Tours run daily at 7.30 pm and 9 pm, costing £20 per adult and £14 per child.
London at War Tour
Travel in a 1930s/40s bus and learn about how the Second World War impacted the city and its people with this Wartime London Bus Tour. There are two routes available: a morning tour which includes a visit to the Imperial War Museum or an afternoon tour which stops off at the Churchill War Rooms. Alternatively you can buy a full day ticket for £48 per adult and £38 per child. Tours run on Tuesdays, Thursdays, and Saturdays between April and October.
There are so many options for seeing London from a comfortable bus seat, the toughest part will simply being choosing which ones to take!
***
Want to stretch your legs a bit? Why not join us for a delicious guided walking tour of Spitalfields?