4105 Views
Each month, Eating Europe is collaborating with a different food blogger to bring you recipes inspired by our food tours and the stunning European countries they take place in. Last month, Susan Palmer shared her Prague-inspired recipe for savory kolache – a Czech specialty – on her blog, Girl in the Little Red Kitchen.
This month, just in time for spring, we'd like to introduce you to Paola Bacchia – a food blogger with a passion for all things Italian. While she lives in Melbourne, Australia, her family is from the northern part of Italy (she defines herself as Italo-Australian) and she travels to the country every couple of years to spend time with them. Given her family history, the title of Paola's blog should come as no surprise: Italy on My Mind is as much about memories as it is about food. In a recent interview with Italy Magazine, who nominated Italy on My Mind as "Best Food Blog" in their 2013 Blog Awards, Paola describes how food plays such a large role in memory: "From regular Sunday family meals to bigger celebrations like Christmas Eve with a big group of family and friends, the home-cooked food was always plentiful. It felt like the Italian food that my mother cooked brought everyone together, with its shared memory of the old country."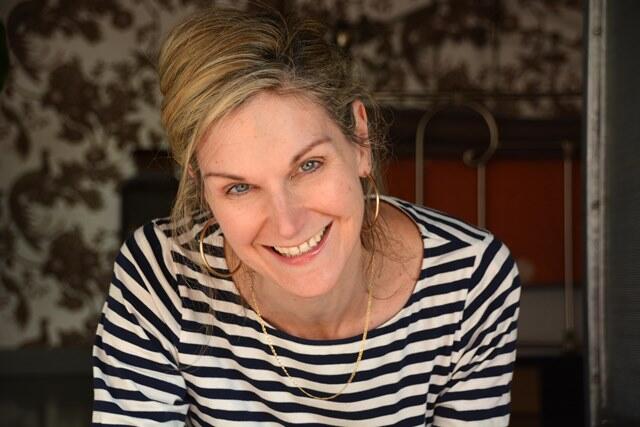 Paola started her blog 3 years ago, after appearing on MasterChef Australia. She explains: "It suddenly clicked. I wanted to write a blog about Italian food, run cooking classes – both in my home in Australia and in Italy – and one day maybe even write a book. The blog was and continues to be an essential part of my 'food dream' and a way of sharing family stories, food memories and recipes." That's a sentiment I think most of us can agree with!
Being huge Italy fans ourselves, we at Eating Europe love the fact that Paola's blog charts diverse recipes from the traditional to the modern – with many new interpretations of the old traditions. And while she focuses a lot on the culinary influences at work in northern Italy, she also tracks her travel adventures to the rest of the country.
We were lucky enough to meet Paola in March, when she took an Eating Italy Food Tour with us during one of her regular visits to Rome. Given her unique affinity for Italian food, culture and way of life, it's no surprise she felt inspired to share an Italian recipe with us…
Paola's Recipe for Torcetti al Burro e Birra – butter and beer cookies
Ingredients (makes 12):
4 oz (125 g butter), cut into small cubes, at room temperature
8 oz (250 g) plain flour
75 oz (50 g) raw sugar
pinch of salt
2 fl.oz (60 ml) beer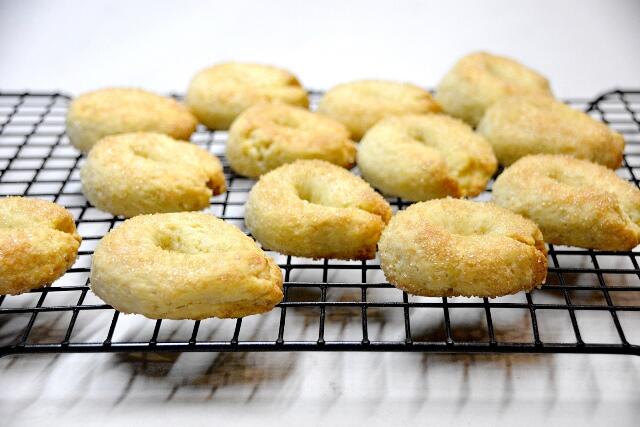 Method:
Place the butter and flour in a food processor at low speed and process until the texture resembles sand. Add the sugar and salt and process (again at slow speed) until well combined. Add the beer one tablespoon at a time until the mixture comes together, adding a few drops extra if needed. Remove the dough from the food processor and wrap in cling film; place it in the fridge for at least 30 minutes.
Preheat the oven to 375 F / 190 C. Cut the dough in half, then in half again, and finally into 12 equal sections. Roll the dough into ropes around 5 in / 12 cm long, bring the ends together, and press lightly. Roll in extra raw sugar and place on a lined baking tray.
Bake for 15-20 minutes until golden. Cool on a wire rack. They will keep for about 5 days in an airtight container.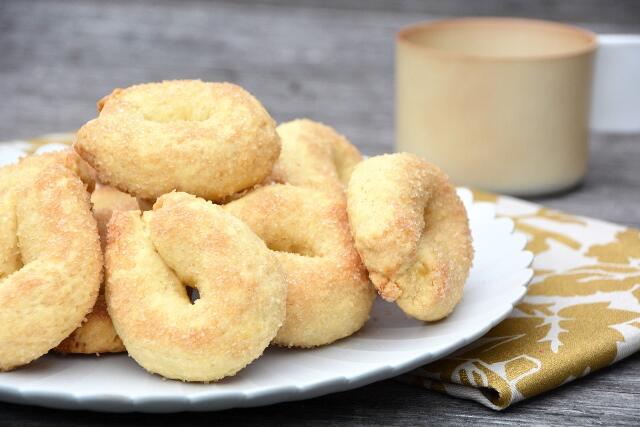 This recipe originally appeared on Italy on My Mind on April 3. For more of Paola's delicious recipes, take a look at a few of our favourite posts:
Buon Appetito!