4586 Views
Throughout this year, Eating Europe has been collaborating with different bloggers to bring you recipes inspired by our food tours and the stunning European countries they take place in. Last time, we discovered Mandi's delicious take on the classic British dish Fish & Chips, thanks to her blog, Chewsy Lovers, which she writes with her husband.
For December, as the last in our series, we're proud to introduce you to Jordan Hamons, author of food and travel blog The Hungry Traveler. Jordan loves food that is internationally influenced and tells a story or reminds her of a special memory. So when she came on our Prague food tour a few months ago, she was won over by the poppy-seed kolache she tried. This is her take on the famously sweet Czech kolache – and we think they'd make a delicious holiday treat, too!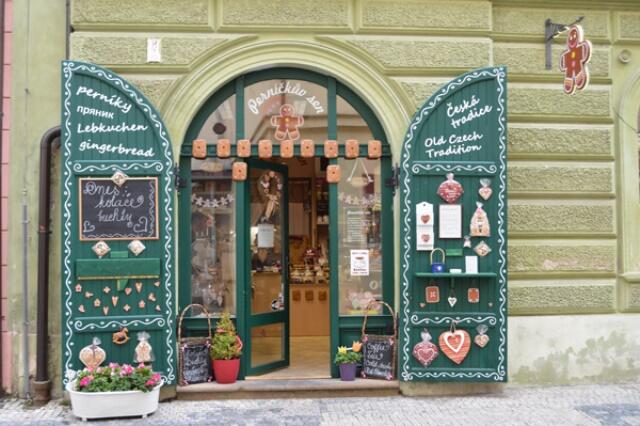 About Jordan and The Hungry Traveler
Currently living in Ohio, Jordan is a classically-trained chef, cooking teacher, food and travel writer, and blogger. She explains her philosophy: "My culinary perspective is simple – I like food that tastes really good and is made using traditional recipes and great ingredients." Skilled in both the savory and pastry kitchens, food is all about evoking memories of a special time or place for Jordan. So it's natural that for her, traveling and eating go hand in hand: "I write about globally-inspired cooking and food-driven travel," she says. We can get on board with that!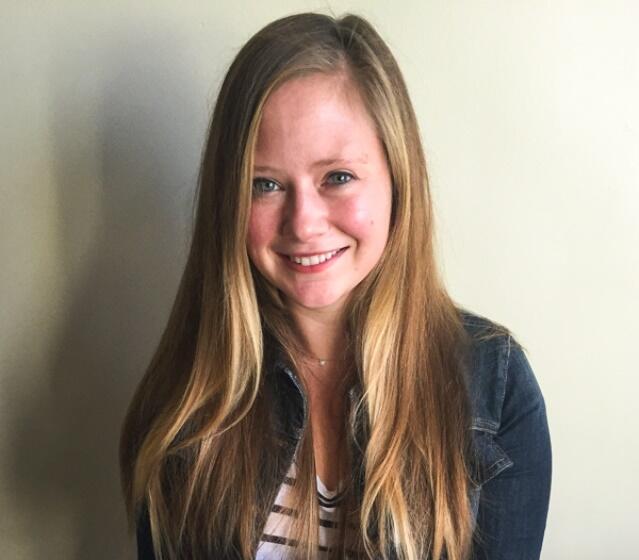 After graduating from cooking school, Jordan worked as a corporate chef at a Fortune 500 company, a restaurant consultant, and a food and beverage branding specialist working with various brands. She now teaches cooking classes, writes about food and travel, and is working on her dream of writing a cookbook. Let's hope our Prague-inspired kolache make the edit!
About Czech kolache
"I chose to bake a Czech kolache recipe because, when I look back on my food tour in Prague, the cookies we tried – with a gingerbread base, a poppy-seed filling and a streusel topping – were what really stood out for me," explains Jordan. "Everything we ate that day was wonderful, but as a pastry chef and baking instructor, I pay the most attention to the baked goods. I love discovering new desserts and sweets when I travel, and as soon as I had a bite of the kolache, I knew I needed to figure out the recipe so I could make them at home. I think they would be a welcome addition to any tray of Christmas cookies!"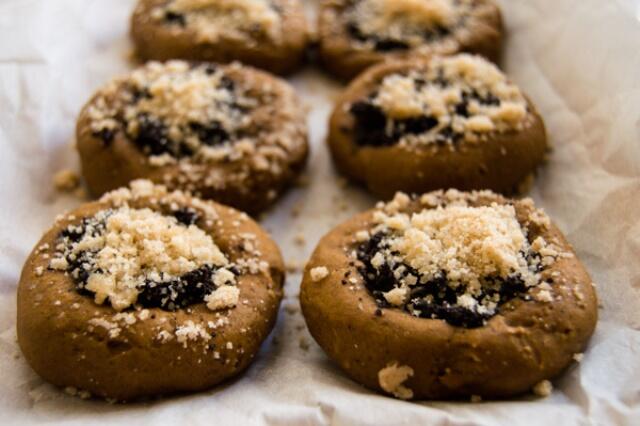 So what are we waiting for? Let's get baking!
Jordan's Recipe for Kolache: Czech poppy-seed cookies
Ingredients (makes 36 cookies):
For the gingerbread dough:
6 cups (750 grams) all-purpose flour
1 cup (96 grams) almond flour (if you prefer not to use almond flour, increase the all-purpose flour by 1/2 cup (63 grams))
2 teaspoons baking soda
1 teaspoon ground cloves
2 teaspoons ground cinnamon
2 tablespoons ground ginger
1/2 teaspoon ground coriander
1 teaspoon ground allspice
1 teaspoon ground nutmeg
1/2 teaspoon ground mace
1/2 teaspoon kosher salt
1 teaspoon lemon zest (from about 1 large lemon)
1 teaspoon orange zest (from about 1 medium orange)
1/2 cup (114 grams) unsalted butter, softened
1 cup (200 grams) firmly packed dark brown sugar
1 cup unsulphured molasses
1 cup (237 grams) water
For the poppy-seed filling:
1 cup (150 grams) whole poppy seeds
1 cup (235 ml) whole milk
3 tablespoons (39 grams) granulated sugar
1 tablespoon plum jam
1 teaspoon vanilla extract
1/4 teaspoon kosher salt
For the streusel topping:
1/4 cup (30 grams) all-purpose flour
1/4 cup (50 grams) granulated sugar
1 teaspoon kosher salt
1/4 teaspoon ground cinnamon
2 tablespoons unsalted butter
Method:
To make the gingerbread dough:
In a medium bowl, whisk together the all-purpose flour, almond flour, baking soda, cloves, cinnamon, ginger, coriander, allspice, nutmeg, mace, salt, lemon zest, and orange zest.
In the bowl of a stand mixer fitted with the paddle attachment, on medium speed, beat together the butter and brown sugar until smooth and creamy, about 2 minutes. Scrape down the sides of the bowl.
With the mixer on, slowly stream in the molasses and beat on medium speed until incorporated, about 30 seconds. Scrape down the sides of the bowl.
Add 1/3 of the flour mixture and mix on low speed until just incorporated. Add 1/2 of the water and mix until just incorporated. Scrape down the sides of the bowl. Add another 1/3 of the flour and mix until just incorporated. Add the remaining water and mix. Scrape down the sides of the bowl. Add the remaining flour and mix until just incorporated. Scrape down the sides and bottom of the bowl, paying careful attention to incorporate any loose bits stuck to the bottom. Mix on low for 15 seconds to ensure everything is homogenous and incorporated.
Cover the mixer bowl and the dough with a sheet of plastic wrap. Refrigerate for at least 1 hour (preferably longer if you have time) or up to 3 days.
While the dough is chilling, make the filling and streusel topping.
To make the poppy-seed filling:
Grind the poppy seeds in a spice grinder or a high powered blender.
Combine the poppy seeds, milk, sugar, plum jam, and salt in a medium saucepan. Simmer over medium heat, stirring occasionally, for about 30 minutes or until the mixture has thickened.
Add the vanilla and let cool for 5 minutes.
To make the streusel:
In a medium bowl, mix together the flour, sugar, salt, and cinnamon.
Use a fork to cut in the butter until fine crumbs form.
To assemble the cookies:
About 30 minutes before baking, set an oven rack in the middle of the oven and preheat the oven to 350 degrees Fahrenheit (approx. 180 Celsius). Line 2 cookie sheets with parchment paper and set aside.
Remove the dough from the refrigerator. Using a cookie scoop or a tablespoon, form balls of about 1 tablespoon each. Place each ball on the prepared baking sheet about 2 inches apart. Use your thumb (dip it in water or spray it with cooking spray) and press down in the center of each ball to create an indentation about 1 inch wide and 1/2 inch deep. Repeat with all of the dough.
Spoon 1/2 teaspoon of poppy seed filling into each indentation. Sprinkle the streusel evenly over the top of the cookies.
Bake the cookies for about 8-10 minutes or until puffed and set. They will still be soft but will harden slightly as they cool. Let cookies cool on the pan for 5 minutes and then use a pancake turner to lift the cookies onto a wire cooling rack.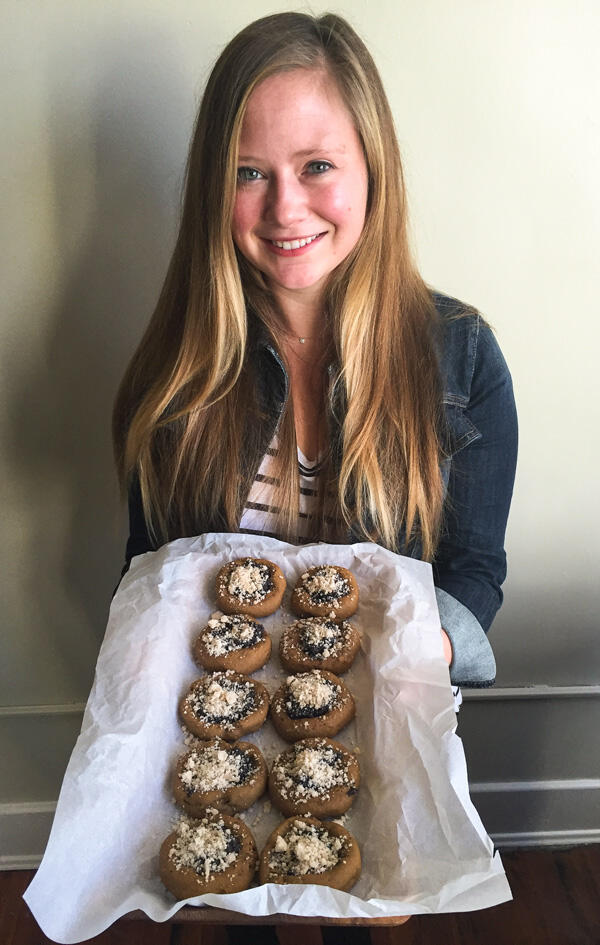 A note about storage: You can store the cookies in an airtight container for up to 1 week. You can freeze the raw gingerbread dough in a disk for up to 3 months. When ready to bake, thaw the dough in the refrigerator until it is soft and pliable, then continue with the recipe, making the filling and streusel fresh.
This recipe originally appeared on The Hungry Traveler on November 27, 2015. For more of Jordan's delicious recipes, take a look at a few of our favorite posts:
Dobrou chuť!