6550 Views
Wondering what to do with those leftover potatoes and Brussels sprouts after the Christmas meal this year? Wonder no more! The oddly named Bubble & Squeak is apparently so-called because of the bubbling and squeaking sound it makes in the frying pan – but it's a name you'll likely hear only in England. In the rest of the world, it could be likened to potato cakes or hash browns – although nothing quite compares to the quintessentially English art of using up leftovers from a roast dinner.
But what exactly goes into Bubble & Squeak? Potatoes are the main ingredient – whether they've been boiled, baked or roasted, it doesn't much matter as you're going to mash them all up anyway. Cabbage is the traditional vegetable used (again, pre-cooked) but Brussels sprouts make a great (and seasonal) alternative. You can also add a meaty element (bacon cubes or chorizo make great additions) or really any other leftover veges or meat. Depending on what you add, you'll need greater or lesser amounts of seasoning, but a good knob of butter does wonders for the humble Bubble & Squeak in any case.
Although I've included a recipe here, this really is a very forgiving dish that you can pretty much make up as you go along depending on what you have left over in your fridge. Whichever way you make it, Bubble & Squeak makes a fantastic supper on Boxing Day, or why not serve it for breakfast with a boiled or poached egg on top?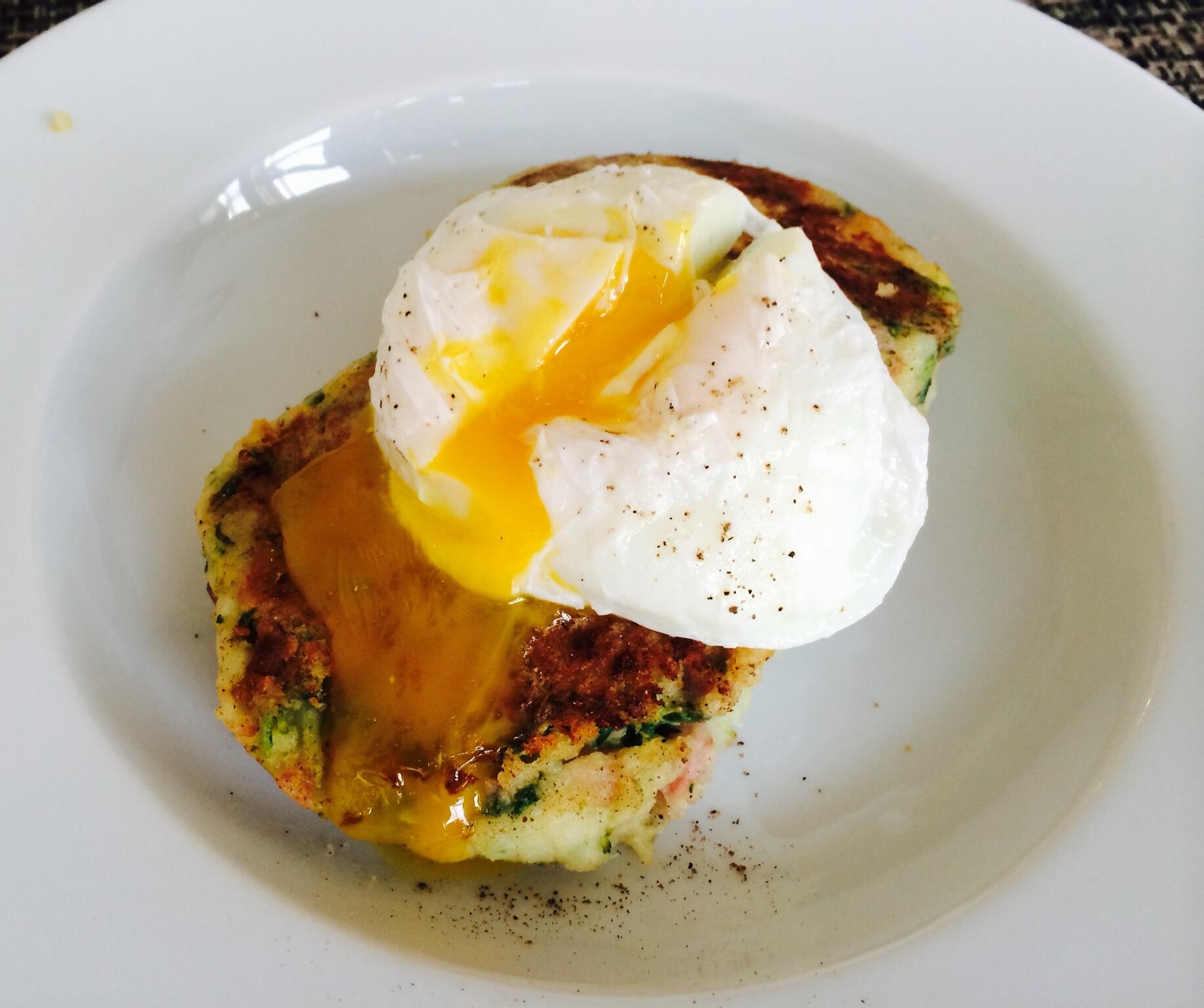 Bubble & Squeak – English Food Recipe
Ingredients:
2 pounds (approx. 1 kg) potatoes (uncooked weight)
1 pound (approx. 500 g) Brussels sprouts (uncooked weight)
2 onions – finely diced
½ pound (approx. 250 g) bacon or chorizo (optional) – cubed
4 tbsp milk
1.5 ounces (40 g) butter
1 tbsp wholegrain mustard
Salt and pepper
Plain flour
Vegetable oil
1-2 eggs per person (optional) – boiled or poached
Method:
If making this from scratch rather than from leftovers, peel the potatoes, boil until soft, drain and roughly mash. If using leftovers, just mash whatever you have.
Likewise, if using uncooked Brussels sprouts, boil for 5 minutes and drain. Otherwise, use leftover cooked Brussels sprouts. Either way, roughly chop up your sprouts and add to the potatoes.
Meanwhile, fry off your chopped onions and bacon or chorizo if using (you won't need to add oil as the meat has plenty) in a frying pan. Once soft and cooked through, add to the potato and sprout mixture.
Add the milk, butter, mustard and seasoning and mash everything together. Use a fork or hand-held potato masher for this (or even just your hands!) – using a blender will turn everything to a puree, which isn't the right texture for this rough and ready dish.
Separate the mixture into several large balls and pat out into large patties with your hands.
Dust a plate or board with flour and roll each patty in the flour so that it is coated on both sides. This helps the Bubble & Squeak get nicely crispy on the outside, but you don't want to taste the flour to make sure you brush off the excess flour with your hands after you've coated the patties.
Heat up a large frying pan with a generous layer of oil in the bottom. Fry off the potato patties for a few minutes on each side until they are golden brown, slightly crispy and warm all the way through.
Serve with poached or boiled eggs (as in my photos) or just enjoy your Bubble & Squeak by itself!