12488 Views
This post was originally published in 2014 and was updated in November, 2017.
When you think of Rome, you probably think of heat, right? And with reason, because boy does it get hot in the summer! Yet when the calendar flips to December, the temperature drops. But Rome doesn't lose any of its charm when it's chilly. Rome's low season is rife with plenty of things to do that are impossible when the city is (busy) hot and sultry, such as those in the list below. Here's our guide to why you just might want to visit Rome in winter!
18 Things to Do in Wintertime Rome
Choose more widely: In summer, choices of restaurants, hotels and museums are often made depending on price and availability. In winter, since prices are lower and the crowds are diminished, you have a wider choice for what you want to see or do and where you want to stay.
Don't wait in line: This is probably the best thing about Rome during winter: the crowds (almost) disappear. Winter is the only time you can visit Rome's best-loved monuments in relative peace.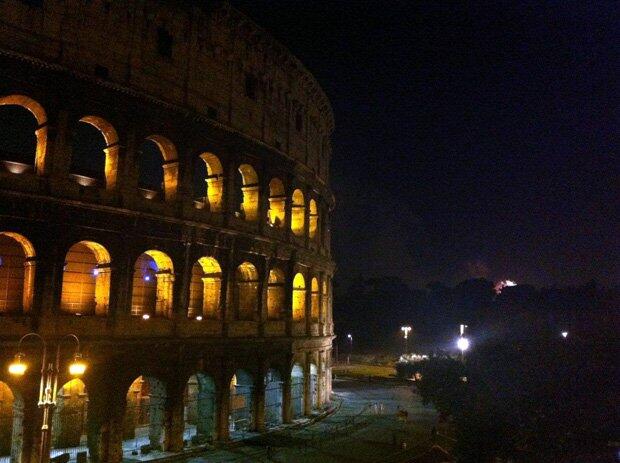 Eat comfort food: Every culture has it's comfort food that it turns to when the weather gets cool, and Rome is no exception. Pasta e ceci (pasta and chickpeas) and minestra (vegetable and pasta soup) are only served when it's cold out. Winter is also the best time to fill up on heavy spaghetti alla carbonara.
Eat winter sweets: Panettone, hot chocolate and frappe are just a few of the sweets you can only find during the winter months in Rome.
Enjoy the Colosseum: Instead of battling for the best views of and within the ruin, enjoy them! Inside and out, the Colosseum on a winter day is relaxing and rejuvenating. And you have a much better chance at seeing exactly what you came to see.
Go ice skating: Every year under the umbrella pines skirting the Castel San'Angelo a skating rink is set up. This is a great place to take kids when the weather's cool.
Muse on masterpieces: Some of the best exhibitions in Rome are organised during the winter months. This year an exhibition on Augustus is at the Schuderie di Qurinale until December, and Cezanne is showing at the Vittoriano until February. Warm your hands in front of some canvases!
* * * * * * * * * * * * * * * * * * * * * *
Avoid the tourist traps and taste the best of the Vatican area!
Join us on our Vatican Area Tour for Foodies: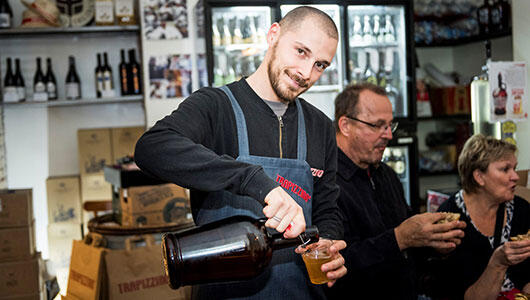 * * * * * * * * * * * * * * * * * * * * * *
Perfect your wine-pairing skills: From the comfort of a nice warm trattoria, let an Italian Master Sommelier take you through the finer points of Italian wines and learn how to pair them with the local food. Eating Italy's wine-pairing dinner is a fun AND educational way to spend a winter's evening!
Pay less for airfare and hotels: Perhaps one of the biggest benefits of coming to Rome in the low season is that flights and hotels are often cheaper—especially during the weekdays. Buy a month ahead for a real bargain!
See the Christmas lights: Christmas lights in Rome hang briefly but brilliantly. In the beginning of December the lights are hung and the enormous Christmas trees set upward, making Rome even more magical.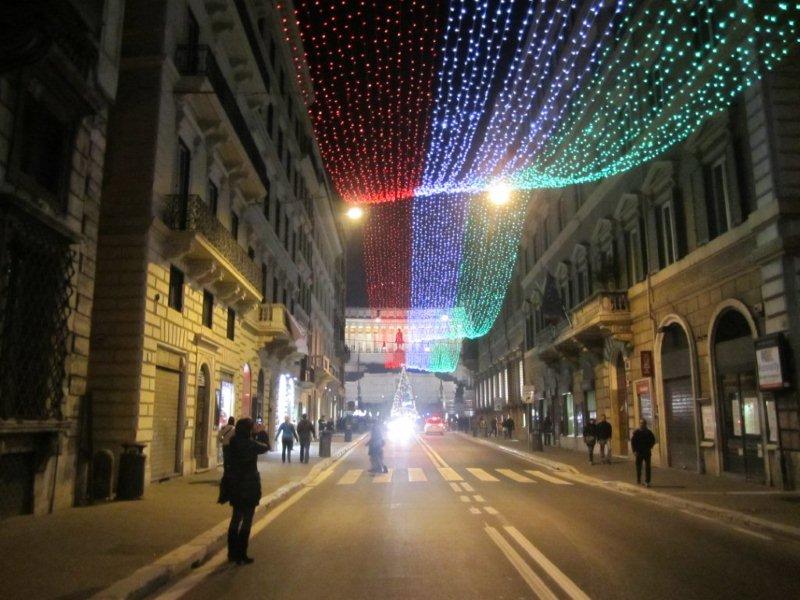 See the Sistine Chapel: In summer, the Sistine Chapel is a sweaty crowd. In winter, you can sometimes walk right in the Vatican Museum's door without a reservation or wait. You can mill around the floor beneath the famous fresco viewing every angle you could hope for.
Shop the sales: On the weekend after New Years, the winter sales start in Rome. They continue for about a month and though the stock depletes, the prices just keep getting lower.
Slow down: The harried pace of tourism in the summer is cut back to a trickle in winter. Sit back, relax and enjoy your holiday!
Smooch your sweetheart: Rome is a romantic city, making it a perfect place to spend Valentine's Day. Join the Romans on Gianicolo Hill to share a beautiful view with the one you love.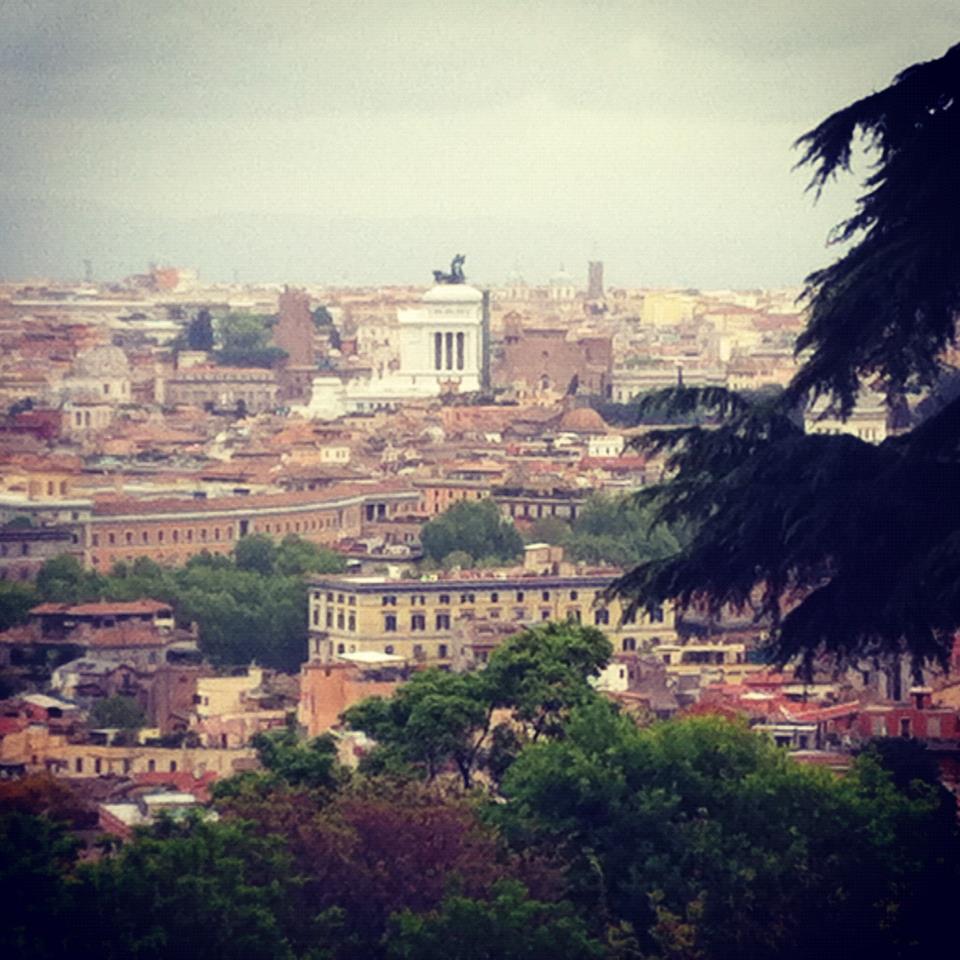 Soak up some sun: Even though rain is common in Rome in winter, there are still days when the sun shines. It's low angle means that it's not hot, but it can still warm. And when it's out everyone seems more cheerful.
Take in some snow: Snow fell in Rome three times in the last three years, which makes some pretty good odds that it might fall again this year. Blanketed in white, the city breaths magic and beauty. And despite the cold, it's impossible not to linger and play in it.
Watch for witches: Each December Piazza Navona trades its canvases for a Christmas Market. But don't expect Santa. Befana the witch (celebrated January 6) is the star of this show.
* * * * * * * *
Voted one of the best things to do in Rome, Eating Italy offers both food tours and culinary activities in the Eternal City!