3151 Views
Rome is a food lover's paradise for anyone who enjoys pasta, pizza, and a whole raft of other Italian cuisine. When you just can't wait for dinner to satisfy your taste buds, there are more than enough choices to fulfill your Roman food desire. Whether you're on the hunt for an open-air traditional Roman market or some of the freshest, fluffiest, most fragrant dough that is uniquely different compared to the crispy, thin pizza that is more widespread in the city. Or you can truly enjoy lunch as Romans do: have a proper long sit-down meal that takes at least a couple of hours and leaves you absolutely stuffed.
Alternatively, learn how to cook (and then enjoy lunch afterwards) from a real Italian Nonna (grandma)! In case you're looking for a quick lunch, there of course are also options such as fresh Italian sandwiches that have made their way from Milan, to some of the best street food that is taking Rome by storm. Regardless of your preference, you will find something to sate any appetite.
Where to Find Lunch in Rome
1. Piazza Vittorio Market
Eat lunch in one of the oldest markets in Rome, the Piazza Vittorio Market (or Esquilino Market). This market attests to the fact that, contrary to popular belief, some things about Rome do change. Once located in the center of Piazza Vittorio, the market is now undercover at Via Principe Amedeo, 184. But that's not the biggest thing to have changed. At one time most of the vendors and buyers were Italian, but now, in reaction to the changing face of Piazza Vittorio itself, the vendors, their products, and the people who buy them come from all over the world. Step into this market and be confronted with strange-shaped vegetables and wonderful smelling spices. If you're looking for a break from the tourist-centered vision of Rome, head to Piazza Vittorio on Monday through Saturday, between 7 am and 2 pm. You are sure to find a one-of-a-kind lunch that can only be found in Rome.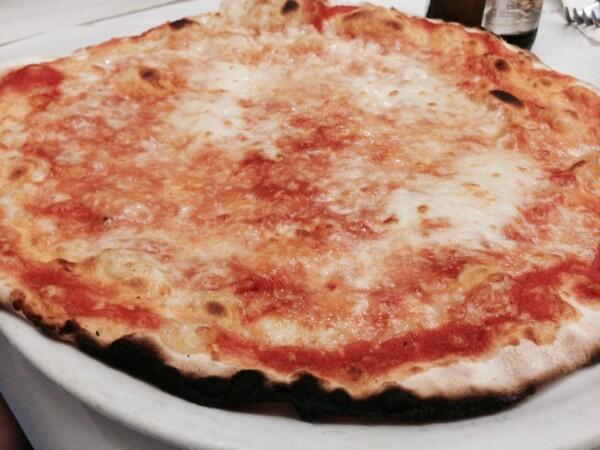 When looking for authentic Roman pizza, there is no need to look much further than Sforno for lunch! From the outside, it is easy to overlook this unassuming pizzeria, tucked away on a side street in the Cinecittà district. But once you have tried the house's cacio e pepe — somewhat of a modern classic by now — you will quickly understand why locals and tourist alike keep coming for more! The pizza goes in the oven with grated Pecorino Romano and ice cubes to prevent the cheese from melting. This attention to detail that goes into all of their menu choices, couple with their customer service, are key reasons for their success. No doubt a perfect stop for lunch when craving pizza.
The best way to enjoy lunch as a Roman is to sit down for a long meal, especially if you are a politician, priest or business person in Rome. At Acchilli al Parliamento you can do exactly this, with lunch lasting for more than a few hours (and a few more dollars if you're willing to splash out on a fine-dining experience). You may even rub shoulders with some of Rome's elite while dining. Do keep in mind if you'd like to enjoy a long lunch, it's best to reserve a table in advance and dress appropriately for fine dining.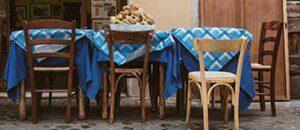 Take full advantage of Rome by learning to cook with an Italian Nonna – grandma. This is a one-of-a-kind lunch experience provided by Eating Italy Tours, where you're able to experience cooking and eating in a real Roman apartment with your very own Nonna. Enjoy a unique opportunity to go inside Nonna's kitchen and spend 4 amazing hours learning how she's been making Roman specialties – using local, fresh ingredients – for decades. The menu changes seasonally but always includes a popular antipasto (appetizer), homemade pasta, a local meat dish, and dessert. Then you'll enjoy the meal you cooked with local wine and great company.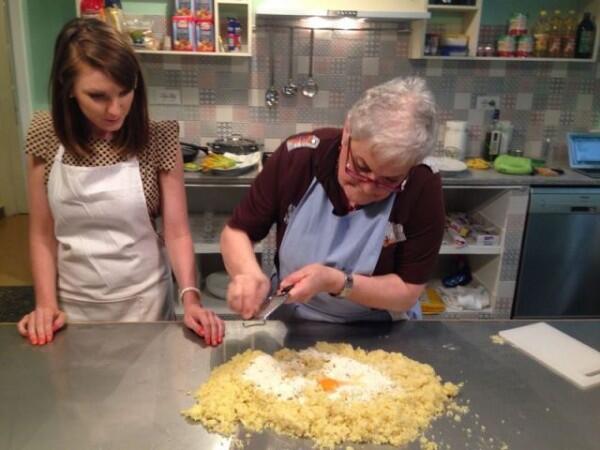 The sandwich shop that was a household name in Milan for years has landed in Rome and is located right in the heart of the city, between the Trevi Fountain and Spanish Steps. Preparing fresh meals for lunch with about every combination of panino filling you can think of, Panini De Santis suits meat lovers, vegetarians and even those with a sweet tooth. This spot is great to pop in and out quickly, without breaking the budget or your tight schedule.
It's best to arrive after 12:30 pm for these fresh, mouthwatering supplì that are a Roman street food staple. Not to be confused with spherical arancini, a similar Sicilian snack, Roman supplì look like elongated croquettes and are filled with seasoned rice packed around mozzarella, which melts when the whole supplì is deep fried. The classic rice flavorings are meat sauce or ground pork with gizzards. You truly can't go wrong allowing one of these to melt in your mouth and enjoy it as the Romans do!
• • •
Looking for recommendations of other Rome trattorias or places to find lunch? Read our complete Travel Guide to Rome which includes our favorite places to eat!