7472 Views
Although not an official national holiday in the getting-a-day-off-work sense, Sinterklaas is the Dutch holiday everyone gets excited about, especially those under the age of 10. In short, it's about the Dutch version of Santa Claus, Saint Nicholas, arriving in town alongside his mischievous helpers to distribute presents among those children who have been good. But really, there is much more to it! Join us for a magical journey through the story of Sinterklaas…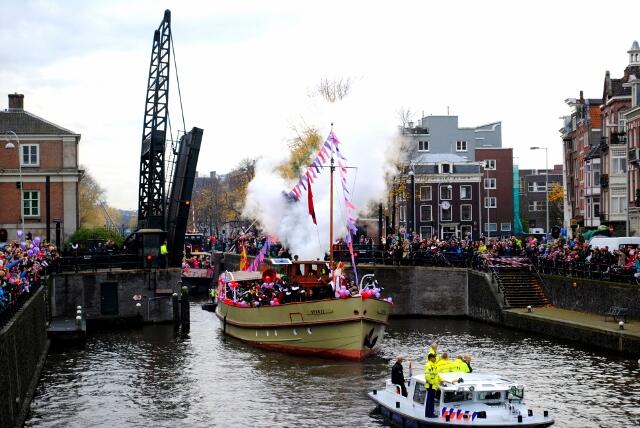 Sinterklaas intocht, Saint Nicholas arrives from Spain
Every year in mid-November, Sinterklaas arrives in Amsterdam by means of a steamboat that has sailed all the way from Spain. Yes, Spain! Well, Turkey actually. No wait, Greece. Anyway, forget the stuff about the North Pole.
Sinterklaas wears a bishop's cloak, tunic and miter because he derived from the Greek bishop Saint Nicholas who was the patron saint of children and sailors (hence the boat). While Saint Nicholas reigned in Myra, which was formerly part of Greece and is now part of Turkey, his relics were later moved to a part of Italy that later became a part of Spain. And as if all of this travelling about hadn't been enough, he now sets sail for the Netherlands every year.
Even though he arrives in November, the Sinterklaasfeest is not celebrated until December 5. So the Sinterklaas intocht (Saint Nicholas' arrival) is really just the warm-up exercise, but worth a visit nevertheless.
In 2016, Sint arrives in Amsterdam on Sunday, November 13. The spectacle begins soon after 10 am, when Sint's fleet begins to ship up the Amstel along the Weesperzijde. A good opportunity for spotting him is at 11 am by the Carré Theater. Otherwise, head to the Maritime Museum where he will be officially welcomed by Amsterdam's mayor at 11.30 am.
At the Maritime Museum, he will be re-united with his trusted companion, the white horse Amerigo which, curiously enough, in Belgium is called Bad-Weather-Today (Slecht-Weer-Vandaag). Don't ask us why!
After mounting his horse, Sint will parade the streets of Amsterdam alongside an army of Zwarte Piets (black Petes). More about his mischievous little helpers later. You can catch them at various points such at Rembrandtplein at 1.10 pm and on Dam Square just before 2.30 pm. The full route is available here.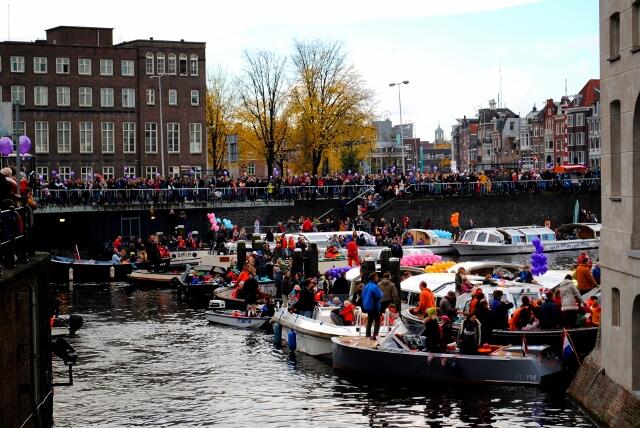 Sing a song for Sint
When Sint arrives, everyone around you might burst into song, and the most likely number you'll hear is Zie ginds komt de stoomboot! (Look, there comes the steamboat!). You can listen to it on YouTube (see below) to get into practice:
The song is featured in a children's book written by teacher Jan Schenkman, which was published in 1850. Schenkman's book is said to be the origin of many of the modern customs associated with the Sinterklaasfeest, being the first to depict him arriving from Spain on the then recently invented steamboat. Schenkman may also be the one to blame for the ongoing Zwarte Piet issue (more on that below). Not only did he name his book "Saint Nicholas and his servant" (Sint Nicolaas en zijn knecht) but the illustrations showed Sint for the first time accompanied by a young black servant in the Moorish dress that remains synonymous with Zwarte Piet.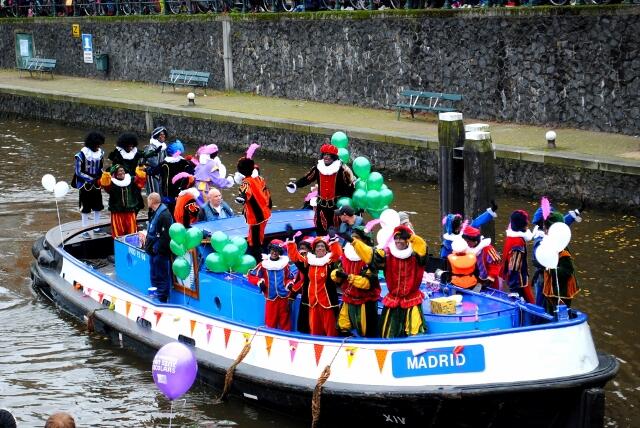 Poems and Parcels
The Sinterklaasfeest has been celebrated since the 13th century on December 6, the name day of Saint Nicholas. He had risen to fame during his lifetime for his anonymous gifts to children in need, which may be how the tradition of leaving your shoe by the front door on the eve of the 5th to find it mysteriously filled in the morning arose.
Today, families tend to gather on the eve of December 5 to exchange gifts and read their poems. And the poems are what it's all about.
The idea is that you write a poem to accompany each present. The poem should be from Sint and Piet, be about the present you are giving, as well as being about the person you are giving it to. Of course it should rhyme, be filled with witty anecdotes about the recipient of your present, and contain as many hilarious puns as is poetically possible. Easy peasy!
Chocolate letters and Kruidnoten
Of course the Sinterklaasfeest is not all about poems. It's also about candy.
If you join the Sinterklaas intocht, chances are you might find yourself in a hail storm of little cookies called pepernoten and kruidnoten. These ginger-nut cookies are supposed to symbolize the coins Saint Nicholas handed to the poor.
Also, by now you will have spotted chocolate letters in every supermarket, bakery and even drugstore. They are as synonymous with the Dutch festive season as Sint himself but why, come December, does everyone suddenly need to remember their initial? Some believe that part of the legend surrounding the Germanic god Odin has re-emerged in the customary celebration of Saint Nicholas. As Odin gave his magical rune letters to man, Sinterklaas gives letters and thus, knowledge, to children. The connection between Odin and Sint doesn't end there. In fact, some believe Odin's two black ravens have become Sint's black Petes, which leads us neatly to the Zwarte Piet issue.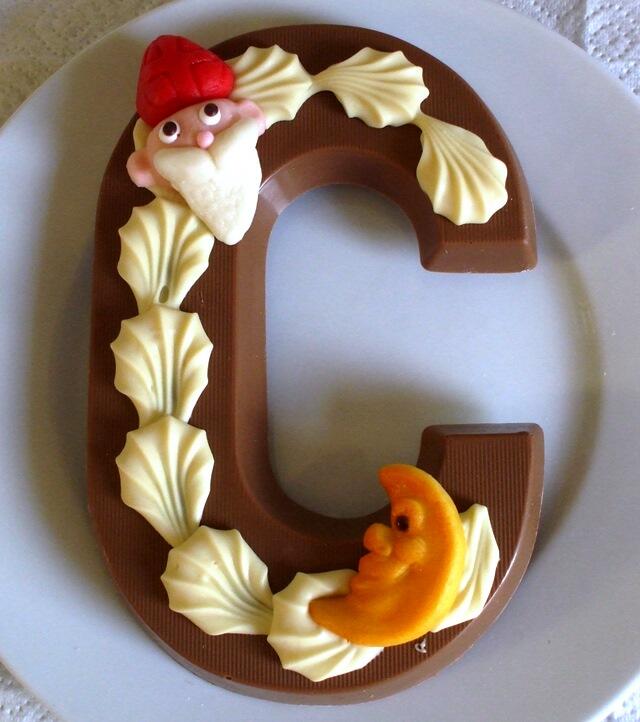 The Zwarte Piet Issue
Sinterklaas is accompanied by a brigade of naughty little helpers who sport black painted faces and wear Moorish costumes. Each year, the racial connotations divide public opinion more and more, and in recent years, many parents seemed to eschew the face paint. At most, kids wore a smudge of black paint on their cheeks reminiscent of the soot Piet is said to have acquired in sliding down the chimney. In 2016, this idea has even been endorsed by Dutch commercial broadcaster RTL, who have come up with a "new look Piet" for this season.
When it comes to the origin of Zwarte Piet, opinion is just as divided, and ranges from the aforementioned ravens to the symbols for the good saint and the evil, little devil. Thrown into the heated debate are images of dressed-up Moorish slaves from Spain (thanks, Mr Schenkman!), which are countered with stories of Saint Nicholas saving an African boy from slavery who then became his helper.
Either way, you might like to let the Dutch continue the discussion while you step aside and nibble your chocolate letter.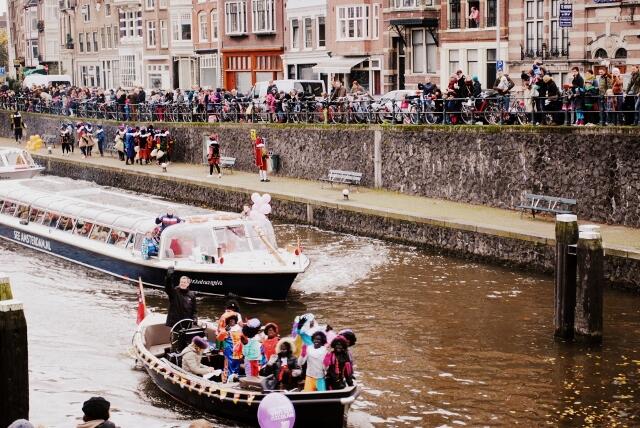 Planning your trip to Amsterdam? Explore the city's culture, history, and food by taking our food and canals tour or our walking-only food tour in the stunning Jordaan neighborhood!
Like this? Check out Eating Europe on social media! We're on…
With more Dutch food and travel ideas, mouthwatering pics and much more.
This post was originally published on November 13, 2014 and was updated on November 1, 2016.