15368 Views
The basic rule in Italian cuisine is: less is more. The ultimate dish that underlines this rule, is the Roman cacio e pepe: a dish that consists of just three ingredients: spaghetti, tonnarelli or another type of pasta, pecorino cheese, and black pepper. Practically any Roman restaurant will serve a version of this classic, but where can you find the best? Let us guide you to the best pasta cacio e pepe in Rome.
This classic trattoria in one of the more residential parts of Prati is worth a visit if you're looking for a genuine piece of Roman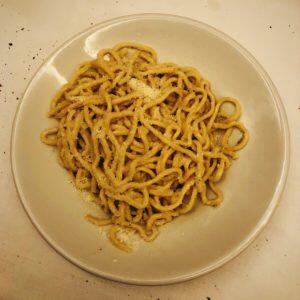 cuisine and ditto service (which is not bad, but typically Roman: your waiter won't be particularly polite or accommodating but serve you with a joke and a smile nonetheless).
You'll be eating amidst of Romans who work or live in the area and come here for the good value for money. Their version of cacio e pepe comes with home-made tonnarelli (a type of pasta that looks like spaghetti, but has more of a bite) and is as creamy as it should be. If you come during a warm day, be sure to enjoy their spacious terrace.
Roscioli, Trevi
Roscioli is a renowned name in Rome: the family started their forno (a bakery where you can find one of the best pizza's in Rome) in 1824 and, thanks to their success, has been opening new places to expand their assortment ever since. Now, you can find their forno, restaurant and wine shop all within a 100-meter radius between Campo dei Fiori and Via Arenula.
At Ristorante Salumeria Roscioli, you'll find all the Roman classics, from cacio e pepe to carbonara. Their version of cacio e pepe is done with tonnarelli. Instead of just using pecorino cheese, Roscioli adds some cheese from Moliterno to the mix. The dish is prepared with Malaysian pepper, as well as some Javan and Sarawakan pepper that's added at the very end.
Roscioli's specific mix of ingredients gives this version that little extra, making it a simple but sensational dish and definitely one of the best cacio e pepe in Rome.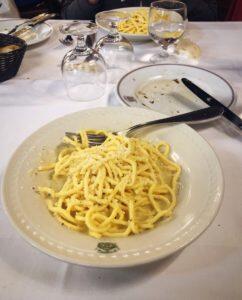 This no-nonsense osteria in Testaccio specializes in the Roman cuisine, offering all the classics: meatballs, puntarelle (a type of chicory), carciofo alla giudia (fried artichoke) and – of course – pasta classics such as carbonara, amatriciana and cacio e pepe.
Chef and restaurateur Flavio De Maio serves his version of the cacio e pepe with pecorino romano, black pepper, a bit of cooking water from the pasta and some olive oil, giving the dish the right amount of spiciness.
If you're looking for a version of cacio e pepe in Rome that's a bit more high-end but equally authentic, you should try Felice's version in Testaccio: this restaurant undoubtedly makes one of the best versions of this classic dish in the city. It's an old-school Roman restaurant that has been serving local classics since 1936 and has become a real institution in the neighborhood and the rest of the city.
Another thing that makes Felice's cacio e pepe stand out, is the fact that the waiter finishes the dish in front of your eyes by throwing the pasta, cheese, and pepper on your plate and tossing the ingredients to perfection. Want to try this Roman classic? Be sure to reserve in time, because Felice tends to get fully booked several days beforehand.
One of the most lauded plates of cacio e pepe in Rome, this restaurant in Trastevere became extremely popular after famous chef and television personality Anthony Bourdain visited the place back in 2011 on his show No Reservations, showing the restaurant's unique way of serving this classic dish: in a parmesan cheese bowl.
Since then, some Roman restaurants have started copying this, but Roma Sparita is still one of Rome's ultimate cacio e pepe hotspots. Another plus: the restaurant has a big terrace with parasols, overlooking one of Trastevere's cutest piazzas, making it a perfect place for hot summer days. If you want to ensure yourself a spot, be sure to make a reservation beforehand, as it tends to get crowded.
This trattoria in the neighborhood of Esquilino offers the typical, Roman-style atmosphere: the checkered tablecloths, the handwritten blackboard menu signs and traditional dishes give it a nostalgic and very (family) friendly outlook.
The cool part about their cacio e pepe? The tonnarelli, olive oil, pepper, water, and pecorino are mixed together directly inside the cheese itself (that's right: they have a big pecorino romano cheese with a hole in the middle and they toss the pasta around inside of the cheese before serving it to you). This guarantees amazing creaminess and a great flavor.
---
Want to try all of the necessary food in Rome, including cacio e pepe? Join us on our Twilight Testaccio food tour!