424 Views
Paris, a city that sparkles with romance and charm. From ascending the Eiffel Tower to being captivated by the Mona Lisa at the Louvre, it has something for everyone. But for us food lovers,Paris is all about dreaming of flaky croissants, rich wines, creamy cheeses, and yes, even adventurous escargot dishes!  So, what's the best way to indulge these gastronomic dreams? Take a bite out of the city on one of the best Paris food tours, of course! It's a fun-filled, delicious way to soak up the local culture and live the Parisian life, even if just for a few delightful hours.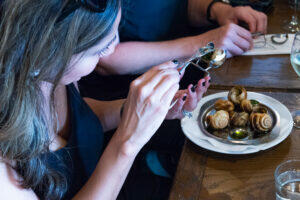 Discover the heart of Paris with the best food tour through La Marais. Engage with the city's rich history and experience culinary delights in this vibrant neighbourhood. Indulge in iconic French classics, French-Jewish delicacies, local cheeses, and the finest French wines. Savour boeuf bourguignon, felafel, escargot, and the most delicious chocolate. The tour includes hidden gems – a secret garden, a historic synagogue, and an ancient prison turned library. Immerse yourself in Paris's Jewish culture and history, making this more than just a food tour. Join us to explore the culinary side of Paris like never before.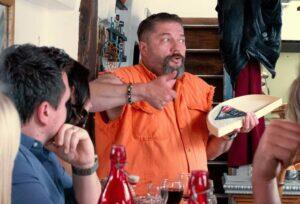 Immerse yourself in a unique food tour of Paris's Montmartre district. Start your journey with a French-style coffee and pastry. Explore Montmartre's culinary scene and uncover why it's a global food hotspot. Post exploration, unwind at PJ's restaurant with a seasonal three-course feast, perfectly paired with wines from a vast cellar. End the day with a dessert tour featuring three top French sweets. This best Montmartre food tour, limited to 12 people, provides an intimate gastronomic experience. Enjoy tales and humor from the chef while savoring snacks, traditional dishes like Beef Bourguignon and escargot, and ample wine. Additionally, visit local attractions from Moulin Rouge to the "I love you" wall.
Experience Montmartre's artisan food shops, learn about its history and French cuisine's origins. Relish a chef's feast and wine pairing at PJ's restaurant. This Parisian food tour is more than a collection of bites; it's a VIP culinary adventure guided by an expert. Don't miss out on this chef-led food tour of Paris.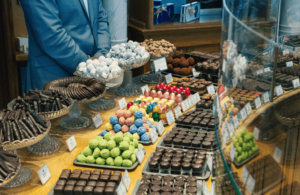 Paris is where Julia Child began her culinary journey, and this tour allows you to retrace her steps and discover the intricacies of French cuisine, just as she did decades ago. Experience dining in Julia's favorite local spot, the iconic Café de Flore, and catch a glimpse of her and her husband Paul's residence. Also, visit a 210 years old 'chocolaterie' and find true happiness! Your guide, an expert storyteller, will immerse you in Julia's food journey, opening your mind to the early roots of skillful Parisian cooking. Indulge in some of Julia's favorites, from quiches to eclairs. By the end of this experience, you'll have gone on the same culinary journey as one of the world's greatest chefs.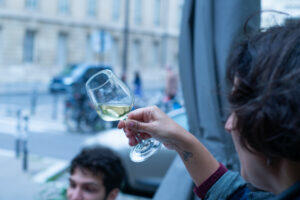 Immerse yourself in the delightful Twilight Paris Wine Stroll, a food tour that unveils the fascinating world of French wines. Led by a friendly local sommelier, this tour is educational and enjoyable, with no pretentiousness involved. As dusk falls, explore the charm of a Parisian village while sipping on six exquisite wines from renowned regions like Bordeaux and Bourgogne. Indulge in local treats such as fine cheeses, fresh baguettes, and flavorful sausages, perfectly paired with the wines. Learn about the art of winemaking and why France is hailed as the top producer of fine wines. Don't miss the chance to make the Twilight Paris Wine Stroll the highlight of your Paris adventure.
Et voilà! From buttery croissants to savory snails, Paris is a food lover's paradise waiting to be explored. So why wait? Embark on one of the best Paris food tours today and savor the City of Love bite by delectable bite. Bon Appétit!