15216 Views
Being a tourist is great and all but once you've stood in line at the Uffizi, taken selfies at the Duomo and eaten one too many slices of mediocre pizza, you'll be craving some insider knowledge and dying to venture off the beaten path! A good way to start experiencing Florence like a local is by taking a food tour where you can visit local haunts and taste what makes the city's cuisine so special! But then what, you ask? Don't worry, we've got this – we asked the very best, in-the-know bloggers and local experts to tell us how they love to spend their free time in Florence. Here are their suggestions for unique things to do in fantastic Firenze!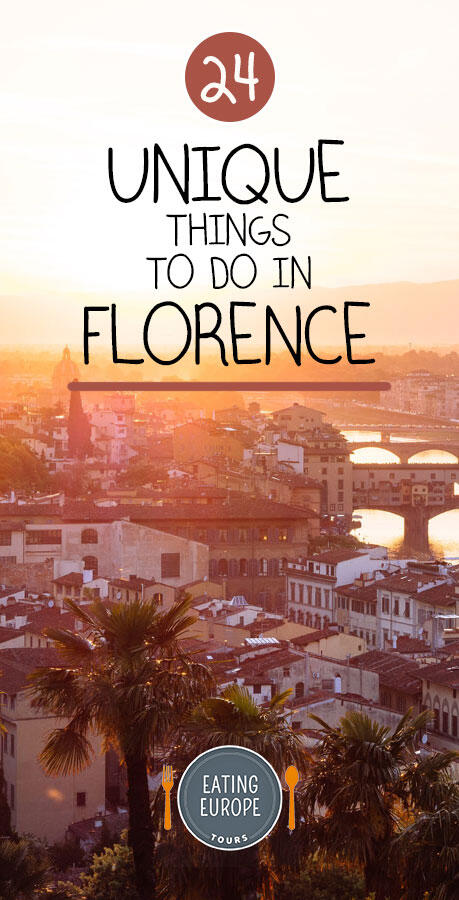 1. I love taking a drive up to the Fiesole neighborhood that is up on a hill overlooking Florence. It is a hillside summer retreat neighborhood of old wealthy Florentine families. I could drive for hours looking around at the majestic houses and taking in the amazing view of the Duomo. Be sure to stop by at the grand dame of the neighborhood – the Il Salviatino Hotel! There is always time for an apertivo and a glass of wine while enjoying the view! – Dr. Cacinda Maloney of PointsandTravel
2. Find the child within yourself and visit the famous Piazza Della Republica. There you can enjoy a ride on the beautiful intricately-decorated antique carousel and pop into the Bartolucci wooden toys workshop. This toy shop holds generations of wooden toy creations; such as the one and only Pinocchio! Finish your afternoon with a coffee at one of the many Florentine cafes.  – Jolene of Wanderlust Storytellers
3. Wrap up a meal in Florence with cantuccini (almond biscuits) best enjoyed dipped into a glass of vin santo, the sweet regional dessert wine. Michele Peterson of A Taste for Travel
4. My favorite unique thing to do in Florence is to have a coffee break at the Oblate Caffè: the view over Brunelleschi's Dome from the top of this public library is definitely one of the best in the city, at any time of the day, in all seasons. – Valentina of TooMuchTuscany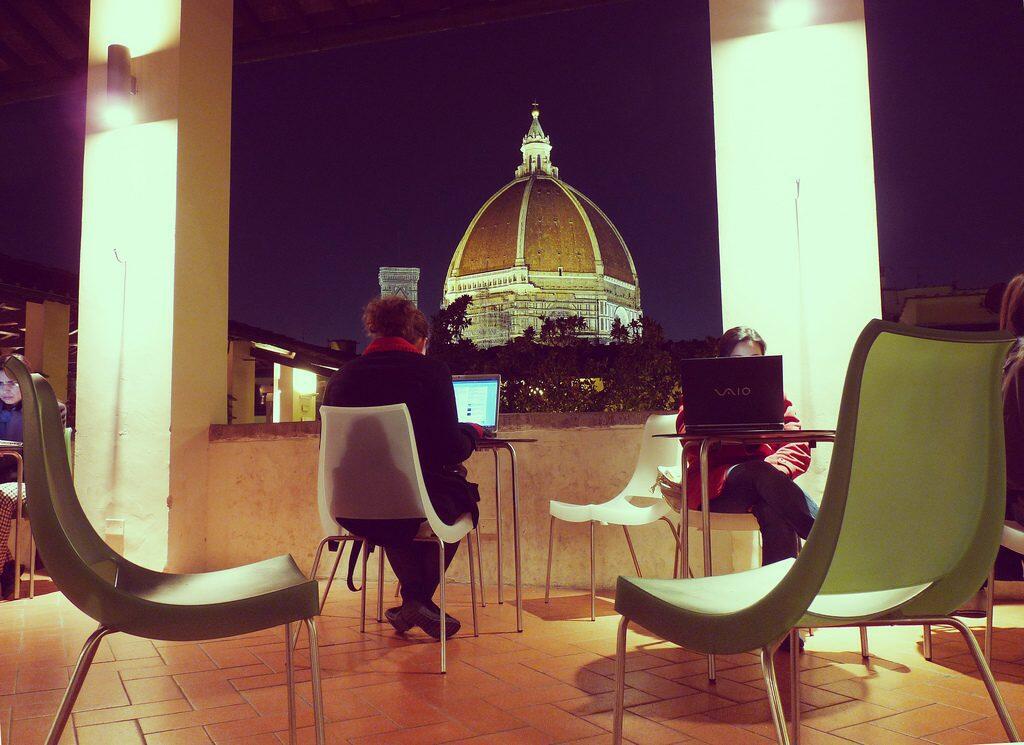 5. Eating truffled panini at Proacchi, a wonderful historic gourmet shop and wine bar. I'd recommend the truffled panini with foie gras, the ultimate indulgence. Wash it all down with a glass of wine and know that you are in good company – Italians have been coming here since it was founded by Leopoldo Procacci in 1885 and it was so popular with Italian royal family that it was granted a royal warrant by King Vittorio Emanuele I. Now, you can sit and people watch with the fine people of Florence and enjoy the indulgence of the best truffles in town. – Fiona Maclean of London Unattached
6. Funicolare di Montecatini Terme – Beat the crowds in mainland Florence and tread the beaten track up to some of the highest points in the land via a vintage train then sightsee around a typical and quite Italian town up in the hills. The experience is breathtaking, as are the views and the occupants who have traced some amazing pictures and information of how their ancestors survived living so high up. – Chloe Pierre of Chloe Pierre LDN
7. There's something quite magical about watching the sunset after a day of exploring the city and there's a wonderful spot where you can do so. Head to the rooftop on the sixth floor at the Grand Hotel Cavour to soak up one of the most stunning views across Florence – including Brunelleschi's Dome. You can sip cocktails and reflect on your day – and plan for your next adventure. It's great to see Florence at street level, but the sunset view across the rooftops really puts into perspective how beautiful the city really is. – Lauretta Wright of Home and Horizon
8. Stay in a holiday apartment in San Frediano district Oltrarno, and enjoy the cool restaurants, bars and the nightlife in this neighborhood. – Sasha Wang of Stai Al Borgo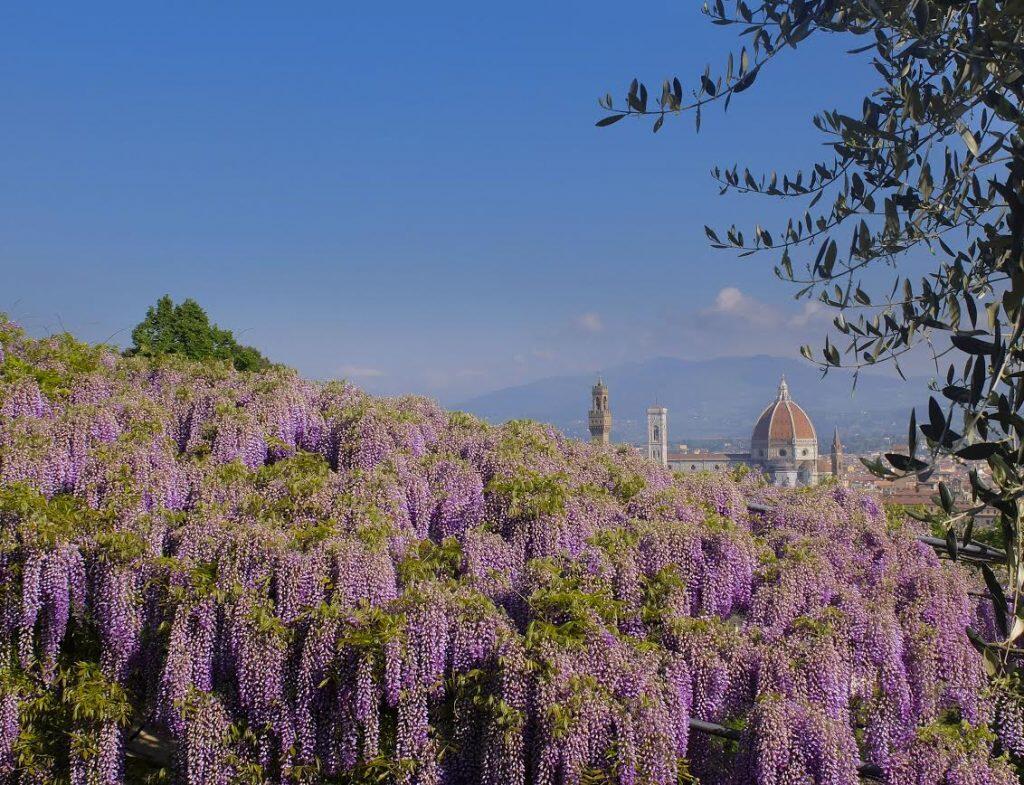 9. Visit the Bardini Gardens when the wisteria is in bloom. Annexed to the museum of Villa Bardini, which hosts some interesting temporary exhibits on 20th-century art, is the Bardini Gardens, a kind of extension of the Boboli Gardens that offers some of the best views over the city of Florence. For just two weeks in April (and one never knows exactly the best date), there's a wisteria tunnel in the garden that blooms so joyously, it's a miracle of nature! That's certainly a unique thing to do in Florence! – Alexandra Korey of ArtTrav
10. Visit Michelangelo's iconic sculpture of David at the Galleria dell'Accademia (buy your tickets in advance, if you can!). Sure, there are a handful of replicas of this sculpture elsewhere around Florence, and you'll find it plastered across various postcards and other souvenirs, but nothing beats the original. It used to be impossible to take photos of the original sculpture, but since 2014 non-flash photography is allowed. The incredible form and detail of the sculpture is hard to replicate and there's something truly special about seeing the original first-hand. – Adam Groffman of Travels of Adam
11. My favourite thing to do in Florence is renting a bicycle and go biking outside the crowded area. Following the river Arno is a great idea, no maps, no tourists, just you cycling and exploring with the sun on your face. – Cintia of Info Viajera
12. Check out the oldest pharmacy in the world – it's more like a museum than a store! Officina Profumo Farmaceutica di Santa Maria Novella might sound like a mouthful but it's a stunning place adorned with frescoes and Murano glass chandeliers. Located on Via della Scala, it was founded by Dominican friars in 1221 and opened to the general public in 1612. – Suze of Luxury Columnist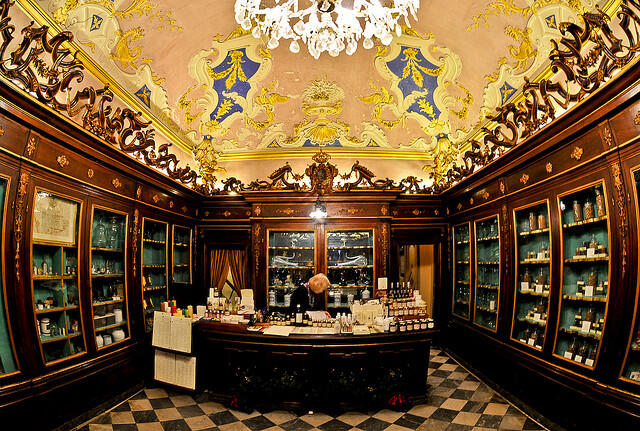 13. Cross the Ponte Vecchio and reach the south side of the river Arno: there you'll find plenty of bars, churches, museums and parks apart from Florence's busy central area. This means it is a more authentic neighbourhood full of artisans continuing centuries-old traditions, handcrafts and managing antiques stores, friendly bars and small, family-run restaurants. – Serena Puosi of Mercoledì tutta la settimana
14. Take a walk along the south bank of the Arno to Oltarno up to Piazzale Michaelangelo for stunning views over Florence and a bronze replica of David. Meander back through the Giardarno delle Rose and along the Via Di Belvedere for a break from the crowds. – Catherine Boardman of Catherine's Cultural Wednesdays
15. Take time to browse in the outdoor markets. Not only will you find souvenirs, but it's a great way to talk with local merchants and get a flavor for the city. – Marilyn Jones of Travel With Marilyn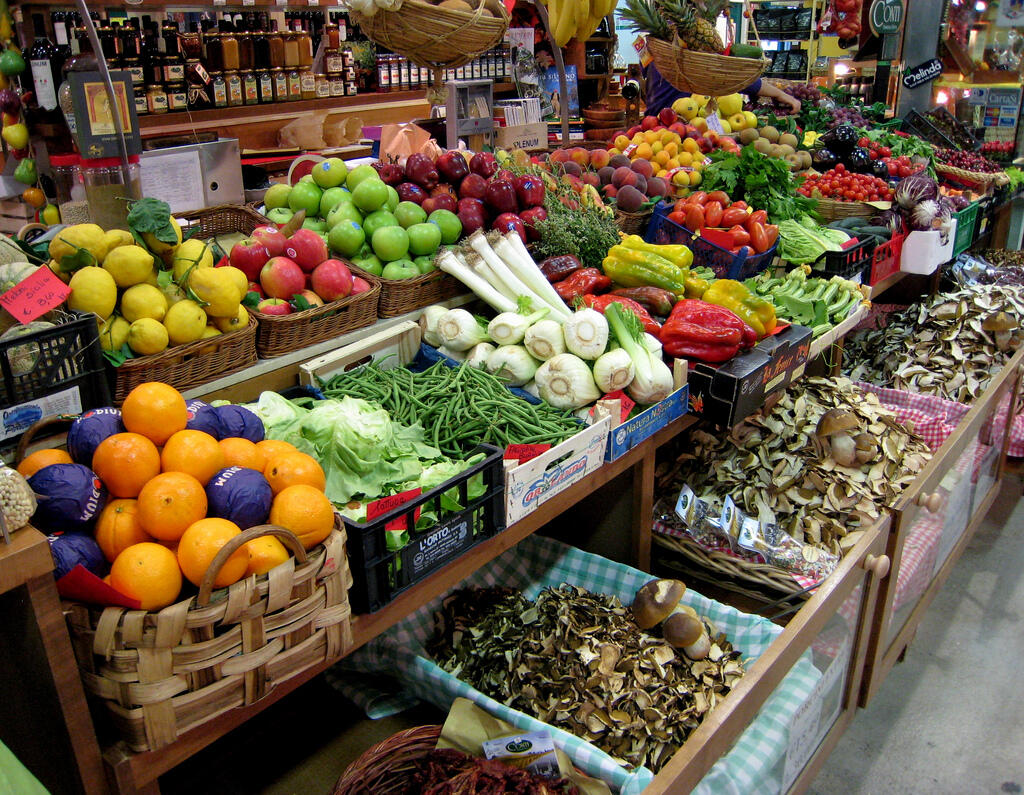 16. Go for a stroll in my own vibrant neighborhood around Piazza Le Cure with its market, have a coffee in one of the coffee shops. Perhaps continue for a beautiful walk along the river Mugnone up towards San Domenico. – Katarina Andersson of Grapevine Adventures
17. Check out on of the world's oldest pharmacies in Florence. Head over to no. 16 Via della Scala, where you can find Officina Profumo-Farmaceutica di Santa Maria Novella, which was established by Dominican Friars in 1221. It is one of the oldest pharmacies in the world, where you can find intoxicating scents, perfumes, lotions, remedies made to ancient recipes. There are several other ancient herbalists around Florence near the Piazza della Signoria, at Via Vacchereccia 9r, and at Calimala 4r. – Barbara Wagner of Jet-settera
18. Walk through the Oltrarno. Get lost in the streets and enchant me in front of the old craft shops. Stay here to taste something good in typical restaurants or have a good glass of wine in a historic wine bar. Here still breathes the true Florentine atmosphere. – Ilaria of Tuscany Buzz
19. Leave the crowds behind and make a day out of seeing some of Florence's best Renaissance frescos hidden in some of the city's most secret monasteries and cloisters. Start with Andrea del Castagno's Last Supper at Sant'Apollonia, head around the corner to the Chiostro dello Scalzo for some Andrea del Sarto magic, and end with Pontormo and company at the Chiostro dei Voti in Santissima Annunziata. If it's a Monday afternoon, don't miss the almost completely unknown 15th-century frescos decorating the Chiostro degli Aranci inside the Badia Fiorentina…bliss! – Alexandra Lawrence  of Explore Florence
20. Like so many travellers I think that any trip to Florence should incorporate a trip to the Uffizi Gallery. That said, I also love hanging out on the city's public squares simply watching people, trying to guess where they come from. An espresso and a pastry from Bar Pasticceria Cucciolo is a way of rewarding myself if I manage to shoot some good photos during one of my early morning walks with my camera. And, of course, there's so much to photograph in Florence. – Stuart Forster of Go Eat Do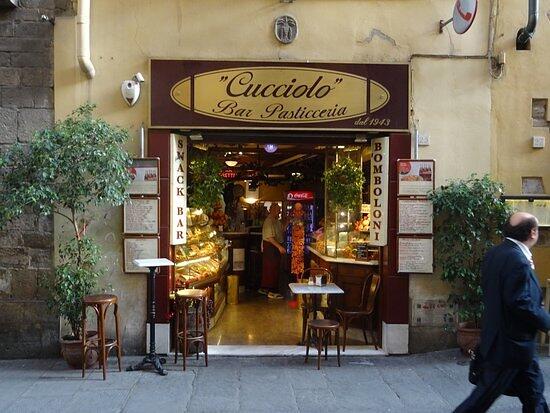 21. Walk with the morning light until you hear glass clinking and have your coffee. Florence has a different face at first light. – Zac Stafford of Visa-Vis Travel
22. My favorite spot for a spectacular panoramic view of the skyline of Florence is Piazzale Michelangelo, a short hop across the river Arno. Boasting a bronze replica of Michelangelo's David, the square comes alive with vendors, musicians, and has a peaceful terrace to take in the splendors. You can take the local bus or drive, but a hike up the hill from Piazza Poggi is unforgettable. – Mitali Mahajani of Ecophiles
23. Hire or borrow a bike and explore the fascinating, authentic and food rich quarter of Oltrarno (which means "on the other side of the Arno"). In this area we find artisans shops, cozy bistros and beautiful squares. Tourists normally visit the central part of the city but its also very interesting to browse around its narrow street. The Oltrarno preserves a genuine Florentine atmosphere! – Denya Pandolfi of Grazie a Te
24. Explore the rich artisanal heritage of the bohemian Oltrarno neighborhood – home to artists, foodies and free spirits – on our brand new Florence Artisan Food Tour! The hip 'hood is known for its "botteghe" – workshops and studios where apprentices learn techniques passed down through generations from a master craftsperson or cook. Venture off the beaten path on our 3-hour walking food tour where our friendly, entertaining tour guides will introduce you to local carpenters, tailors, printmakers and leathersmiths, as well as our favourite eateries. –Eating Italy Food Tours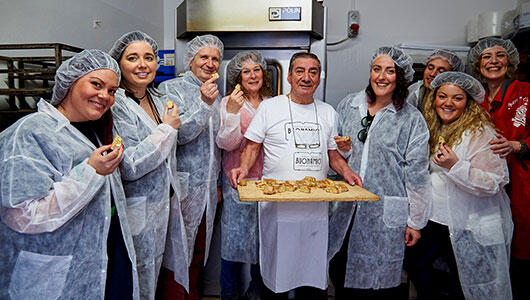 We'd love to hear from you if you take any of our tips for interesting and fun things to do in Florence. Happy exploring!
Like this? Check out Eating Europe on social media!
We're on…