4660 Views
Trastevere Neighbourhood Icons: Concetta and Pietro at San Cosimato Market
Trastevere's only outdoor market happens in Piazza San Cosimato every morning but Sunday. The market wouldn't be a market without the people who come to sell their products, rain or heat. Two such people are Concetta and her husband Pietro. Every day they set up their stand in Piazza San Cosimato and sell the produce that surrounds them, colourful, seasonal fruits and vegetables.
When Concetta's grandmother opened her stand in Piazza San Cosimato in 1945, right after World War II, the market stretched and filled all of the triangle-shaped piazza. Now, there's a children's playground at the piazza's pointed end, and on its wide part only a couple handfuls of stands are open every morning and selling. Pietro says there are fewer vendors because there are fewer people living in Trastevere. When Concetta's grandmother was carting her produce in wooden carts, Trastevere was one of Rome's most heavily populated quarters. In one apartment, several families lived each to their own room, so that there were at least 13 people per apartment, Pietro says. That's some serious population density! Compare that to today when small families have large spaces, and sometimes individuals live in a whole apartment to themselves.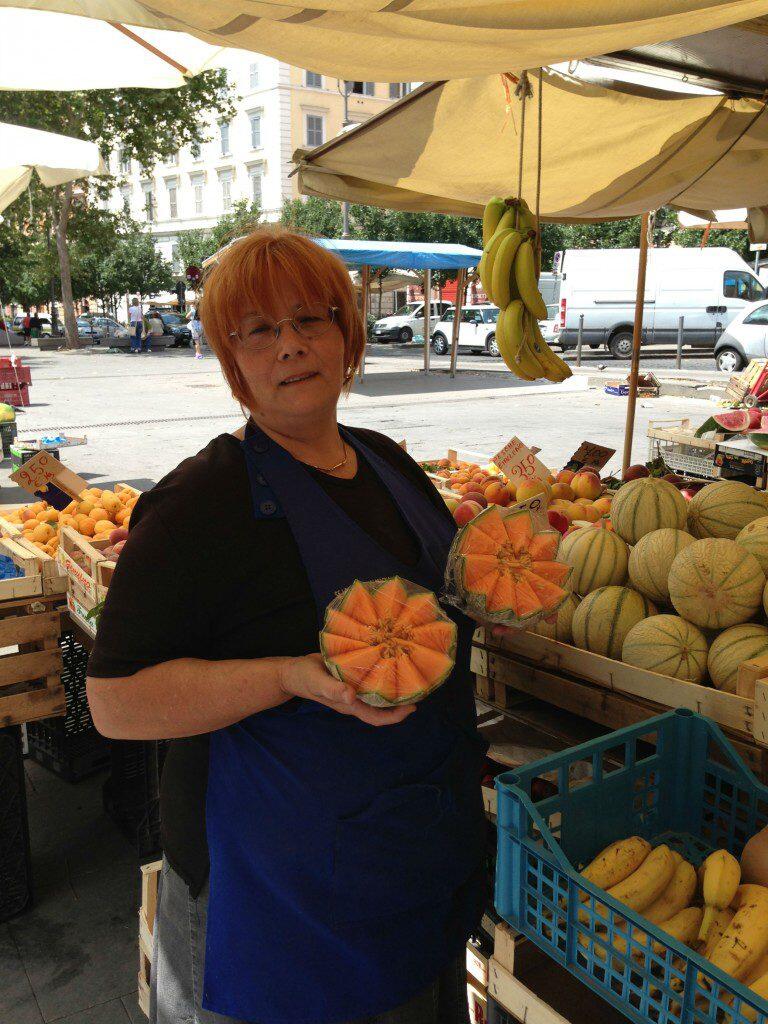 But despite there being fewer mouths to feed in Trastevere, San Cosimato Market still sees constant activity. If you hover over Concetta and Pietro's red tomatoes, you'll hear the latest news and gossip carried by customer to customer. Many of the most loyal customer's have stopped by the stand every morning since they can remember—sometimes just to chat! They banter on in Roman, ask about the freshness of the veggies, and talk about who's doing what and where.
Though running a vegetable stand is more than the presentation of it. Pietro's day begins at 2:30 in the morning when he wakes up. Luckily he already lives in Trastevere and Piazza San Cosimato isn't too far away. He heads there in the dark to set up shop. Every single morning Pietro must build out of crates and boxes the structure and tables to display the fruits and vegetables on. He does this as those who had gone out for a night in Trastevere wander home, their loud voices contrast his meticulous work. Once his stand is ready for the produce, he goes to pick it up in an area of Rome called Casal Morena. The total drive takes at least an hour. Then the fruit and vegetables are arranged for sale. By that time Concetta arrives and they open to the public at 7:30 a.m. At 3:00pm the stand is completely disassembled until the following day.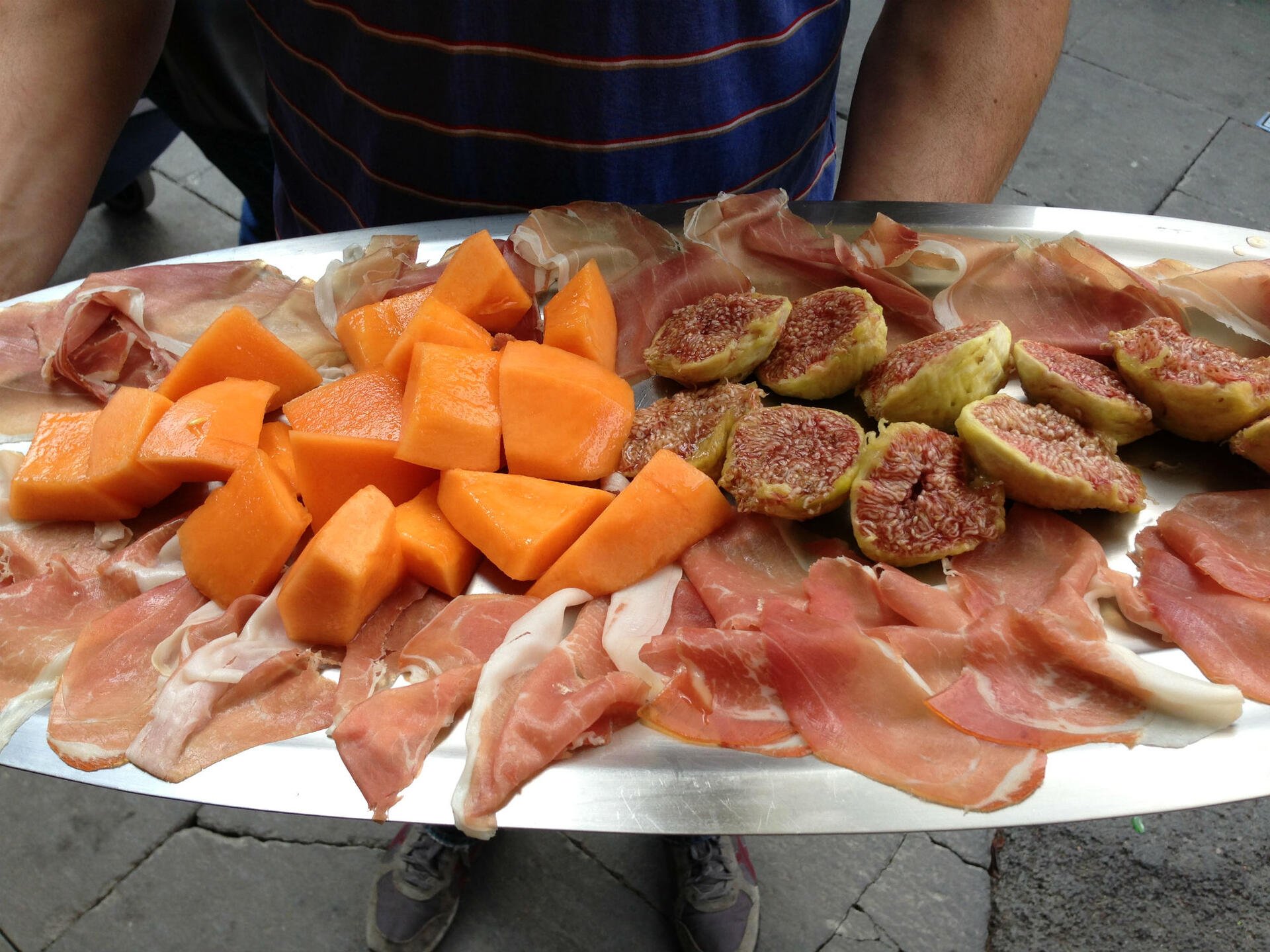 While Pietro handles the practical end of the business, Concetta specialises in public relations. Often she's asked for recipes such as the following one for borlotti beans. Borlotti come wrapped in hot-pink pods and make a delicious side dish in the summer when they are in season (of course you can get them dried all year round, but fresh is certainly best). Shell the beans then boil them for an hour with salt, carrot, celery, and onion. Once they are soft, drain them, throw out the boiled vegetables, and toss the beans with fresh chopped spring onions and olive oil. That's all there is to it. But Concetta's favourite vegetable in winter or summer is cicoria, a bitter green. Concetta boils it in salt water for a good thirty minutes, then drains it. She fries some peporoncino (spicy, dried red peppers) and garlic in olive oil, then adds the cicoria and sautés it until it has absorbed all that flavour. Che buono!
Yet for all the tediousness of their job, Pietro and Concetta arrive every day. They put out their produce, joke with their customers, and maintain pride in what they do. Without them not only would there not be a market in Piazza San Cosimato, but Trastevere would lose a valuable tradition. Pietro and Concetta are are just a few of the people that make Trastevere one of the best and most friendly areas in Rome.
* * *
Book one of our Trastevere tours today!