3917 Views
Amsterdam is a beautiful city to explore all year round, but it's those that visit in the cooler months who reap unexpected rewards. Amsterdammers know that when the temperature starts to drop, it's the perfect time to explore museums, ice skate or just relax in a warm, cozy café with friends.
So why is Amsterdam becoming one of winter's hottest new escapes?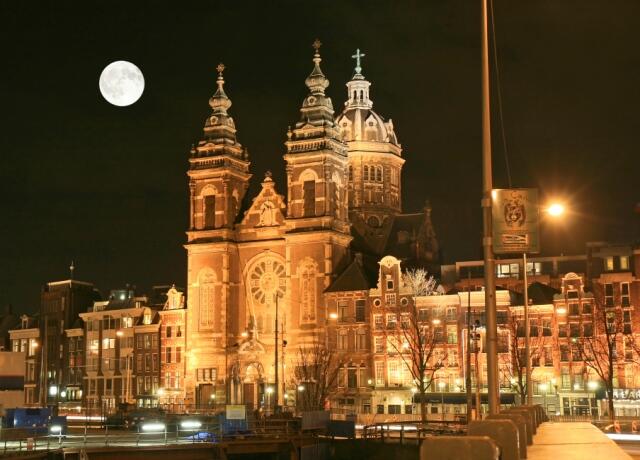 It's cheaper
Excluding popular dates, such as half term and Christmas, flights to Amsterdam are much cheaper during fall and winter seasons. Book in advance, depart mid-week and opt for a late or super early departure for the cheapest flights – allowing you to spend more money on stroopwaffels and bitterballen!
Winter cuisine
As the temperature falls, the iconic Dutch dish stamppot becomes a staple in Amsterdam. This hearty seasonal dish is the perfect thing to warm you up; the recipe often consists of mashed potatoes, cabbage, carrots, onions, bacon, and Dutch smoked sausage on the side. If you're looking for something on the lighter side, there are also plenty of delicious winter soups to warm those chilly fingers.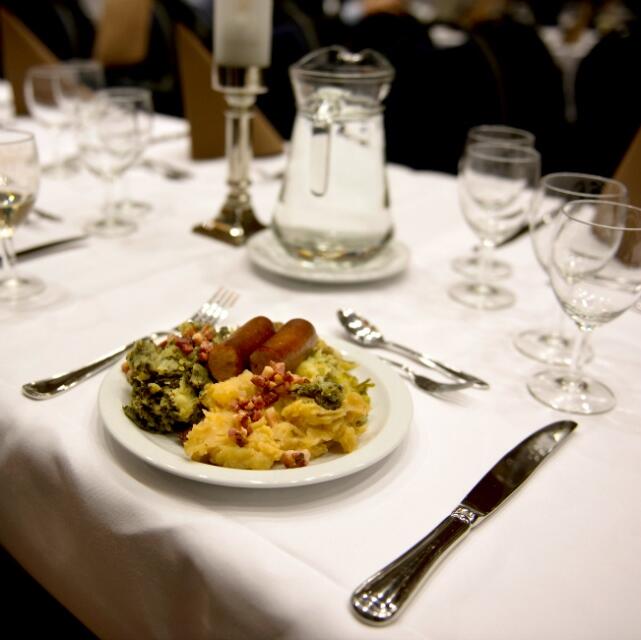 Museumnacht
Although the sun goes down earlier, there isn't a shortage of things to do when the evening approaches. Over 40 local museums have joined together to provide visitors with a fascinating annual event: Museumnacht, or Museum Night. Usually held on the first Saturday in November (which falls this year on November 1), visitors will have access to dozens of Amsterdam's top museums between the hours of 7 pm and 2 am. The current programs see a cultural mashup of DJ performances, poetry readings, workshops and unusual tours. See the city in a new light, and explore its most renowned museums during the twilight hours; who needs sleep anyway?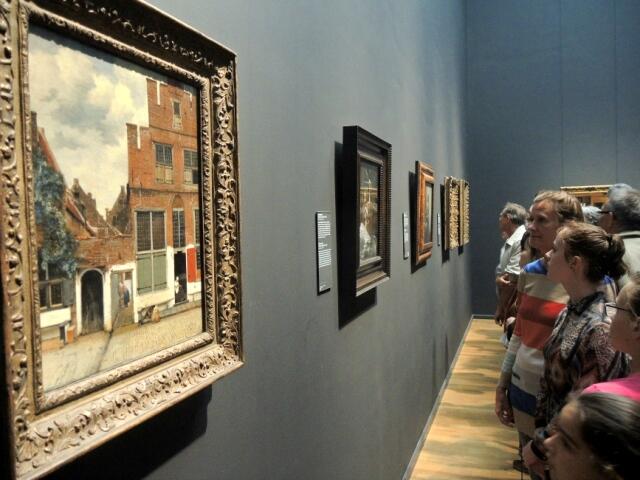 Traditional brown cafés
The traditional Dutch pub, also known as a brown café (bruin café), is where locals come to shake the snow from their boots and chit chat, accompanied by plenty of local beer. There really is nothing like relaxing in a cozy bar with friends, so for a taste of the authentic try In 't Aepjen – one of the oldest brown cafés in Amsterdam. This haunt is all about sawdust floors, bitterballen and sipping the local jenever. If you're seeking a more extensive beer menu, head to In de Wildeman, which offers 18 beers on tap and 250 bottled beers to keep you more than satisfied.
You get the place to yourself
If you have ever visited Amsterdam during peak season you will be aware of the long lines that can appear for popular attractions. Luckily, all of the crowds have dispersed by October, leaving many hotspots like the Rijksmuseum and the Anne Frank House free of queues. Wander through the city's renowned art galleries and iconic cultural locations at your own pace, without feeling like a squished sardine.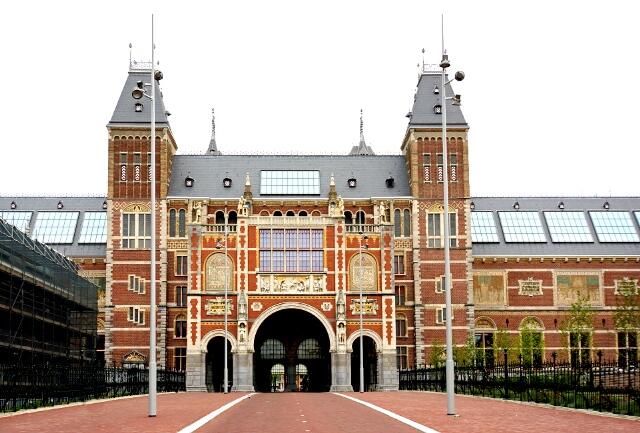 Sinterklaas
Unlike most of the western world, the festive holiday season for people in the Netherlands starts as early as November, with the traditional arrival of Sinterklaas. Try to catch the white-haired bishop (who looks like a skinny version of Santa Claus, but curiously comes from Spain) as he circles the capital to meet his many fans and deliver treats to the little ones. If you want to take home some festive cheer for yourself, hitting the Christmas markets offers a way to brighten anyone's day. Taste some local sweets, delve into all the seasonal treats and take home some gifts for loved ones.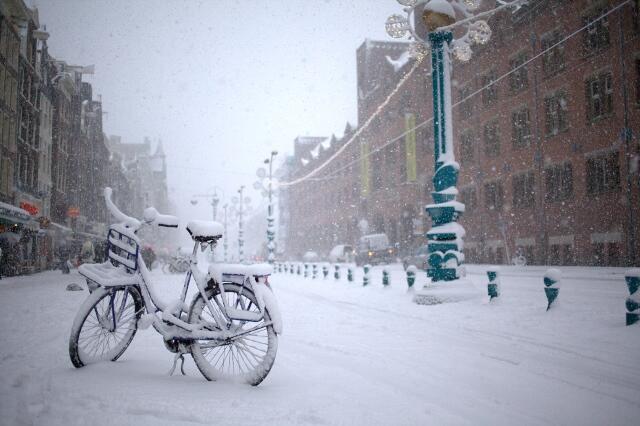 Let it snow
What all the sun-seeking visitors miss out on is the unique beauty of Amsterdam when the soft white snow finally settles. The city offers endless views of glistening snow lined canals, bikes and rails covered with a fine layer of powder and the potential for a once in a lifetime experience: ice skating on the canals. When the temperature is expected to drop below freezing for several days in a row, boat traffic is blocked, so when the water freezes over you can skate right on the canals.
If the temperature isn't likely to dip that low, have no fear: there are plenty of skating rinks that don't depend on the weather conditions. The best known is the Jaap Eden ice rink, which opens October through March every year and features 400 meters of track to skate as well as restaurants and even a disco skate on a Saturday evening.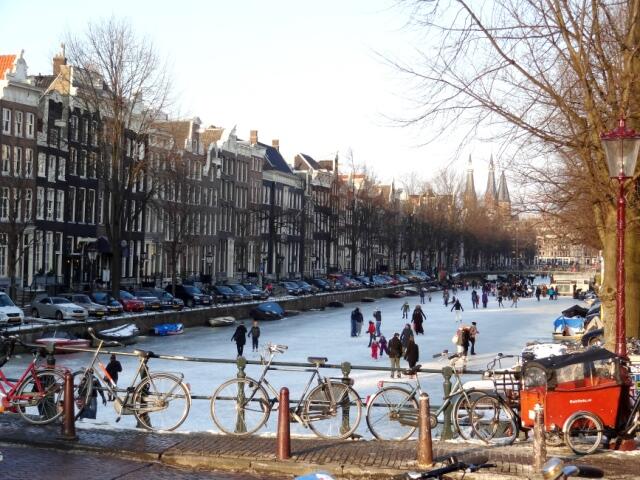 From meeting Sinterklaas to skating on the canals and taking a midnight tour of the museums, Amsterdam is full of adventures in fall and winter, offering a truly unique perspective of this iconic Dutch city.
About the author:
Chris is an avid traveler, blogger and foodie. Having spent a year backpacking, he fell in love with street food, but still enjoys finding the best hidden local restaurants and bars. Chris' top tip for Amsterdam is to seek out the secret speakeasy Door 74. Read about all his travel experiences at the lowcostholidays blog.