6910 Views
Come visit some of our favorite places in Rome!
Taverna Volpetti (formerly Volpetti Più) (tavern) , Rome, Italy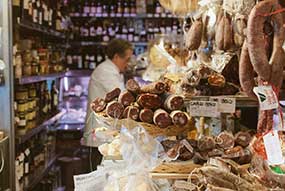 "Visiting us is like going to the library. It's not like you have a book in mind. You don't always know what you want. It's our job to stimulate your curiosity."
– Alessandro
Walking through the doors of Volpetti is like entering Italian gastronomic heaven. Opened by brothers Emilio and Claudio Volpetti 40 years ago, this gourmet food store boasts hundreds of varieties of cheese, an awe-inspiring selection of cured meats, top quality oils, balsamic vinegars and condiments and much, much more.
To find Volpetti: