5669 Views
The Dutch joke that you can experience 4 seasons in one day, and they're justified! In summer, you're as likely to need your raincoat as your sunglasses; and in winter, bring your umbrella and your ice skates. But don't despair: Amsterdam is well set up for its weather system, with cozy cafes around every corner welcoming you in for hot coffee and apple pie. But, if you can't go there every other week, it's best to know which are the best times to visit Amsterdam. 
Note: originally published in January 2017 and updated in November 2020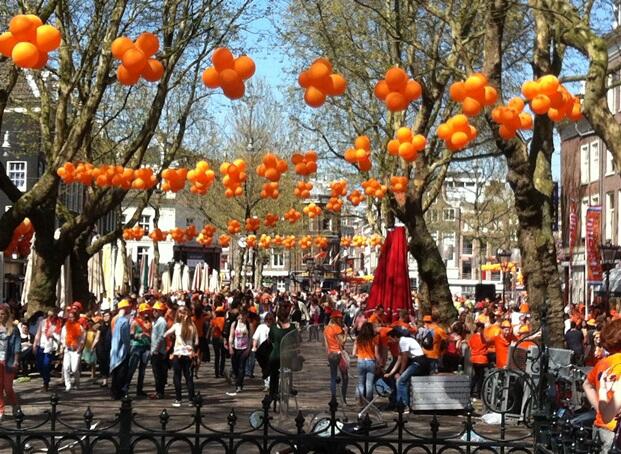 King's Day
The Dutch King Willem-Alexander's birthday is celebrated every year on April 27. It's a national holiday, and the Dutch sure know how to party! If you're in Amsterdam that day (or indeed, the night before – known as Koningsnacht/King's Night) expect huge street parties!  Boat-loads of people cruising down the canals, lots, and lots of Dutch beer, and (most importantly) you must wear orange! It's the Dutch national color, and it's your one excuse of the year to wear a shade that suits almost no one.
All summer long
Despite the Netherlands' high chance of rain at any time of year, in the summer you can expect very long evenings. The sun doesn't set until well after 10 pm during June and July and a good chance of warm sunny weather. The warmest months of the year are July and August, with an average high temperature of around 70°F (21°C) for both. The city absolutely comes alive during the summer months between May and September, with festivals on almost every weekend.
Gay Pride
Celebrated on the first weekend in August, the highlight of the Pride celebrations are the Boat Parade on the Saturday afternoon. People of all sexual orientations turn out onto the banks of the Prinsengracht to watch the floats go past, decked out with rainbow-colored streamers, fantastic sound systems, and (often) a lot of very hot pink shorts. It's just a wonderful, festive, inclusive atmosphere!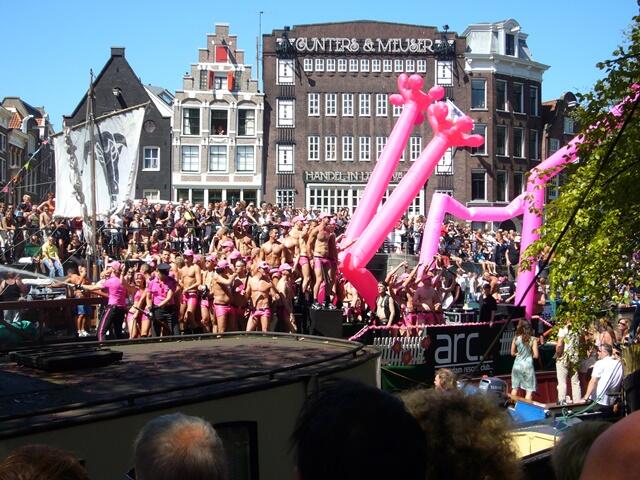 Sinterklaas
A uniquely Dutch tradition, Sinterklaas (St Nicholas) arrives from Spain with his helpers in mid-November in a huge procession through the streets of Amsterdam (and other Dutch cities). Sinterklaas is celebrated mostly by families with young children and culminates in the giving of gifts and poems on December 5. It's a beautiful time of year, and definitely worth a visit to the Netherlands.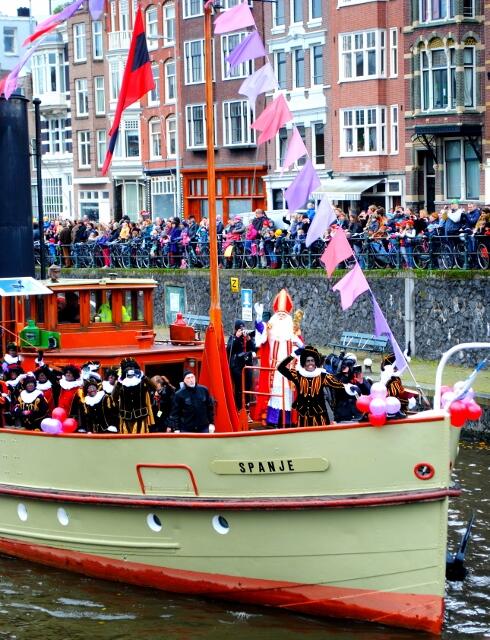 Christmas/New Year
Like many European cities, Amsterdam has its fair share of Christmas markets. You can find gluhwein (mulled wine), tasty snacks, festive arts & crafts, and much, much more throughout December. New Year's Eve, on the other hand, is the night for street parties and fireworks – it's a great time for adults to visit Amsterdam, but it's best to keep kids and pets safely at home!