3854 Views
Very much outside the Roman city walls, Garbatella is a residential Roman neighbourhood with a difference. Walk past the high-rise apartment blocks away from the Metro station and lose yourself in its winding streets. Nowhere else in Rome, does it look like this.
Built in the 1920s, Garbatella was designed and planned as public housing around the concept of an English garden. The design of the villas and houses are based on farmhouses from the surrounding countryside and each courtyard is set around gardens that were originally vegetable patches. It's the perfect place for a relaxing stroll away from the bustle of the city centre, and it's full of great, authentically Roman places to eat. So here are some of my favourite places. You might need a map to find some of them, but your efforts will be well rewarded.
Dar Moschino
A Garbatella restaurant institution, this small trattoria perched at the top of a flight of stone stairs looks part fairy-tale castle but is the red-gingham-tablecloth real thing. There is a good, although limited, menu to chose from. But if it's traditional Roman fare that you're after, then you're in for a treat.
Ask for a selection of antipasti and you won't be disappointed. On my last visit we were brought plates of incredible mozzarella di bufala, hand cut prosciutto, oil drenched, chilli-flaked aubergine and a courgette frittata that even a person who didn't like omelette was delighted with. Chose from Roman classic pastas such as cacio e pepe (simple cheese and pepper) or pasta alla gricia (think carbonara without the egg). The mains are great value too, from €7–15.
Piazza Benedetto Brin 5
Tel: 065139473
Closed Sunday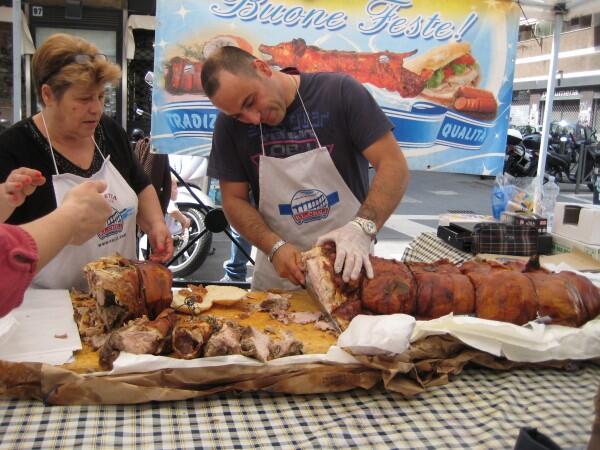 La Fattoria Va in Città – Sunday Farmers' Market
Held every second Sunday of the month, approximately 30 stalls line the streets around Via Caffaro from 9 a.m. until 8 p.m. Local farmers and producers will be happy to let you sample their wares. A picnic lunch of porchetta (roast pork), cheese, cakes and honey is easily achieved, all washed down with a craft beer if the fancy takes you. Or for something very English in the heart of this Roman village, the fish and chips stall might be tempting, the queues are certainly long enough!
Via Caffaro
Every Second Sunday of the month
9 a.m. – 8 p.m.
terraalta.it

Li Scalini De Marisa
Described as a true Roman trattoria, it was the first place I ate at in Garbatella. I've spent many a happy lunch in this family-run restaurant sitting under the shady awnings to escape the hot Roman sun. If you're looking for a non-tourist experience this is it.  No menus, plastic seating outside, but you will get a hearty helping of Cucina Romana. The specials are announced to you in quick succession. Just pick anything you've heard of before, take a chance or ask them to explain! The pastas here are the star, but try the polpette (meatballs) or the pollo ai peperoni (chicken and with peppers). Finish with homemade dolce, or sweets, and you'll go away happy.
Via Roberto de Nobili, 17
Tel: 06.51601969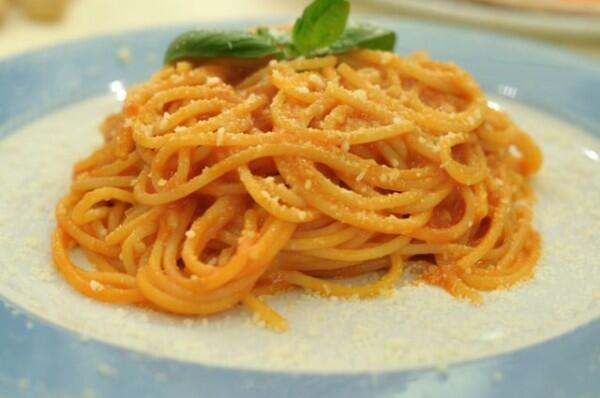 Otium Bar
Hidden away below street level, Otium is a cosy little bar serving extremely good-value cocktails along with a very nice aperitivo. Decked out in dark wood with red walls, art-deco mirrors and an eclectic mix of mish-mashed furniture, this is the perfect place for a pre-dinner drink or to while away a couple of hours with friends. Add to that some unconventionally mixed tunes, from Elvis Presley to Terence Trent D'arby and this is a little heaven sent haven. And a proper bar.
Via Roberto de Nobili 3b
Tel: 333 364 3072
6 p.m. – 2 a.m. 
otiumclub.net
Ristoranti Degli Angeli
Recommended by Kathy, this is a little bit of something special in the midst of all that traditional Roman fare. The menu is small (better for me, I'm a horrible decider) and seasonal. No question for me, the fava bean purée and cicoria it had to be (mushy peas and dandelion leaves – sounds better in Italian doesn't it?). My lunch companion chose involtini al mare, turbot rolls filled with ginger-infused vegetables. We were also treated to cacio e pepe bread – bread made to taste like the famous Roman cheese and pepper pasta and it really did! The service is friendly and relaxed (look out for the signora with the green hair). If warm, sit outside and watch the world go by, inside expect to be caught up in the throng of noisy locals enjoying a weekend lunch together.
Via Luigi Orlando, 2
Tel: 06 5143 6020
ristorodegliangeli.it