6328 Views
The small neighbourhood behind the Colosseum is called Celio. And to tourists who pass through on the main street of Via San Giovanni in Laterano—which stretches between the Colosseum and the church of San Giovanni—it might not seem like much of a neighbourhood at all. But on the other, less traveled roads is a tightly woven place where people wave to each other and know each other's names. In Celio you have everything you need, from food shops to shoe and book repairs, and even, believe it or not, sometimes you can sit down at a restaurant three blocks from the Colosseum without a tourist in sight.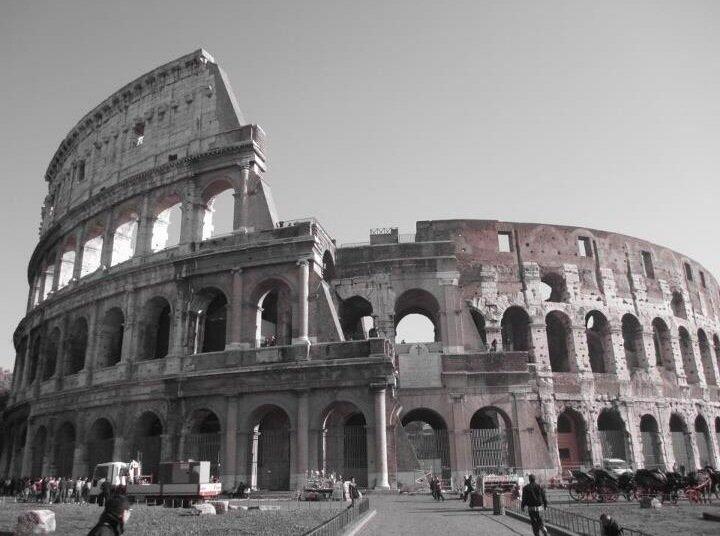 Restaurants near the Colosseum
So you've finished visiting the Colosseum? Now you need somewhere to eat!
Da Domenico
This yellow restaurant on Via San Giovanni in Laterno does nothing to advertise itself. And that's because it doesn't need to. Word of this restaurant travels from mouth to mouth. The menu is hand-written every day and the pasta is always fresh (no bagged semolina pasta is served here), as are the vegetables and meat. And while the staff doesn't cater to tourists (there is no English menu) they will gladly help and point you to the specials of the day. Even if you do understand Italian, the handwriting on the menu can be hard to read and you might have to ask what Domenico is cooking anyway.
06 7759 0225
Via San Giovanni in Laterano, 134
Open for lunch and dinner, closed Mondays
Li Rioni
This is Celio's best pizza and one of the best pizzas in Rome. The pizza at Li Rioni is Roman-style thin and crisp and served hot right out of the wood-fire oven. Their fried antipasti are among some of the best I've tasted in Rome. Especially delicious are their suppli and, strangely enough, the falafel. You must book a table on weekend nights as the restaurant fills up with groups of locals.
06 7045 0605
Via Santi Quattro, 24
Open for dinner only, closed Tuesdays
Taverna dei Quaranta
Hidden near the Colosseum this unassuming restaurant is the place to go for a trattoria-style meal in Celio. It is a surprising gem for its nearness to the tourist-filled monument. When the temperature is right you can even sit outside on the sidewalk in view of the Colosseum. Ask for the specials of the day.
Via Claudia, 24
Open for lunch and dinner
tavernadeiquaranta.com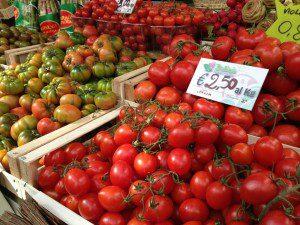 Food Souvenir Shopping near the Colosseum
Abracalabria
This small wine shop makes a good place to stop for tasty Italian gifts to bring back to friends and family at home. The sweets and other food specialties are from Calabria. But their wine selection comes from all over Italy. And if you're needing to pick up a bottle for dinner with friends, get it here as the owner will make suggestions and sure your gift is more than presentable.
06 6482 1534
Via Celimontana, 20
10 am – 2 pm and 2:30 pm – 10 pm
Bio Enzo Macelleria
If you're able to cook during your stay in Rome, you'll want to get your meat from these butchers on Via Labicana. At Bio Enzo you're always guaranteed the best meat as they always stock free-range chicken, beef and pig. Even if you're not cooking, stop in for their small but amazing selection of cheeses and other regional specialties like pasta, sauces, wine and jams.
Via Labicana, 70
06 70475945
Closed Sundays and Saturday afternoon
Market on Via Santi Quattro Incoronati
If you will be staying in Celio in an apartment and are interested in doing some cooking then head over to the market on Via Santi Quattro Incoronati, held every morning but Sunday. There you will find Mauro selling vegetables and fruit at his sprawling street stand. And on Tuesdays, Fridays and Saturdays there are two brothers who sell amazing, fresh fish and another fruit and vegetable stand on the same road but nearer to its intersection with Via Querceti. The latter is run by a family of farmers who cultivate their fruit and vegetables. They also sell farm-fresh olive oil, wine, eggs and bread.
Via Santi Quattro Incoronati
8:00 am – 2:00 pm, closed Sundays