10340 Views
This post was originally published in 2014 and was updated in November, 2017.
Campo dei Fiori is a piazza smack in the centre of historic Rome. Its name, translated literally, means "field of flowers," and one theory is that the name dates from when this area was an open meadow. Now Campo dei Fiori is a bustling piazza that draws locals and visitors, day and night. By day the piazza embodies a tradition of Rome that has managed to withstand the centuries: the outdoor market. And by night the piazza is best known for its nightlife when the many bars skirting the periphery fill up with a rowdy crowd until the early hours of the morning.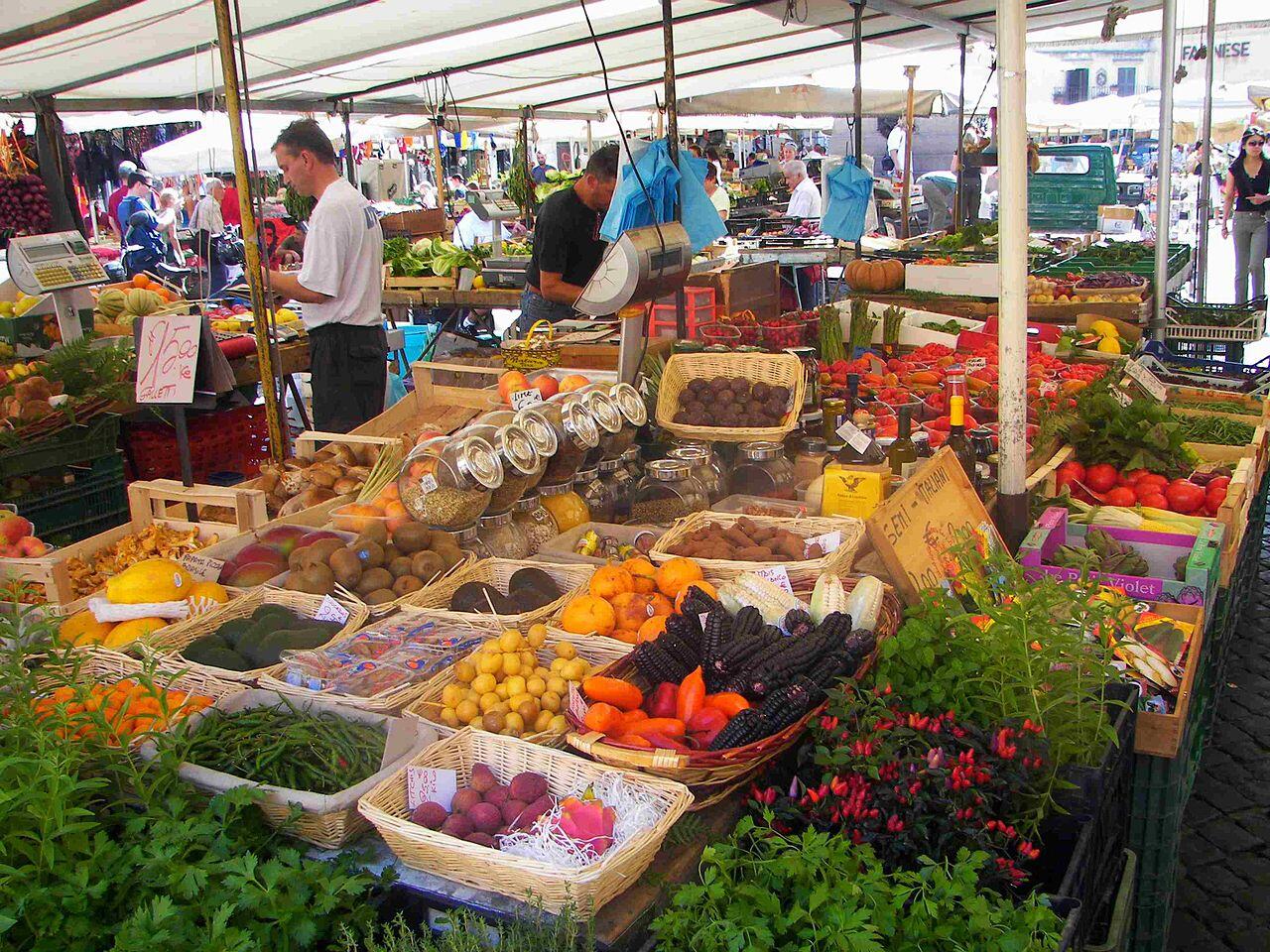 Standing right in the middle of all this activity is the austere statue of Giordano Bruno. He was an astronomer so much before his time that the Vatican had him burned at the stake in that spot for heresy in 1600. Surrounding Giordano Bruno—every day but Sunday from morning until early afternoon—are the stands of central Rome's only outdoor market. Once such markets flourished throughout the old centre of the city, but now, Campo dei Fiori Market is the only one. And despite the changes it has undergone, it remains true to its origins of bringing fresh fruits and vegetables to the people.
* * * * * * * * * * * * * * * * * * * * * *
Avoid the tourist traps and taste the best of the Vatican area!
Join us on our Vatican Area Tour for Foodies: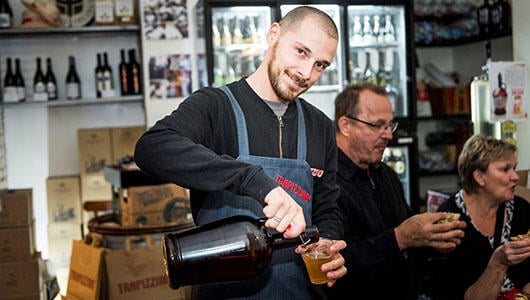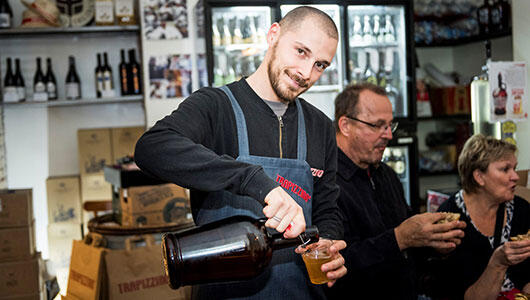 * * * * * * * * * * * * * * * * * * * * * *
If you skip the pasta-sauce spices (Italians never use these) and the electric-yellow bottles of limoncello you'll find the best part of the market in the rows of fresh fruits and vegetables and the people who work there. You can't miss Claudio's sprawling stall—facing the Forno Campo de' Fiori—selling an array of pre-washed veggies, big porcini mushrooms (depending on the season), and other Roman specialities like artichokes and puntarelle. In 1929, Claudio's grandpa set up his stand, so you can be sure that the faithful clients discussing prices and quality of the vegetables have been coming here for years.
If you wander a little further in between the tables you'll find Sandro selling cups of bright-red, fresh-squeezed pomegranate juice. Though Sandro has been selling his juice and fresh-cut fruit for only two years, he has made a business of it and has clients who come back for more. Sandro insists that this juice is a medicine because of its high concentrate of antioxidants, and a glass of it certainly is a must-try if you're in the area.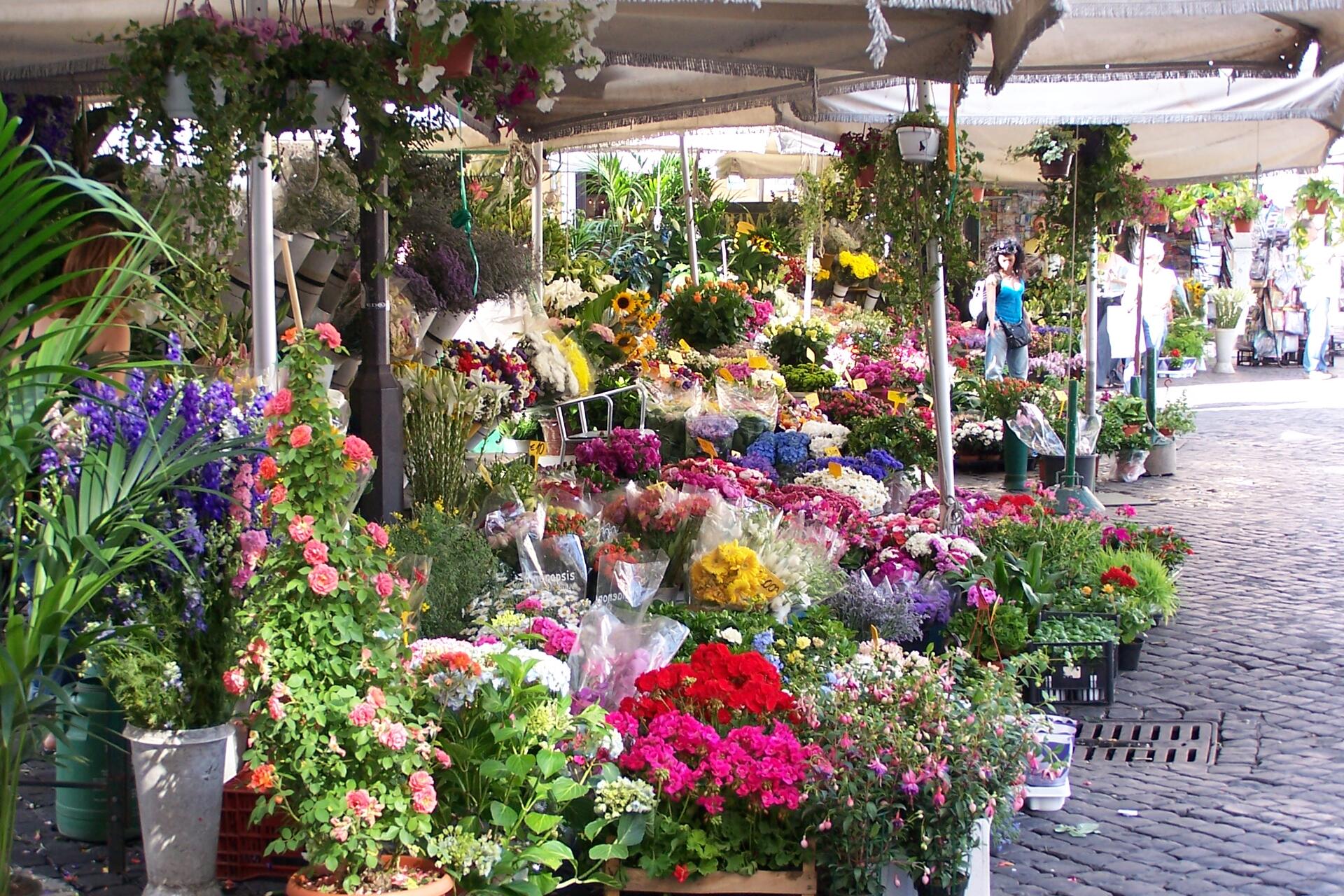 For cheeses, porchetta and salamis, check out Giorgio's small cart near the cinema. When I asked him how long he's been there, he laughed and answered that his stand was young because he's only been coming to sell in Campo dei Fiori for eight years.
After all that looking at food, you'll probably be hungry. Stop by the Forno Campo de'Fiori for a slice of the best piazza bianca (flat bread made with lots of olive oil and salt) in town. Their pizza-by-the-slice (or pizza taglio) is also very good as well as their sweets. Wander in the direction of the river and you'll come to another big piazza, Piazza Farnese. It has two enormous fountains and is dominated by the elegant Palazzo Farnese—home to the French Embassy. This Renaissance building was designed by Antonio da Sangallo the Younger and was finished off by Michelangelo after the former died. The Farnese family used to live inside and hoard up on found ancient Roman art, most of which can be seen in the Archeological Museum in Naples. If you want to get inside you've got to make an appointment—a good idea if you're interested in seeing some stunning frescoes by Annibale Carracci.
Behind Palazzo Farnese runs the quaint Via Giulia. Ivy lined, this road is pleasant to walk down to avoid the noise and crowds while taking in Rome's elegance. There are many beautiful palazzi with imposing doors and housing expensive antique shops. In fact, throughout the small streets running into and around Campo there are a wealth of shops and charming streets to discover. So take in the market and enjoy one of the most quintessential areas of Rome.
* * *
Voted one of the best things to do in Rome, Eating Italy Food Tours offer Rome walking food tours through some of Rome's oldest and most characteristic neighborhoods as well as fun culinary activities. And if you're heading to Florence, we have several Florence food tours and a home-cooking class for you to try out!