5673 Views
When in Rome, you must choose your gelato wisely. There are several strategies for doing this, which are too long to get into here, but the easiest and surest way to get wholesome and natural gelato is to head to a Fatamorgana gelateria. Since the gelaterie of Fatamorgana seem to be sprouting up every six months around Rome, finding one shouldn't be that hard. And there's good reason for its popularity (voted some of the best gelato in all of Italy!): Fatamorgana only serves all-natural and gluten-free gelato, it offers a variable mix of flavours that will take your taste buds off the beaten path, and the owner practices a philosophy of good food that follows from your stomach to the rest of your body.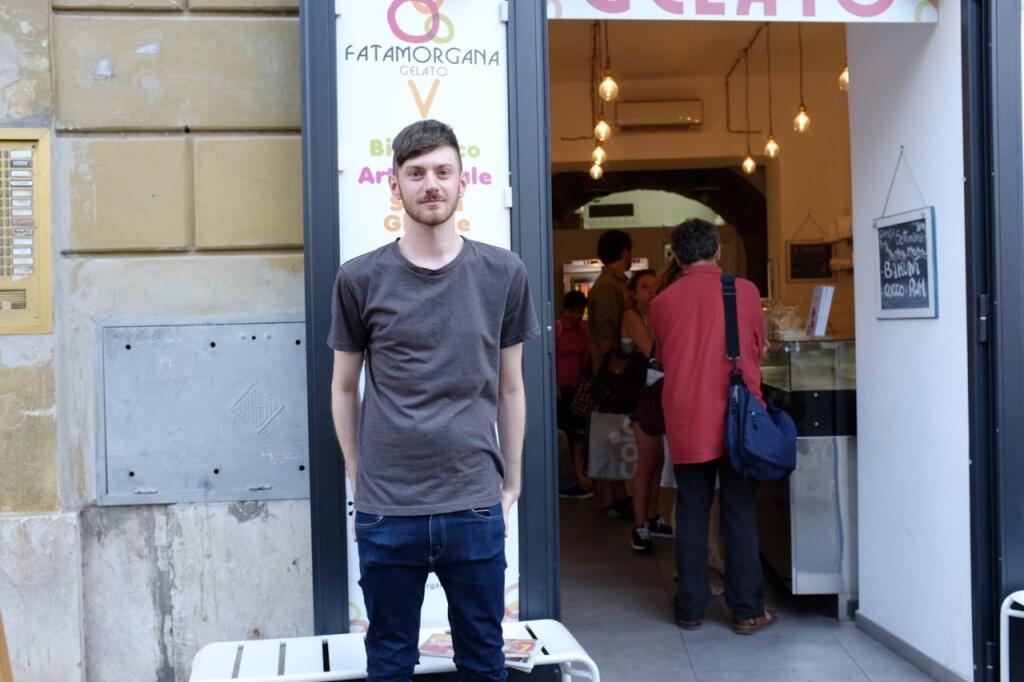 Maria Agnese Spagnuolo is the brains behind the gelato. She's just published a book, Gelati e Saluti (Gelato and Health) that dispels any myths that gelato could be bad for you and is filled with her original recipes. She's got gelaterie in Monti, Prati, and now near Via del Corso. The Fata Morgana in Trastevere, just off the Piazza San Cosimato, has just celebrated its one-year opening. The chairs outside the open door were laden with locals when I walked in, as if it was the neighbourhood couch. It wasn't the owner that I wanted to talk to, but Vittorio, a slim young man with an enviable job who's as wrapped up with Fatamorgana gelato as anyone could be.
Vittorio has worked at the Fatamorgana in Trastevere since the day it opened. He's originally from Marcellina, a small town in the hills to the northwest of Rome, but Trastevere is now his home. "It's the most beautiful area of Rome," he said. Besides from its physical beauty, he also likes Trastevere for its diversity. From behind the counter, Vittorio serves students, visitors and locals. He's met people from all over the world.
The stark whiteness of Fatamorgana's interior showcases the stunning colors of its gelato. And the list of flavours makes it even more impossible to choose just two (or three or four). Vittorio's favourites are Bacio del Principe (or "kiss of the prince") that is a mix of gianduja and hazelnut and Panacea that's made with almond milk, ginseng, and mint. He listed off these two favourites fast and added others, the people around him joining in, but when asked about a flavour he didn't like, Vittorio had to stop to think. "Mirto e castagne," (blueberries and chestnuts) he said, "because I don't like chestnuts." And the the most popular flavour for customers? You might think it's something classic like Pistachio or Straciatella, but no, it's Basil, Walnuts, and Honey. A flavour, said Vittorio, that you can only get from Fata Morgana and for which people travel from other areas in Rome to try.
Another bonus is that all these delicious flavours rotate by season, so that in summer you can find all the fresh fruits like fig, watermelon, and peaches with wine. And in winter you can get more creamy and chocolatey flavours like Fata Morgana's Kentucky Chocolate with Tobacco and Cinnamon Cream. But Fatamorgana is also a place to take your taste buds on an adventure and try a salty gelato (flavours I haven't been brave enough to try) like Pear and Gorgonzola and Little Devil with tomatoes and habenero peppers.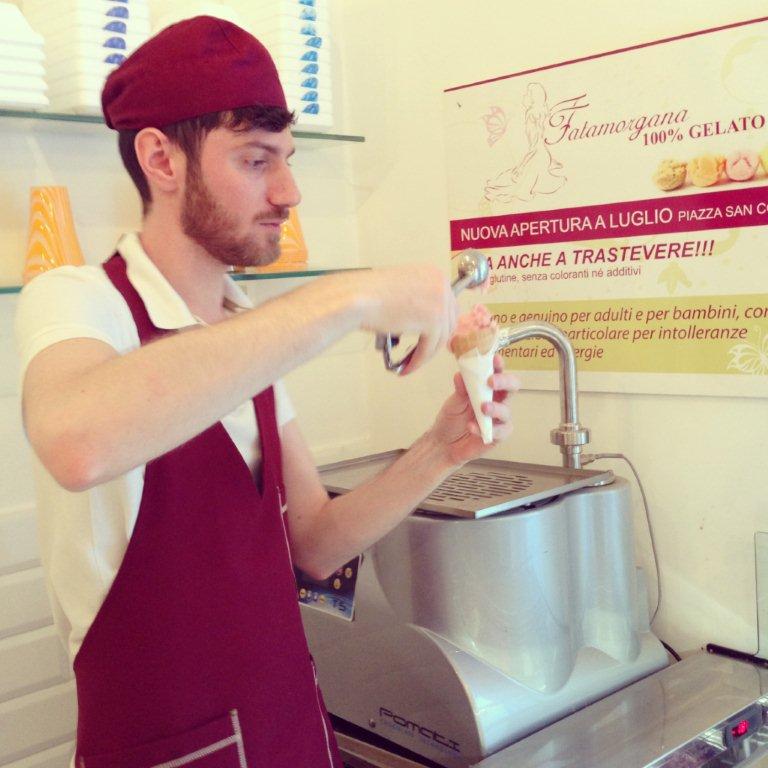 With such a wide selection of choices, no wonder Vittorio hasn't worn himself out of eating Fatamorgana gelato. He said that after a year, he could still eat it every day. But he no longer can eat gelato anywhere else. And why would you? He says that gelato at Fatamorgana is best because the ingredients are fresh, which gives the gelato more taste. In the watermelon gelato you'll find juicy pieces of watermelon and in the pistachio, delectable pieces of pistachios from Bronte, a small town in Sicily.
So if you're near Piazza San Cosimato in Trastevere, stop in to see Vittorio (he works the afternoon shift) and let him lead you through the wonderful tastes that is Fata Morgana gelato.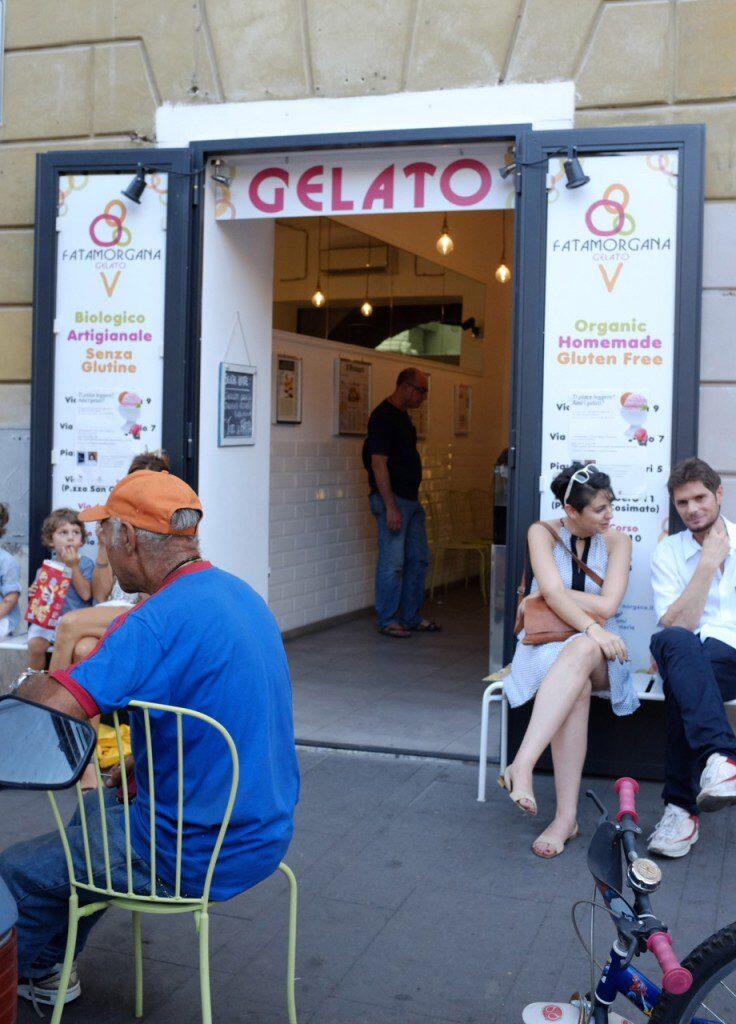 * * *
If you're curious to explore more of the Trastevere neighbourhood, be sure to explore Rome on one of our Trastevere tours.