8599 Views
We are happy to have a delicious guest post this week by a Rome know-it-all Browsing Rome.
Hope you enjoy it and cheers with a limoncello in hand from al of us here at Rome Food Tours!
Driving along the Amalfi Coast, you will be astounded by the amazing views but that's not the only thing that will leave you in awe. Looking for a local travel tip for your trip to the Amalfi Coast? The Amalfi Coast is also well-known for the famous Amalfi lemons which are the size of grapefruits—much more than your regular lemon. Grown on the steep terraces on the coast, it has been designated the I.G.P (Indicazione Geografica Protteta) status which means that it is grown in that specific territory and adheres to a strict production process.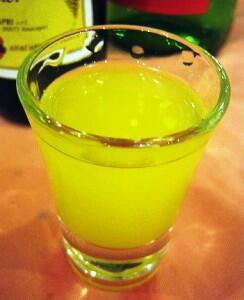 On the windy roads of the Amalfi coast, fruit stalls set up alongside proudly display these gorgeous lemons with the knowledge that they are bound to get the attention of tourists & visitors, especially first-timers. With a thick pith and few seeds, the pulp is less sour than regular lemons and produces at least 25% of its volume in juice. Its zest is rich in essential oils and when grated or peeled, it releases a remarkable aroma and extremely flavorful. It's no surprise then that you see a wide variety of uses of lemons in this area ranging from the famous sweet liquer limoncello to soaps and perfumes. When it comes to food and beverages in the Amalfi Coast, here are the three most commonly found foods & drinks:
Limoncello
An after-dinner sweet liquer to help with digestion, there is no shortage of places selling bottles of limoncello in Amalfi Coast. It is also generously offered in many restaurants after the meal and served cold. A bottle of limoncello is kept in the freezer and due to its high alcohol content, it never freezes. This excellent digestive is the perfect ending to a lovely summer meal. If you can't get a hold of a bottle of limoncello, the next best thing is to make your own. It's easier than you think! All you need is a bit of patience.
Ingredients for a Limoncello recipe
1 liter of good quality pure alcohol (95% if possible)
1 Liter of water
1 kg of sugar
8-10 Amalfi lemons ( if not available, organic medium to large-sized lemons)
Recipe equipment
Glass jar with a tight lid
Recipe instructions:
Pare the zest from the lemon and add the them to the glass jar together with the alcohol. Cover with the tight fitting lid and leave it in a cool dark place for a month. You don't need to shake it but can if you want.
Heat the water and when it is hot enough, add the sugar. Stir until dissolved.
Let the syrup cool and add it to the jar with the alcohol and lemon zest. Leave it to rest for another 40 days.
After 40 days, strain the limoncello and pour into a bottle with a lid. Store in the freezer. Enjoy.
Delizia al Limone
This is my personal favorite and when I am in Positano, I do everything possible to get the delizia al limone from La Zagara. It is simply sponge cakes that are lightly soaked in lemon syrup then filled and covered with lemon cream. Talk about getting lemoned-out!
It's luscious, refreshing and simply heavenly. I haven't had the courage to make this at home but will one day soon.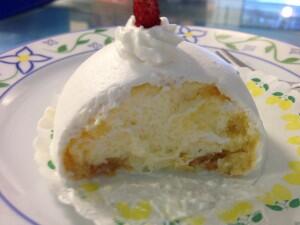 Lemon Granita
A quick cool refreshment that you can get on the go or beach on a sizzling summer day. Beach concessions along the Amalfi Coast and throughout Italy offer various types of granite along with the lemon ones.
On sweltering summer days especially when we are by the beach, it's my go to refreshment and on some days more than once. We are, after all, on vacation in Italy. It's much lighter than gelato and the tangy flavor also gives you a jolt of energy to awaken you from the hours of lazing on the sunbed.
Enjoy!