11117 Views
This was written with contributions by Dalila Ercolani.
During village festivals, fairs, markets, concerts or sporting events, the modern streets of Rome are often filled often with food trucks that include the famous porchettari (or porchetta men). These vans house a functional kitchen to display and distribute the heavenly delicacy we Romans call porchetta. To make porchetta, a pig is skinned, deboned and then carefully layered—stuffing, meat, fat and skin—and finally rolled up, spitted and roasted over a wood fire. The result is a triumph of aromas and flavors that central Italy claims proudly as one of its most typical dishes.
Porchetta was selected by the Italian Ministry of Agriculture as a "traditional agricultural-alimentary product". And in other regions of Italy it is considered a delicacy and typically only consumed as a celebratory dish. While in Rome it is a common street food served on its own, as a filling to sandwiches or as part of a picnic.
This Roman roast must be consumed shortly after cooking. The meat is golden in color, with a characteristic odor of roasted aromatic spices; the taste is mouth-watering, savory and oh so tender. When eaten hot out of the oven, this marriage of flavors is at it's best. The meat is delicious, but the fat is divine and the crust of the skin is perfectly crisp offering up a variety of textures as well as flavors.
The origin of this recipe is still uncertain. But the inhabitants of Ariccia (a small town in Rome's Castelli—to the south of the city) claim porchetta's paternity, because for 3,000 years the Prisci Latin Priests have prepared porchetta once a year to celebrate the birth of the Latin League. This meal of swine and wild boar was traditionally served up in Ancient Roman times as a sacrificial offering to the god Mars in the temple of Jupiter in Lazio near Monte Cavo. But porchetta was a very pleasing dish even in pre-Roman times and during with Emperor Nero and his court.
The modern reputation of Porchetta di Ariccia dates back to 1950 when the porchettari of Ariccia celebrated the Sagra della Porchetta di Ariccia, a festival led by the city's mayor to promote this tasty product. Since then, every year this event has been held in Ariccia where porchetta is offered on festively decorated stalls by vendors dressed in traditional Ariccini clothes.
On non-festival days, Ariccia and its neighboring town of Frascati are the places to go for porchetta, specifically these towns' fraschette—cozy home-style restaurants.  One of the best ways to eat porchetta, and what we Romans love in any type of weather, is as a sandwich with no other ingredients than bread and meat: the famous panino con la porchetta… The simpler the better!  The bread should be strictly homemade to perfectly absorb the fat and seasoning.
If you're headed to Ariccia or Frascati, make sure to stop and try this roman street food that Romans rave about. Try the fraschetteria Mela Godo (Strada Pozo Comune, 12; fraschetteriamelagodo.it) in Ariccia, or the porchetta of the Cioli Brothers in Frascati, well-known for being one of the "founders" of porchetta in the area.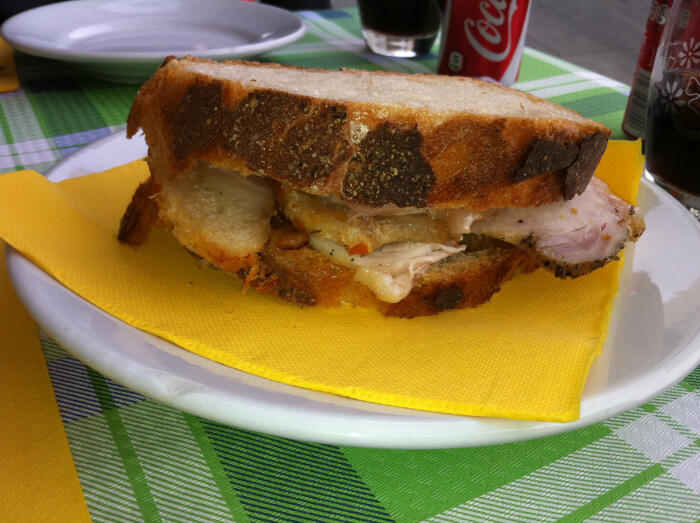 Where to eat porchetta in Rome
In Rome we can find fresh daily porchetta in many places. Here are a few that I like:
Er Buchetto
Come to this tiny shop for the best porchetta in Roma since 1890. Er Buchetto is a small tavern famous for its homemade sandwiches stuffed with roast pork, ham and cheese.
Via del Viminale, 2F.
La Fraschetta di Castel Sant'Angelo
This place in the center of Rome has a pretty well sized menu, but the porchetta is the thing to try. Here, their panino can la porchetta is the answer to the Roman kebab
Via del Banco di Santo Spirito, 20
Aristocampo
This take-away place offers a huge selection of sandwiches always freshly prepared. And of course, they also have the famous porchetta of Ariccia.
Piazza Campo de 'Fiori, 30
What wine to drink with porchetta
Now the question arises: what do we drink wine with porchetta? In the fraschette, a classic bottle of romanella is usually suggested. This sparkling wine, usually made "in house," can be white or red. It is often low quality and not very interesting. It is a traditional pairing, but if you want something a little more, I suggest instead Perinelli – Gutturnio Frizzante Superiore Costa dei Salina.
Piacentini DOC wine is produced in Colli from Barbera grapes and Croatina. This wine was born in Roman times as a recipe invented by Lucius Calpurnius Piso, father of Julius Caesar, whose mother had origins in Piacenza. Its name derives from gutturnium, a large silver cup that was used at the end of dinner. Filled with wine, it was passed from hand to hand among the diners to drink from as a symbol of brotherhood and friendship.
This wine shows a beautiful, bright ruby ​​color. The nose is full of pleasant and intense aromas: cherries, raspberries, rhubarb and red flowers. On the palate it comes off as warm, soft and fruity with nice smooth tannins.
Costa dei Salina is a young, red wine that is fragrant, lively, sparkling and always moving. It is like the people who bite into porchetta sandwiches and continue to stroll down the streets of Rome.
"La bella porca de l'Ariccia co un bosco de rosmarino in de la panza!"
"The beautiful swine of l'Ariccia with a forest of rosemary in its belly!"
Carlo Emilio Gadda