5899 Views
Much of Roman culture centres itself in food. Stand in any piazza for fifteen minutes and you'll no doubt hear at least one conversation of which food is the topic. What's for lunch? they ask. What did you have for dinner? How exactly do you cook your melanzane parmigiana, breading the eggplant or not? Where do you pick up the freshest spigola? Or, at the market yesterday I bought a bunch of fave beans then topped them with pecorino. "Mama mia! Che buonissimo!" the listeners swoon. So when you're in Rome, you would do well to immerse yourself in this great Roman pastime. To ease your transition in, here are some pointers on how and where you should shop for your food in Rome.
Markets
Market is the first word in buying food in Rome. Whether outside or inside, summer or winter, there are markets all around the city to serve all your food needs. In an ideal world, every market would have farmers, bakers, butchers, fishmongers, and fresh pasta makers selling everything you require for making dinner. Instead, most daily markets have a combination of a few of the above, but rarely all—the exception being the large rioni (or area) and the weekend markets.
Fruits and veggies are the cornerstones of markets, and at every market the protocol for shopping for these vitals varies. Some vendors won't let you touch their produce, while others won't get it for you. Just watch those around you to see if they're grabbing for stuff and follow suit. Some greengrocers sell wine, olive oil, and eggs as well, which usually aren't prominently displayed so require asking. And while you're there pick up some gossip and enjoy the banter, two other very dependable features of markets in Rome.
Testaccio Market: Between Via Galvani and Via Alessandro Volta. An ideal market in that you can find everything you need for dinner. Monday to Saturday, 7:30am to 1:30pm.
Nouvo Mercato Trionfale (Prati): At the intersection of Via Tunisi and Via Andrea Doria. This market is just another one of those ideal markets where you can find everything. Monday to Saturday, 7am to 1:30pm.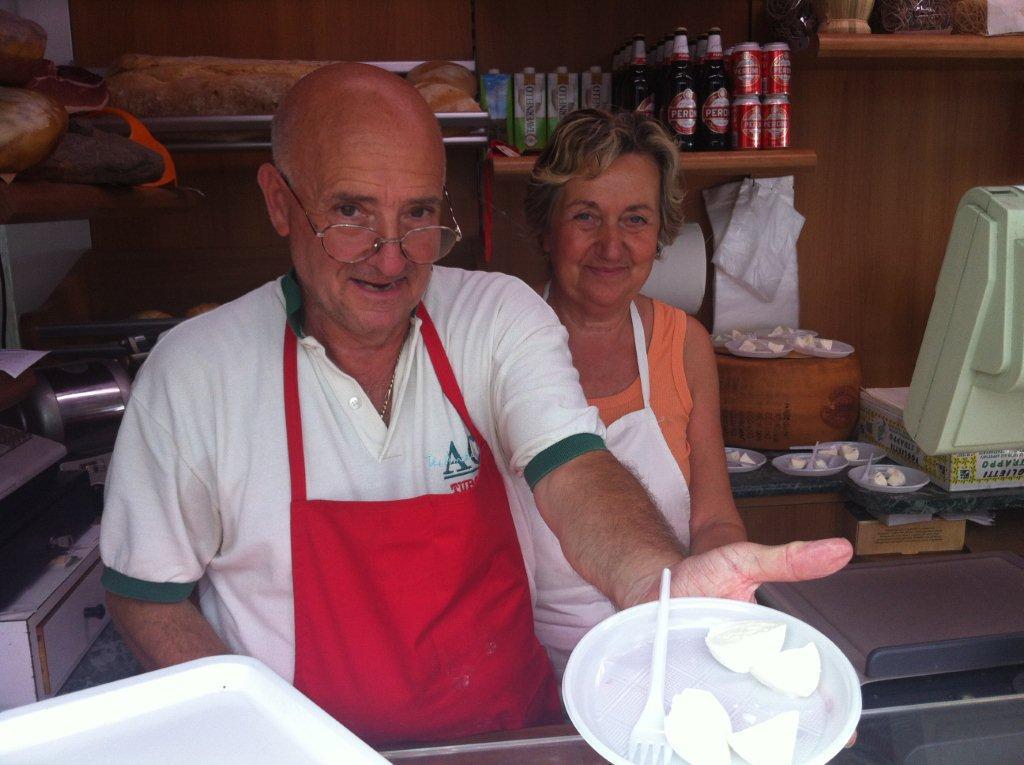 Alimentari
The next word in food shopping in Rome is alimentari, which is basically a small store like a deli that sells fresh bread, cured meats, cheeses, and sometimes staples like pasta and canned tomatoes. Alimentari can be elaborate with a wide variety of products from all over Italy, or they might only have a simple counter of a few meat and cheese choices. Do not opt for the cheeses and meats that are already plastic wrapped, but head back to the glass case where all delicacies are freshly arrayed and ready to be sliced. If you don't know the name of what you want, don't be afraid to point. The most important thing to know is that the meats and cheeses are ordered in etti, which is a word for one-hundred grams. Alimentari will usually make sandwiches too, which I welcomely grab on sunny days to eat on a bench.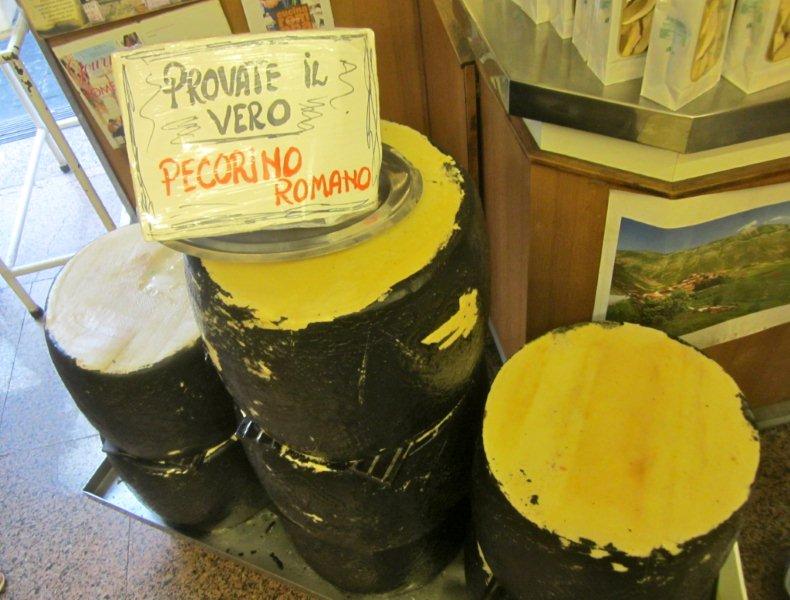 Volpetti (Testaccio): Via Marmorata 47. This is a gourmet alimentari where you buy bread, cheese, prosciutto, sandwiches, fresh pasta and so on. There are also finer items for sale, such as black truffles and aged balsamic vinegar.
Antica Caciara (Trastevere): Via di San Francesco a Ripa 140. You'll smell this place before you pass it and notice all the delicious cheese for sale. This place has been in business for years, so they know what they're doing!
Butchers and Fishmongers
The next stop on our tour of where to buy food in Rome is to the butcher and the fishmonger. Meat and fish are two staples of the Roman diet and are taken very seriously. Butchers aren't as intimidating as they seem, covered in blood and wielding heavy knives. Usually, stepping into the butcher's is as social as the market, where you're required to joke around with those serving you and the others also buying meat. Again, order in etti, but at the butcher's, it might be a good idea to know what you want and the word for it in Italian before coming. It can be difficult to mime the cut you want from the slabs of red meat or whole chickens.
Unfortunately, fishmongers and their shops are fleeting affairs in Rome, though there still are some reliable places to pick up your Friday fish. Don't be afraid to buy a whole fish—just remember to ask the workers to clean it for no extra charge. They will also slice up calamari and dehead and debone sardines if you ask. And if you don't know what to do with your whole fish once you get it home, ask your trusty fishmongers for a recipe. They usually are happy to share their favorite way of preparing the fish you're buying.
For fish: Antica Pescheria Galluzzi (Monti): Via Venezia 26. Open in the morning. These people have been selling fish since 1894, so it's a fair bet that they know exactly what they're doing. Step in and let them guide you through their freshest catches of the day.
For meat: Novecentoseidici Bio Eno (Celio): Via Labicana 70. This is a great butcher with plenty of choices of meats, including bio chicken and beef. They also have a small yet good wine collection.
Angelo Feroci (Centro Storico): Via della Maddalena 15. High-quality butcher that doesn't serve only cuts of meat from its marbled counters, but also pieces ready for the oven, like ground-chicken stuffed zucchini.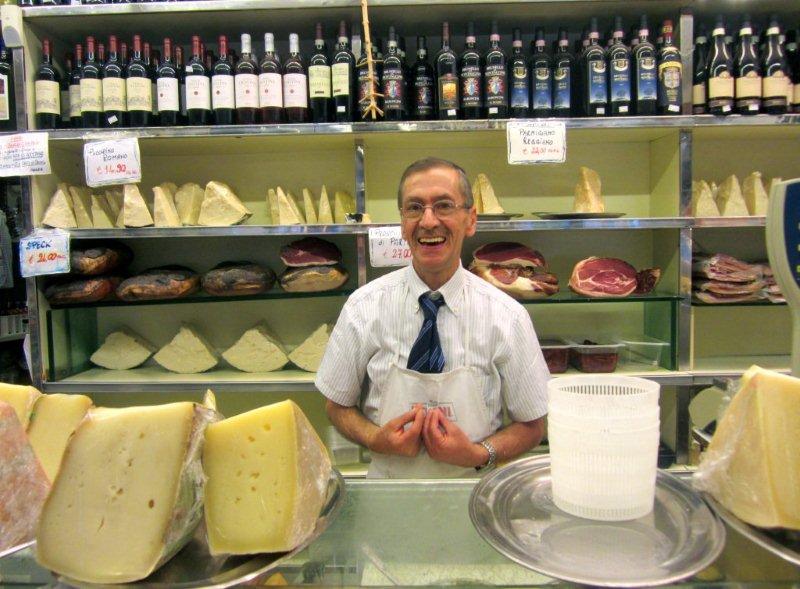 Specialty Stores
Fresh pasta shops and bakeries were once seen in every area of Rome. They can still be found if you search for them. Other specialty shops include your local wine shop where the person behind the counter can often coach a wine match for your dinner plans.
For pasta: Pasta al'Uovo (Monti): Via del Boschetto 42B. A simple pasta shop with delicious hand-made pasta.
For sweets: Regoli (Esquilino): Via dello Statuto 60. One of the few pastry shops in Rome to survive, Regoli is near Piazza Vittorio and serves up some tasty desserts.
For wine: Palombi (Testaccio): Piazza Testaccio 38-41. At Palombi you can find beer and wine from all over Italy. Come here in the evening to enjoy a glass with snacks.
I know that by now your arms are no doubt laden with bags from so many different shops. But that's no reason to forego making all these stops for one trip to the supermarket. Supermarkets are the last place to buy food in Rome (though they might be the first stop on a Sunday when everywhere else is closed!). Once all the food is simmering on the stove and the results are put on the table, you won't regret the extra effort. Buon appetito!
* * *
Contact [email protected] with Blog Enquiry in the subject title for any feedback or requests for a topic you want us to cover. Voted one of the best things to do in Rome, Eating Italy Food Tours offer Rome food tours (and a new wine + food tour) through one of Rome's oldest and most characteristic neighborhoods.