7918 Views
For a few decades, the food scene in Venice has been seen as very touristy, overpriced and generally pretty bad. But thanks to the internet and the birth of food blogs, guide books and food tours – and thanks also to the desire of travelers to eat better and the ability to voice their discontent on receiving a badly cooked, expensive meal – even in Venice you can finally eat really well. And not just if you're a local. A real food Renaissance is happening now in the City of Water, so I am glad to share my own selection of the best restaurants and cafés in Venice – all personally tried and tested.
Antiche Carampane
Getting lost among the little alleyways of Venice is all part of the game if you go and have a meal here. Frequented mainly by a select clientele of locals and those tourists who do not like to feel as such (hence the sign at the entrance warning: "No Lasagne, No Pizza, No Tourist Menu"), this is a typical family-run inn, serving some of the freshest fish in Venice. You can choose among a typical range of Venetian dishes like sweet and sour sardines, crab salad with small artichokes from Sant' Erasmo island, or their famous desserts like pavlova with berries and yogurt. This is considered one of the best restaurants in Venice by most of the locals.
Sestiere San Polo, 1911, 30125 Venezia
+39 041 524 0165
antichecarampane.com
Open: Tue – Sat 12.30 – 2.30 pm, 7.30 – 11 pm  
Vecio Fritolin
Vecio Fritolin, which in appearance is an inn, but in fact is a high quality restaurant, takes its name from the ancient fritolini: the old places where Venetian people bought freshly fried fish served in paper cones during the Renaissance. Here, local Venetian cuisine is revisited and enriched with creativity and lightness. Owner Irina and chef Daniele devote their talent to playing with raw materials and new techniques using local, seasonal Venetian ingredients. The bread, breadsticks and pasta are all homemade. At Vecio Fritolin you will find the best cod, fresh scallops and squid served with squares of roasted white polenta.
Sestiere Santa Croce, 2262, Calle Regina, 30135, Venezia
+39 041 522 2881
veciofritolin.it
Open: Mon – Tue 7 – 10.30 pm; Wed – Sun 12 noon – 2.30 pm, 7 pm – 10.30 pm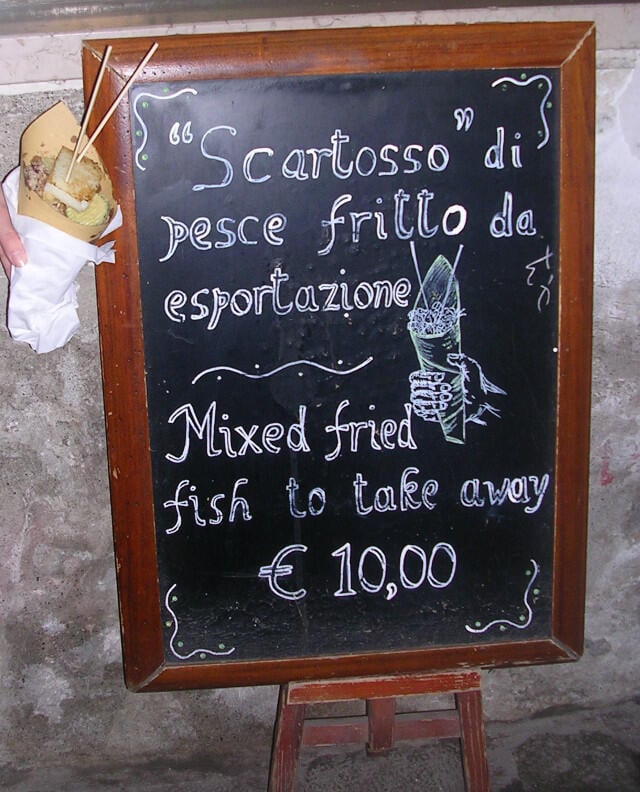 Vini da Gigio
Established since the 80s, not far from Ca' D'oro, this is one of the often-overlooked gems of the city. The atmosphere is warm and pleasant, with exposed beams and a beautiful stained glass window overlooking the nearby canal. Here you can taste some of the best Venetian dishes and sample some great Veneto wines – Paolo, the owner, boasts one of the largest wine cellars in the city! It is a small family-run restaurant, so make sure to book well in advance. They offer a range of delicious Venetian dishes like the linguine with crab or pesto and monkfish.
Sestiere Cannaregio, 3628a, 30121 Venezia
+39 041 528 5140
vinidagigio.com
Open: Wed – Sun 12 noon – 2 pm, 7 – 10 pm
Enoteca da Roberto
It might surprise you to find this place in this list of best restaurants and cafes, since technically this is neither a restaurant nor a café, but in fact what in Venetian is called a Bacaro: a small typical inn. Here you can sample the typical Cicchetti (similar to tapas) together with an ombra, a small glass of local well-made house wine. This is a special place: you can sample their famous pumpkin, bacon, cheese and potato fried balls, their large range of cured meats and cheeses, as well as a large selection of cicchetti. All the while, you'll be standing side by side with the old local Venetian men who have been coming for a drink, day in day out, for the last 40 years. At lunch and dinner time they also offer fresh homemade pasta dishes, with homemade sauces.
Rio Terà Farsetti, 1847, Venezia
+39 333 345 8811
Open: Mon – Sat 11 am – 10 pm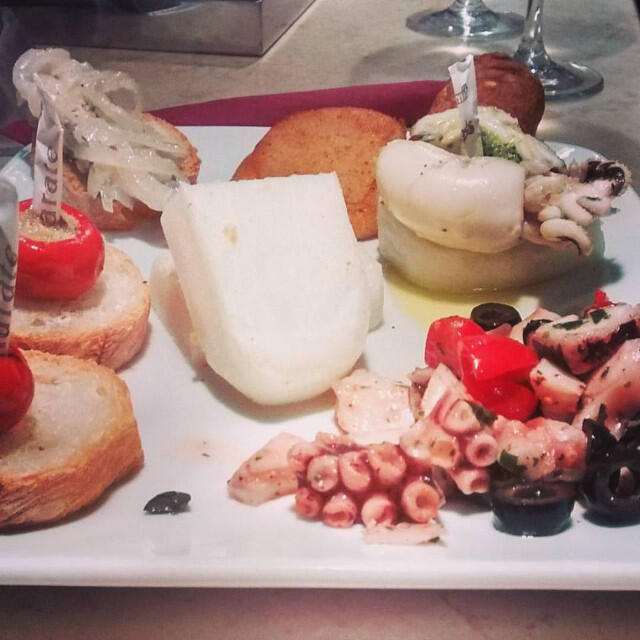 Al Sbarlefo San Pantalon
A vibrant and modern looking little bar/café, a stone's throw from Campo Santa Margherita, they offer a large selection of Veneto and Italian wines, as well as cicchetti – a small selection of cold cut platters and cheeses. They have one of the best burratas in the city and they really know their wines, like all Venetians do! Al Sbarlefo San Pantalon is also one of the few places in Venice offering live Jazz music during the week.
Calle S. Pantalon, 3757, 30123 Venezia
+39 041 524 6650
Open: Mon – Sun 10 am – 12 midnight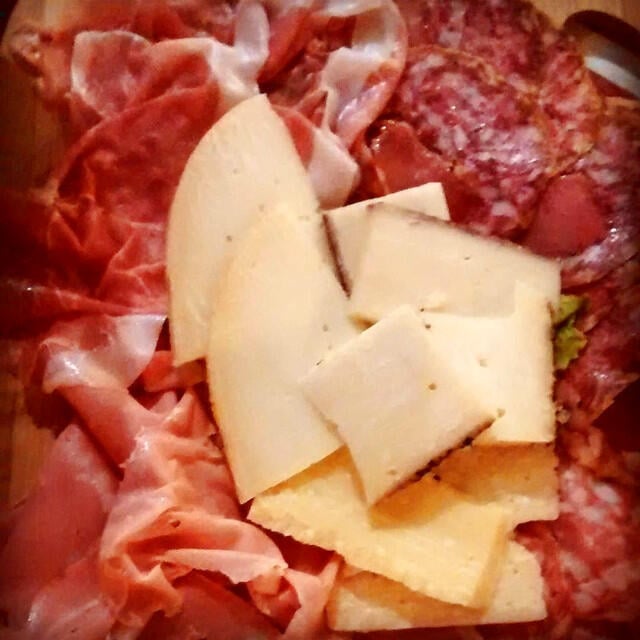 Al Gatto Nero
This restaurant was born more than half a century ago as a tavern, and was taken over in the mid-60s by the current owner, Ruggiero, who is also the chef. This is one of the historic restaurants in Venice. Located on the stunning island of Burano, it is family-run, so the atmosphere is informal, but very evocative of the sea and its products. It's here that you'll taste the best Risotto di Go (a small little fish from the Venetian lagoon) in the city and some of the most delicious fried fish in Venice. Massimiliano, Ruggiero's son and a fine sommelier, will help you choose the most suitable Veneto wine for your meal.
Via Giudecca, 88, 30142 Burano, Venezia
+39 041 730120
gattonero.com
Open: Tue – Sat 12.30 – 3 pm, 7.30 – 10.30 pm; Sun 12.30 – 3 pm
Corte Sconta
Another historic Venetian restaurant, Corte Sconta is located near the Arsenale, a very residential area of Venice. Famous for its little courtyard (hence the name), which offers privacy and quiet from the Venetian crowds, this charming family-run restaurant offers homemade breads and pasta, their own Prosecco (from the hills of Montello) and some of the freshest and best fish I have ever tasted. Try their 5-course starter, a meal in itself, which consists of 5 separate fish dishes that change according to season.
Calle del Pestrin, 3886, 30122 Castello, Venezia
+39 041 522 7024
cortescontavenezia.it
Open: Tue – Sat 12.30 – 2 pm, 7 – 9.30 pm
Caffe Florian
Established in 1720, Caffe Florian is the oldest coffeehouse in continuous operation in the world (I believe!). Located in Piazza San Marco – Venice's most famous square, known as the most amazing "sitting room" in the world because you can sit and watch the world go by for hours – Caffe Florian is one of the symbols of the city, and a must when visiting Venice. This is where Casanova, Hemingway, Goethe and Goldoni used to come for a coffee and chat with their friends. Yes, it is expensive, but it is all about the experience, the history and that feeling of luxury – especially if you decide to sit inside, in the beautifully decorated rooms of the cafe.
Piazza San Marco, 57, 30124 Venezia
+39 041 520 5641
caffeflorian.com
Open: Mon – Sun 9 am – 12 midnight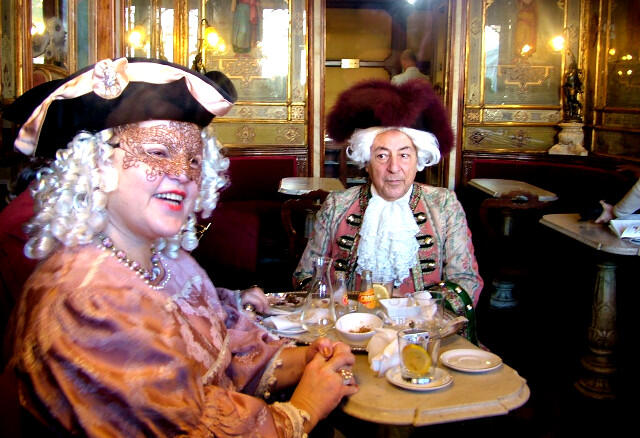 Gran Caffe Quadri
Established in Venice in 1775, the Gran Caffe Quadri is one of the oldest historic cafés in Italy, located in the Procuratie Vecchie of Piazza San Marco. The restaurant (the only one in the square) offers a wide range of refined seasonal dishes made from absolutely fresh raw ingredients which can be enjoyed while looking out at the panoramic views. Their historic recipe is the gelato al forno: oven-baked ice cream with a foam of amaretto, almond and burned meringue. In winter, don't miss their hot chocolate with whipped cream – so thick and creamy, it's to die for!
Piazza San Marco, 121, Venezia
+39 041 522 2105
alajmo.it
Open: Mon – Sun 9 am – 12 midnight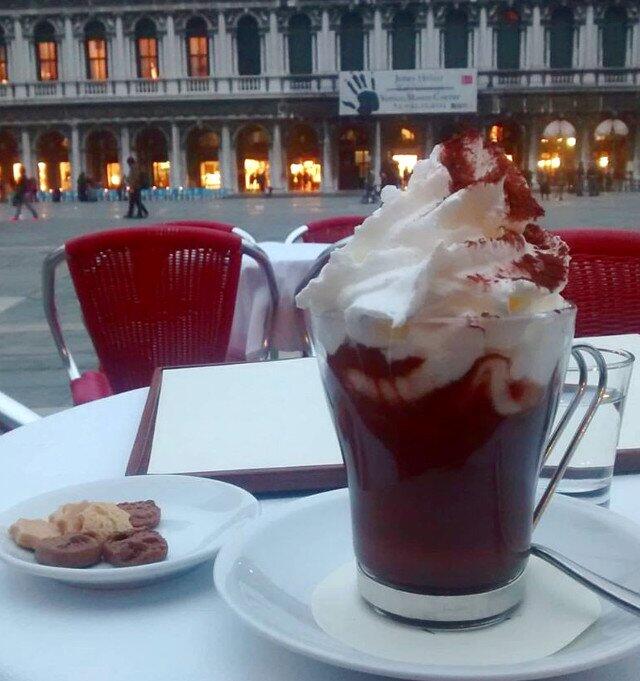 Gam Gam
One of two kosher restaurants in Venice, located in the oldest Ghetto in the world in a very residential area of Cannaregio district, Gam Gam is famous all over town for their amazing hummus and their selection of traditional Jewish starters served with matzah, unleavened bread. Vegetables are the main element of many dishes, and for this reason Gam Gam is particularly suitable for vegetarians. But don't forget that they also serve excellent meat and fish dishes!
Cannaregio, 1122, 30121 Venezia
+39 366 250 4505
gamgamkosher.com
Open: Sun – Fri 11.30 am – 10.30 pm; Sat 7 – 10.30 pm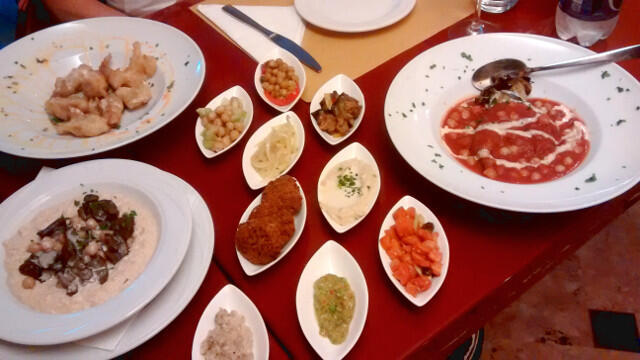 Frary
This is a great restaurant serving Greek and Arab cuisine, set in a beautiful location directly opposite the church of the Frari. You can enjoy delicious meals ranging from the couscous, which comes with a variety of sauces including vegetarian, mutton, chicken or seafood, to the mansaf (rice with chicken, almonds and yogurt). All the while, you can sip on a refreshing retsina wine. The restaurant is very small, so it is better to book. They are also able to offer gluten-free meals.
San Polo, 2558, 30125 Venezia
+39 041 720050
frarys.it
Open: Mon – Sun 11.30 am – 3 pm, 6 – 10.30 pm
L'Osteria di Santa Marina
This is one of the restaurants most appreciated by local Venetians. On entering, you can already sense the atmosphere of a typical Venetian tavern: trussed ceilings and tiled floors are the setting for innovative and refined fish dishes, prepared and seasoned with fresh local products. During the summer, the Osteria's delicacies are often served in the little square where it is located – a strikingly beautiful and quiet place away from the tourist crowds.
Campo Santa Marina, 5911, Castello, Venezia
+39 041 528 5239
osteriadisantamarina.com
Open: Mon 7.30 – 10.30 pm; Tue – Sat 12.30 – 2.30 pm, 7.30 – 10.30 pm 
Vineria All'Amarone
The brainchild of Alfredo Depietri, one of the most established restaurateurs in Venice, Vineria All'Amarone is located in a quiet alleyway near Campo San Silvestro. A meeting point for local Venetians and tourists alike, the informal setting and excellent quality of its food and wines always draws crowds to its tables. Vineria All'Amarone is famous for its selection of fine cheeses served with truffle oil and honey, aromatic cold cuts, large selection of Italian wines, tiramisù (the best in town!) and Sgroppino, a local concoction of Prosecco, vodka and lemon sorbet. Best to book in advance to avoid disappointment. 
Calle Sbianchesini, San Polo 1131, 30125 Venice
+39 041 523 1184
allamarone.com
Open: Mon, Tue & Thu – Sun 10 am – 11 pm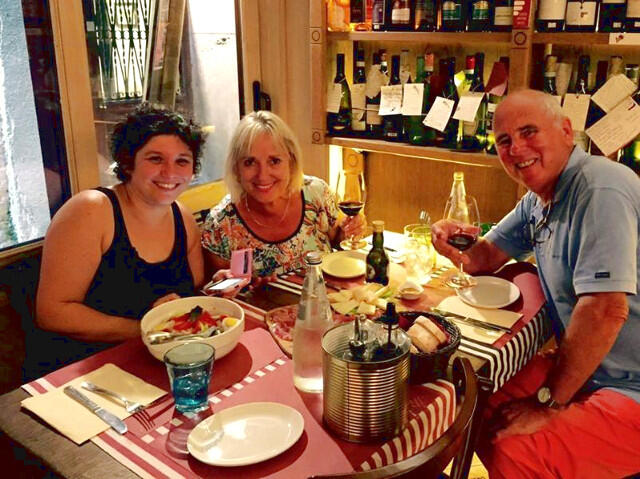 Bistrot de Venise
This historic winery and restaurant is a stone's throw from Piazza San Marco; it doesn't need much introduction as it already appears in most tourist guide books. Bistrot de Venise is famous for the revival of historic recipes, which the owner Sergio and his chefs are careful to adapt to today's palate. All dishes served are homemade, from the bread to the desserts – even the ice creams and sorbets. And the selection of wine, mostly from the North of Italy, is of excellent quality.
Calle dei Fabbri, Sestiere San Marco, 4685, 30124 Venezia
+39 041 523 6651
bistrotdevenise.com
Open: Mon – Sun 12 noon – 3 pm, 7 pm – 12 midnight
Antico Panificio
This is a pizzeria as well as a restaurant near San Polo. Recently taken over by brand new management, their two Italian chefs deliver good-quality food at reasonable prices in a city where this is not always easy. Their mixed Venetian fish antipasti is one of the best in town, as well as their homemade pasta with scampi and zucchini. From the menu, you can choose black cuttlefish with polenta and Venetian-style liver, two of the most typical Venetian recipes. You can also taste real Neapolitan pizza with authentic buffalo mozzarella.
Campiello Del Sole – San Polo, 945, 30125 Venezia
+39 041 521 0137
Open: Mon – Sun 11 am – 12 midnight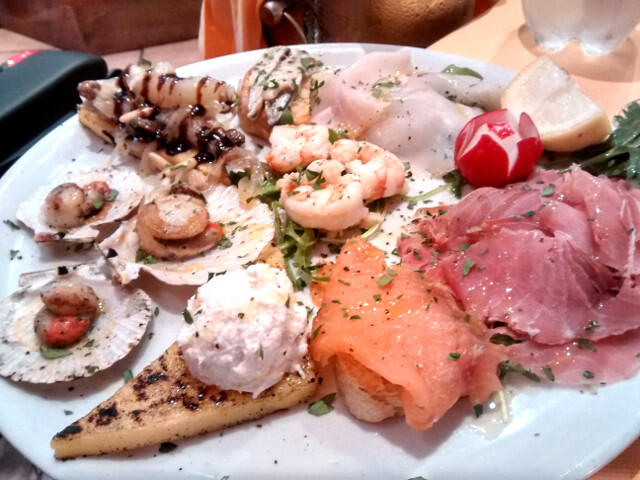 La Zucca
Generally known for being the vegetarian restaurant in Venice par excellence, this restaurant is not actually a vegetarian-only place. Even though La Zucca primarily offers a wide range of dishes prepared with locally grown vegetables, they also serve some meat and fish dishes which are just as good as their vegetarian ones! Of course, their specialties are dishes prepared with pumpkin, hence their name. Book early to avoid disappointment.
Santa Croce, 1762, Venezia
+39 041 524 1570
lazucca.it
Open: Mon – Sat 12.30 – 2.30 pm, 7 – 10.30 pm