4354 Views
One of my fondest memories of living in Italy, not surprisingly, has to do with food. It was a few weeks before Christmas and the dish was tortellini in brodo, round prosciutto stuffed pasta floating dreamily in a delicate broth. A traditional Bolognese holiday dish, I was taught how to mix and roll out the dough, fill each piece with the precise dollop of prosciutto, and then fold and pinch it into a mini origami masterpiece. Christmas music was playing, my Italian sounded a little better than it had a few months ago, Prosecco was opened, and that tortellini was goooooooood. All was right in the world.
My soft spot for Christmas in Rome and Italian Christmas dishes has only grown since then – it's become my own personal tradition to bring home a fluffy Pan d'oro to my own family in the States, and I've grown up enjoying my nonna's seven-fish Christmas Eve dinner. Whether you're Italian, in Rome for the holidays, or simply want to include a bit of Italy into your holiday meal, below you'll find a list of some of my favorite Christmas culinary traditions. Buon Natale and happy eating as always!
5 Foods To Eat in Rome During Christmas
La Vigilia
This Christmas Eve seven-dish seafood feast traces back to the Catholic tradition of abstaining from meat in the days before holy celebrations. As a child, I always found this logic a bit confusing – the heaping plates of fried calamari and shellfish pasta didn't seem like much of a fast to me. While the dishes served vary, salted cod (baccala') is quite traditional. Many restaurants in Rome serve Vigilia dinner, but my favorite is Tema in Monti.
Ristorante Tema
Via Panisperna 96/98
Tel 06486484
T

ortellini or Cappelletti in brodo

Although both are stuffed pastas (meat, cheese or prosciutto are the most common fillings), the tortellini is from the Emilia region and folded into a ring shape while the cappelletti (translated as little hats) are more triangular and from Romagna. On Christmas day, the tortellini/cappelletti are served in a hot homemade broth and can be sprinkled with a bit of grated Parmesan if so desired. It's not all that difficult to find this dish in Rome even though it's commonly regarded as a northern specialty, but why not purchase freshly made tortellini and whip it up at home.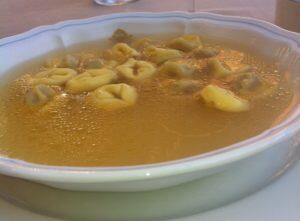 My go to place:
Sorelle Piras
Via del Moro 32 (Trastevere)
Tel 06 580 3759
Torrone
A sticky nougat made with honey and sugar, the torrone typically includes some sort of nut (pistachio, almond, and hazelnut are the most common) and can be either morbido (soft) or duro (hard) in consistency. Both types are more than fine by me. Look for Torrone locally at Valzani in Trastevere.
Pasticceria Valzani
Via del Moro 37
Tel 065803792

Panettone and Pan d'oro
Literally meaning "big bread," panettone is a tall, fluffy sweet loaf dotted generously with raisins, lemon zest, and candied orange. While originally a Milanese dessert (the first recipe can be traced back to the early twentieth century), it is now commonly eaten throughout Italy as well as in other parts of Europe and South America. In Italy, the panettone is cut into thick vertical slices and eaten alongside a hot beverage or sweet dessert wine such as a Moscato.
Dating back to the Middle Ages, Pan d'oro or "golden bread" is a Veronese sweet bread that is said to have been reserved for royalty as it included pricey ingredients such as sugar and butter. Tall like the panettone, the top of the pan d'oro is flat and forms the shape of an 8-point star and is dusted with a coating of powdered sugar, meant to mimic the snowy Alps.
While you can easily find packaged Pan d'oro and panettone in Italian supermarkets, I prefer the freshly made versions you can find at Biscottificio Innocenti and Roscioli.
Biscottificio Innocenti
Via della Luce 21
Tel 065803926
Monday-Saturday 8:00 am – 8:00 pm
Sunday 9:30 am – 2:00 pm
Roscioli
Via dei Giubbonari 21
Tel 066875287
Cotechino e Lenticchie
So what do you eat once Christmas is over? Italians traditionally prepare cotechino, a sausage made with pork rind and spices alongside lentils. The dish is usually eaten on New Year's Day and is said to portare fortuna, or bring good luck in the months ahead. You can buy lentils and cotechino at Volpetti in Testaccio.
Volpetti
Via Marmorata 47
Tel 065742352
Monday-Saturday, 8:00-2:00 pm, 5:00-8:15 pm
Happy Holidays everyone!
* * *
Planning to visit Rome during Christmas, consider one of our popular Rome food tours — food and walking tours through Rome's off-the-beaten-path neighbourhoods.