4248 Views
As you can imagine, religious celebrations in Rome—the seat of the Roman Catholic Church—are a big deal. Christmas in Rome is no different. It's a great to city to visit during the Christmas holiday season—after all it's the place where the celebration of Christmas began with the first Christmas mass ever said at the Church of Santa Maria Maggiore.
From Christmas markets to the lighting of various streets, Rome comes alive at Christmas and these are our top tips for what to do in Rome if you're lucky enough to spend the holidays in the eternal city.
Most of the lights across the city turn on after 8 December (the feast of the Immaculate conception) but be sure to check out some of the other Christmas traditions in Italy.
Try the traditional Christmas sweets
If you like sweets and you're in Rome (or anywhere in Italy) for the holidays, you are in luck!  There are so many traditional sweets to choose from. And there are plenty of options for where to eat in Rome during Christmas—you just have to know what to look for!
You could try Pandoro the star-shaped sweet bread dusted with sugar or Panettone (which originated in Milan but is eaten all over Italy and has conquered the world!) a sweet bread usually laden with dried fruit or sometimes chocolate and looks like a big muffin! Panforte (a dense fruit cake flavoured with cloves and spices that originated in Siena) and Panpepato (also Tuscan, very similar to Panforte but a little more like a dense gingerbread cake).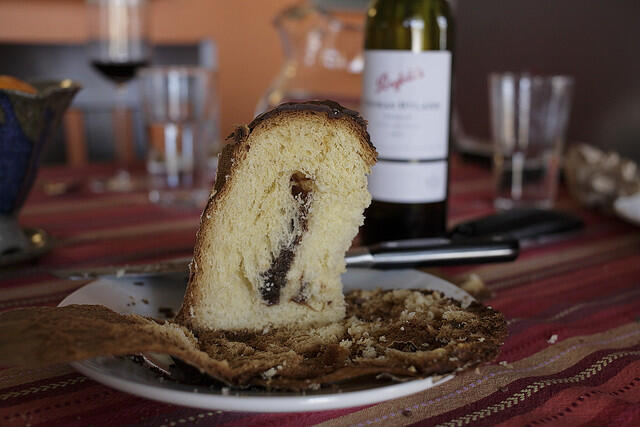 You'll find these treats at markets and bakeries across the city but for some extra special ones, we suggest you head to Barberini (Testaccio), Andreotti (Ostiense) or Roscioli (centro).
And you'll have an opportunity to try some Christmas delights on our tour throughout the holidays (December 17 to January 5).
Piazza Navona Christmas Market
The Christmas Market in Piazza Navona is already up and running. It usually kicks off in late November and runs until early January. Here you'll find many stands selling all kinds of Christmas sweets (including big donuts that can be filled with nutella and nougat or torrone), ornaments and decorations, la befana (doll figures of this Italian Christmas witch), nativity scenes and gifts. There is also a big-merry-go-around and Santa Claus (Babbo Natale) sometimes makes an appearance at night. Then in late December a large nativity scene is erected.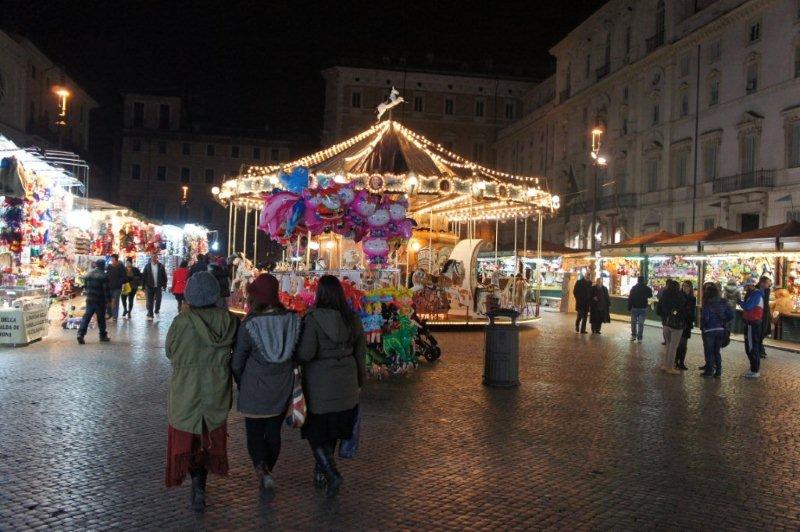 Saint Peter's Square
The Christmas tree in St Peter's Square is famous the world over. The largest nativity scene in Rome is erected here but unveiled to the world on Christmas Eve. Thousands of tourists, locals and pilgrims flock to the Square to hear the Pope deliver midnight mass on this day and there are screens all around if you can't get up close. The Pope also delivers his Christmas message to the world at midday on Christmas day from his apartment window in the Vatican City.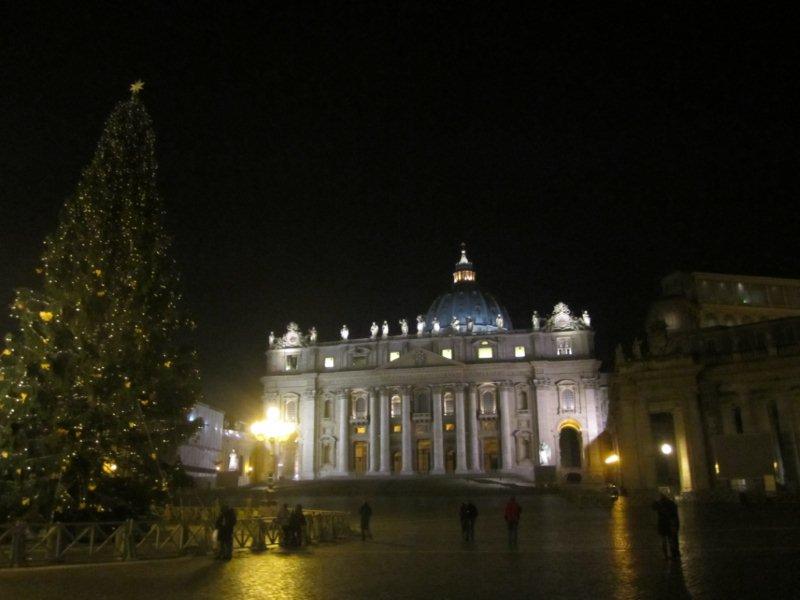 Christmas Trees in Italy
Not really an Italian Christmas tradition, with the global commercialisation of this holiday, Christmas trees have become more and more popular. While the most famous tree in the city is in St Peter's Square, two of the largest are erected in Piazza Venezia and near the Colosseum. And of course shops, hotels, and restaurants display small trees as part of their holiday themeing. Lights are the most common thing to adorn the trees as opposed to ornaments.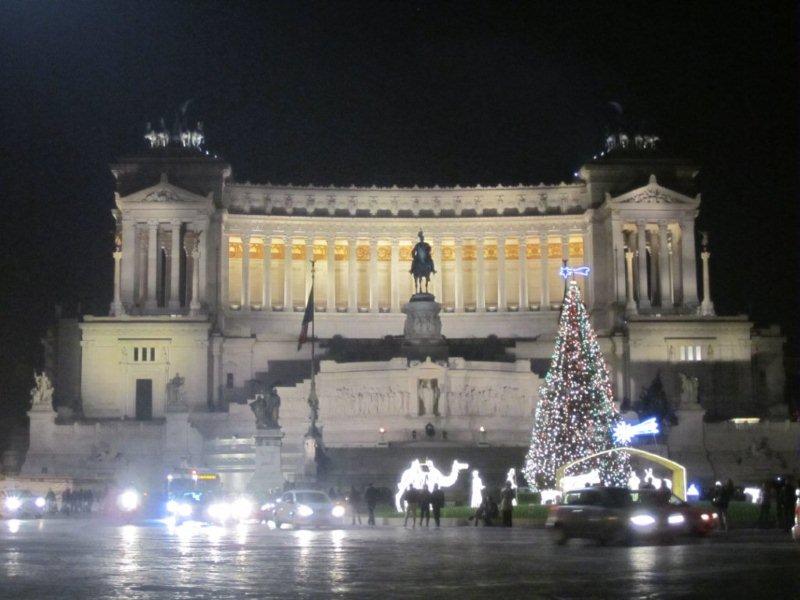 Where to see Christmas Lights in Rome
You can find a pretty light display in Piazza Venezia with a big Christmas tree and nativity scene lit up and standing proud in the centre. Lights generally turn on from 8 December with Via del Corso lit all the way from Piazza Venezia to Piazza del Popolo. Many of the streets near the Spanish Steps like Via dei Condotti and Via Borgognona put up pretty light displays and you will find that the big designer fashion houses in this area like Fendi and Louis Vuitton light up and adorn their windows. You will also find roving musicians and roasted chestnut stands – oh and if you're lucky some vin brulee (hot wine).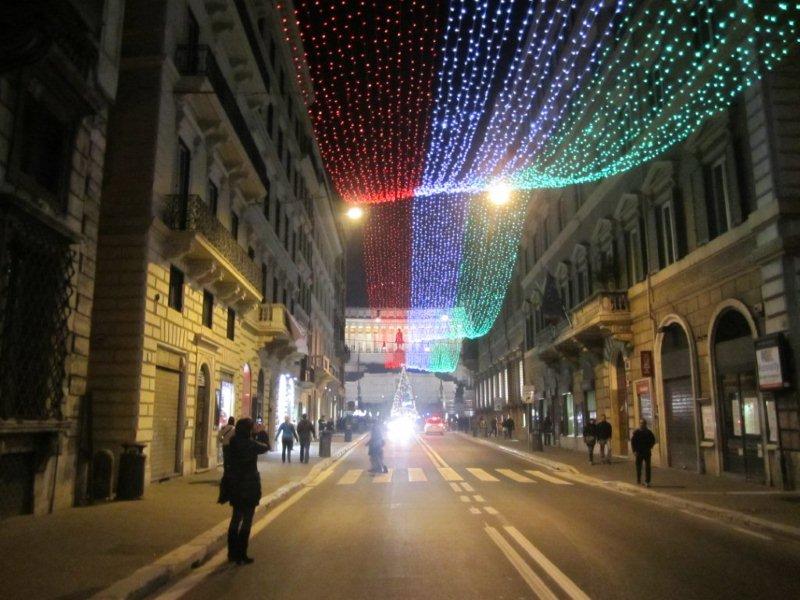 Santa Maria Maggiore Christmas Nativity Scene
It is maintained that the nativity scene or presepio in Santa Maria Maggiore is the oldest in Italy. Carved in marble by Arnolfo di Cambio in the late 13th century it is currently on display in the museum of Santa Maria Maggiore. It was here that the first Christmas mass was ever said and the bells ring at midnight to signify the beginning of Christmas. Read more about the Christmas Nativities in Italy over at Buzz in Rome.
Hanukkah in Rome
With a relatively large Jewish community in Rome, Hanukkah is another important holiday celebrated in December. A large Menorrah is erected in Piazza Barberini with a candle lit each night during the season.
Ice Skating
Near Castel Sant'Angelo you will find a small Christmas market as well as an ice skating rink.  It's open from 10am to midnight daily and attracts locals and tourists alike.
Contact [email protected] with "Blog Enquiry" in the subject title for any feedback or requests for a topic about travel or food in Italy you want us to cover.