5107 Views
Prati is one of Rome's best known shopping areas and close to the Vatican, yet it remains almost undiscovered by tourists. Until the late 19th century, Prati was an undeveloped green area of meadows and farmland. Nowadays, Prati is a wealthy residential area of Rome and boasts not only great shopping, but also a vibrant food scene. For those of you who want to do more in Prati than pass through on your way to the Vatican, you can stock up on some of its delicious products for an easy do-it-yourself dinner or picnic lunch from some of its many specialty shops.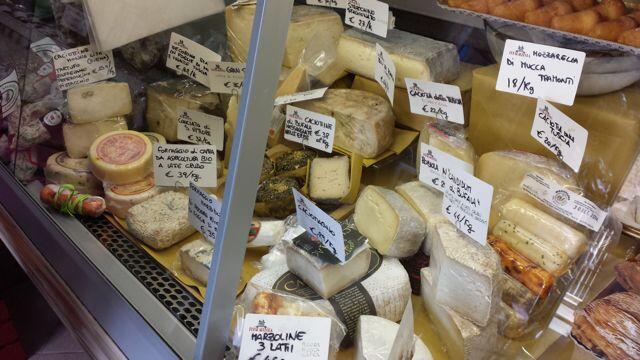 Bufalallegra
If you haven't tried mozzarella made with water buffalo milk then you really should (completely different from the hard, chewy variety I was used to back in the UK). Bufalallegra is a small friendly shop specialising in mozzarella di bufala, ricotta and scarmorza cheeses. Valeria, the owner, is keen to discuss the products and proudly explains the provenance of each. The ricottina, ricotta in tiny pots, was so deliciously creamy smooth and sweet I ate mine with a spoon straight from the pot. You can also buy buffalo meat and salami as well as goat and cow's milk cheeses and other sandwich fillers. Bread is delivered three times a week from Naples. Larger orders of mozzarella can be placed two days in advance. Plans are to open Sunday and Mondays in time for the summer with tables outside for snacking.
Via Orazio, 17
Open Tuesday – Saturday: 9 am – 8 pm
Tel: 06 32 27 287
bufallegra.it
[email protected]
Castroni and Franchi 
Side by side these are two of the best-known foodie havens in Prati. With the heady aroma of coffee spilling out onto the street welcoming you inside, Castroni sells a huge range of international fare, difficult to find in other areas of town. They are my regular suppliers of Heinz Baked Beans and Cadbury's chocolate. There is also a good range of Asian products and, of course, quality Italian goods.
Franchi is the place to pick up hams, salami, cheeses and olives. If you fancy something hot for an easy dinner, pick up a freshly spit-roasted chicken or a selection of cooked vegetables from the tavola calda counter.
Castroni
Via Cola di Rienzo, 196,
Monday to Saturday: 7:45 am – 8 pm
Sunday: 9:30 am – 8 pm
Tel: 06 6874383
castronicoladirienzo.com
Franchi
Via Cola di Rienzo, 204
Monday to Saturday: 9:30 am – 9 pm
Tel: 06 687 4651
franchi.it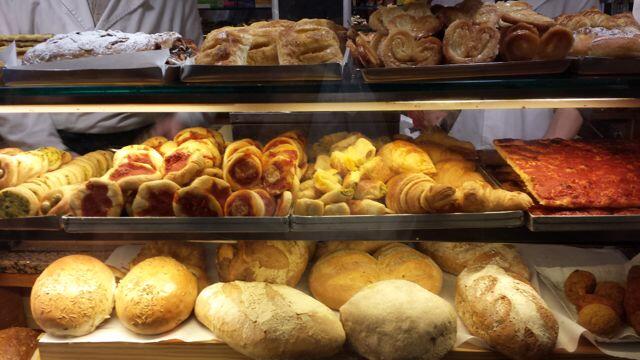 Colapicchioni Bakery
Colapicchioni is a Prati institution. It is so busy that there are sliding doors for the separate entrance and exit. Bread, pizza and sweets line the window displays and counters inside. The pizza bianca is a salty and chewy delight, and make sure you eat it warm. Despite being full of hungry residents, the friendly signora talked me into buying a special dessert as well as the bread I had gone in for. Fresh ravioli complete with recipe advice was also suggested. Next visit…
Via Tacito, 76 – 78
Monday to Friday: 7 am – 2:30 pm; 5 pm – 7:30 pm
Saturday: 7 am – 2:30 pm
Tel: 06 32 15 405
colapicchioni.it[email protected]
Comptior de France
If you're in the Prati area for any length of time and fancy a change from Italian fare, then this French deli and wine shop might be the place for you. In the shade of Castel San Angelo, this chic shop stocks a good range of fresh French cheeses, pates, mouses and most importantly wine.
Via Vitelleschi, 20-24 
Monday: 4 pm – 8 pm
Tuesday to Saturday: 9:30 am – 8 pm
Tel: 06 68 30 15 16 
comptoirdefrance.it
[email protected]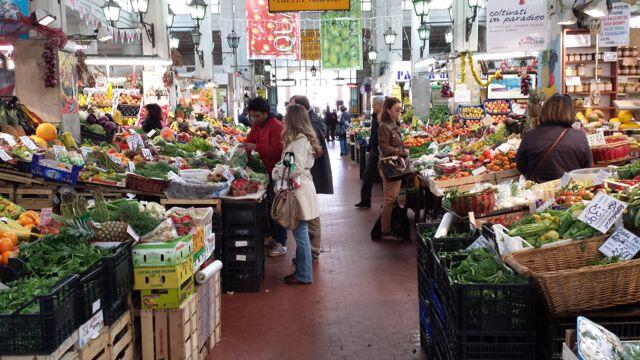 Mercato Piazza Dell'Unita
The covered market on the main Cola di Rienzo drag was built in the 1920s and is a small, neighbourly and therefore less daunting market experience. There are a number of stalls where you can pick up prosciutto, cheese and other supplies. Then throw yourself into the forray, pick a stall where the vegetables are the greenest of greens and the crowds are thronging. Point to the fruit or vegetables that you fancy. Don't be tempted to pick your own, the stall holders are only too happy to help.
Piazza Dell'Unita, Via Cola di Rienzo
Open Monday – Saturday: 6:30 am ­– 7.30 pm 
Romeo
Romeo is a newish addition to the Prati food scene. Not only a top-end restaurant, specialising in meats, cheeses and modern takes on Italian classics, but also a bakery and deli great for quality food shopping. Try one of their unusual sandwiches or wraps, a slice of pizza or quiche and finish with a little cake if you have room. Cheese is always a guilty pleasure for me and any place that stocks real cheddar (which instantly makes me feel at home) will always be a favourite of mine.
Via Silla, 26/a
Open every day from 9 am – 12 pm
Tel: 06 32 110 120
romeo.roma.it
[email protected]