12491 Views
This post was originally published on October 10, 2012.
So you're planning a trip to Italy and you love food?
No you don't just love food, you dream about food. You think about food every waking minute.
Why not combine your road trip with some of these fantastic culinary travel experiences and tours?
Here's our Top 5 Italian food holiday list.
Warning: this post could make you hungry!
UMBRIA
Go Truffle Hunting
Truffles (tartufi in Italian) are part of the mushroom family but grow underground. A highly prized delicacy worldwide, the best truffles in the world come from Italy, namely northern Italy and the region of Umbria.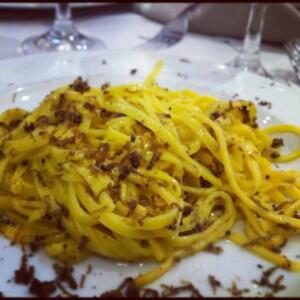 If you miss out on our amazing truffle hunting experience while in Florence, you MUST not miss a truffle hunt while in Umbria! Many tour operators in this area can arrange truffle tours as well as customised itineraries from one day to a weekend to a six day food safari. You can try your hand at truffle hunting with local truffle hunters and their dogs, sampling these precious Italian culinary delights and take part in cooking lessons to learn how to prepare various truffle dishes.
Many of the longer itineraries offer a stay at an agriturismo – a farm house – where you can really immerse yourself in the breathtakingly beautiful Umbrian countryside.
Love Umbria Tours, specialise in tours of Umbria and Tuscany, Italy in particular wine tours, truffle hunting trips, luxury cooking vacations and guided tours of some of Italy's most beautiful cities. Prices for tours are available on request.
TUSCANY
Wine Time in the Tuscan Hills
There is nothing quintessentially more Tuscan than spending a few days in a historical farmhouse and exploring the wineries this gorgeous region has to offer. Tuscany is the biggest wine producing region in all of Italy and is of course most famous for its Brunello, Montepulciano and Chianti.
Many tour operators in the region run wine tours and lunches, culinary courses and educational excursions. Tuscan Wine Tours is run by a group of fun and local wine experts who are not only educators but winemakers!  Their culinary tours include stops at slow food restaurants, enchanting hilltop villages, and family owned and famous wineries.
They run a range of itineraries based on the wine type or region, for instance the Chianti Classico which takes you on a guided tour of some of the most popular Chianti town or you can customise your own.
For more information, visit http://www.tuscan-wine-tours.com/
Oh and if countryside ain't your thing and you find yourself in either Florence or Sienna, check out the Tuscan Wine School for courses as short as an hour to as long as a week!
LAZIO
Eat Your Way Around Rome
It would be remiss of us to not include ourselves on the list of top Italian food vacations! Don't you think?
If you're visiting Rome, one of our culinary tours should be an absolute must on your list. Alongside the Colosseum and the Vatican, eating well and learning about local food history should be a rite of passage if you want to get to know the real Rome during your culinary trip!
Join us as we take you through two  of Rome's most unique neighborhoods: Testaccio, the most quintessential working class and food rich neighbourhoods of the city and Trastevere, with its narrow cobblestone streets will simply enchant you. On each tour you'll sample 8-10 delicious tastings (oh and a little vino!). Right off the beaten track you will discover the best foods in Rome at the restaurants and specialty food stores that locals cherish but few tourists know about and encounter the people behind the city's oldest culinary traditions.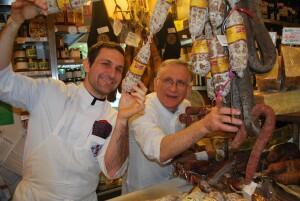 It's an invaluable introduction to the city and we guarantee you will love the food, the locals you will meet and have lots of fun along the way!
Rome Food Tours run three times daily except for Sundays. For more information and bookings, visit our Rome food tours page..
And while you're in Rome, fancy becoming an olive oil connoisseur? Johnny Madge is the only English-speaking olive oil expert for the Slow Food Extra-Virgin Guide in Italy and runs Italian Olive Oil Tours in the medieval village of Casperia just outside of Rome.
CAMPANIA
Cooking Vacation on the Amalfi Coast
Arguably one of the most popular and beautiful coastlines of Italy, the Amalfi Coast is the perfect place for a cooking vacation. Located in the Campania region of Italy (home of buffalo mozzarella!), the area is rich in local produce like eggplants and anchovies but most of all its famous lemons and of course, Limoncello – the lemon flavoured liqueur.
So there is no better place than this ultra food rich region of Italy for a cooking vacation and we can recommend just the place.
The Mamma Agata cooking school is set in the picturesque town of Ravello high above the Amalfi Coast with views that stretch to the Island of Capri and beyond.  Mamma Agata has an extraordinary gift for home-style cooking with vast experience in traditional southern Italian cuisine.  In her life she has cooked for Italian and American Heads of State and many celebrities who frequented Ravello in the 1950s and 1960s including Humphrey Bogart, Elizabeth Taylor and Jacqueline Kennedy. Not a bad repertoire!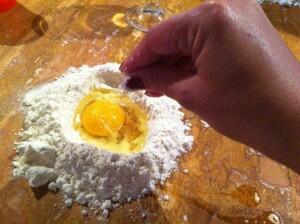 You will cook antipasti, pastas, breads, seasonal vegetable dishes as well as meat dishes. You will learn about the produce used to prepare the meal, picked fresh each morning of the classes at the garden on site. After your cooking class, you get to share in the beautiful meal you've prepared and enjoy the local wines of the Amalfi region (oh and if you're lucky Mamma Agata might offer you some of her homemade liqueurs made from tangerine, apricot and fennel!)
On top of her regular cooking class, Mamma Agata offers pastry classes with just some of the following covered:
Traditional Neapolitan cakes

Typical lemon cakes

Homemade biscuits

Icecream and chocolate masterclases

Children masterclasses
For more information, visit http://www.mammaagata.com.
EMILIA ROMAGNA
Take a Bologna Cooking Break
One of Italy's unsung regions, the food of Emilia Romagna (north Italy) has conquered the world! Think Prosciutto di Parma, Parmigiano Reggiano, Modena's Balsamic vinegar and of course the internationally renowned Bolognese ragu.
In fact, there are so many amazing food experiences offered in this region, you won't know where to start! But we've started to narrow it down for you with some of our favourites including those offered by Italian Days including visits to the Parmigiano Reggiano Cheese Factory and producers of prosciutto and balsamic vinegar.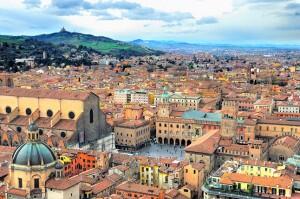 If you're looking for a real Bolognese experience you should take a cooking class at the Bologna Cooking School set in a typical house in the city centre.
So there is no better place in northern Italy than in this region to experience a cooking adventure.  The Bologna Cooking School offers half and full day tours as well as 2-3 day cooking programs.  Most start off with a visit to a local market to purchase all the fresh produce you'll need.  You will then spend your time cooking Bolognese specialties like homemade egg pasta (including tagliatelle, tortellini and lasagne) and off course learn to make a real Bolognese pasta sauce.
For more information about cooking classes in Bologna, visit http://www.bolognacookingschool.com/ and for more information about the food rich Emilia Romagna region visit http://www.emiliaromagnaturismo.it/en.
Contact us with Blog Enquiry in the subject title for any feedback or requests for a topic you want us to cover. Voted one of the best things to do in Rome, Eating Italy Food Tours offer a Rome walking food tour through one of Rome's oldest and most characteristic neighborhoods, showing visitors some of the best places where to eat in Rome.
This post contains affiliate links to products. We may receive a commission for purchases made through these links.