1902 Views
Come visit some of our favorite places in Rome!
Adamo & Emiliano, Salumeria (Delicatessen), ROME, ITALY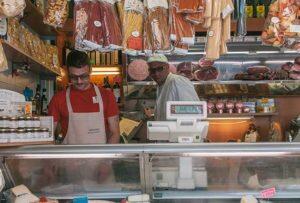 "My great-grandfather opened this stall in 1920 and I love it. My favourite part of my job is selecting new products to satisfy our clientele."
– Emiliano
The two coolest guys at the Trastevere market are without a doubt cousins Adamo and Emiliano. You are always greeted with a warm welcome at their stall which sells fantastic cured meats and cheeses and they will happily guide you in your purchases. They also sell delicious condiments, jams and honeys to pair with their local cheese.
To find Adamo & Emiliano:
Address: Trastevere Market, Piazza di San Cosimato