2742 Views
Eating Amsterdam's Jordaan Food Tour only launched in May 2014, but already over 70 customers have eaten their way around Amsterdam on around 20 tours… And the face of our food tours is none other than Annamaria Suba! Romanian-born but Netherlands-bred (she moved here at the age of 2), Annamaria is known for her Amsterdam expertise, big smile and love of the word "Bakabana" (you'll have to come on our tour to find out why!). Our Marketing Manager, Vicky Hampton, interviews Tour Guide Annamaria about the woman beneath the purple umbrella…
Seven Questions with Annamaria Suba, Eating Amsterdam Operations Manager and Tour Guide
1. How did you come to be a tour guide for Eating Amsterdam Food Tours?
I saw an advert online, and I instantly saw myself in the position. Once I'd applied, Eating Europe's Company Director Kenny Dunn invited me for an interview… I must admit, it was definitely one of the strangest interviews I've ever had! I showed him around various foodie hotspots in Amsterdam (including Butcher Louman and Het Oud-Hollandsch Snoepwinkeltje, which later ended up on the tour), plus Bistro Bij Ons for a Dutch liqueur tasting and Café de Pieper for a beer tasting. I clearly remember at the end Kenny said: "Have you ever had an interview that lasted four hours before?" To which I replied: "More to the point, I've never had an interview that involved drinking beer and liquor before!"
2. What do you like most about the job?
Those moments when everyone is eating, smiling and talking about food – it's so rewarding to see people enjoying themselves!
3. And what's your pet peeve?
I'd never been a guide before I started this job, so in the beginning I kept getting a sore throat from talking for 4 hours straight! I also still can't get used to sounding like a school teacher when I'm making sure everyone crosses the road safely…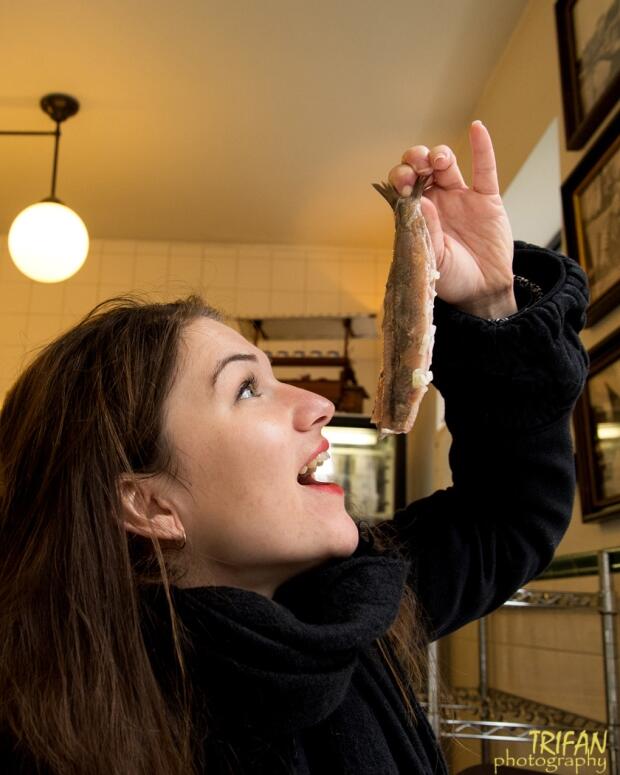 4. What were you doing before you started at Eating Amsterdam?
I was working for online travel company Orbitz in both Berlin and Amsterdam – so I'd been in the travel industry for a couple of years before I joined Eating Amsterdam. Before that, I studied hospitality and business management at Hotel School The Hague, and was lucky enough to do an internship in Melbourne. So I've traveled around a bit!
5. Where did you grow up?
My family moved to Ede when I was 2 years old – it's in the east of the Netherlands, close to Arnhem – and I spent most of my childhood there. It's proper countryside – beautiful, a step back in time, but a bit boring! We moved around to a couple of other places in the Netherlands when I was a teenager, and then I moved to Amsterdam when I was 17.
6. What do you love to do when you're not working?
Not surprisingly given the job I'm in, I love food and travel and having a good glass of wine with friends! But I also enjoy abstract painting, and working off some of those calories at the gym…
7. And finally… what's your top tip for anyone visiting Amsterdam?
Go to the Westergasfabriek area in the Westerpark – there's always something going on there. Craft markets, exhibitions, food fairs, movies, bars and clubs… you name it! As a resident of Amsterdam West, it's my go-to hub for all things fun and social – and it just happens to be right on my doorstep!