6268 Views
This fall Roberto Polica will celebrate fifty years of working in his shop Antica Caciara in Trastevere. Fifty years is quite a long time to work in one place by any standard, old or modern. From behind his counter he's watched his customers grow up, and they have watched him. Roberto's customers are his lifetime neighbours and childhood friends. They are also those who have moved into Trastevere, which is now quite different from what it used to be—a densely populated area. Despite the changes, "Trastevere is still a small village," Roberto says. "You know everybody and they know you."
Antica Caciara was founded in 1900 by Roberto's grandfather Albino. Back then, farmers from the countryside brought their cheeses made from sheep's milk, called cacio, to sell at the Polica's small shop in Trastevere. In Italy at that time there was no word for cheese in general (now formaggio) and all cheese was called cacio. From this, the name Antica Caciara was born, or literally "the old place that sells cheese." The root of its name explains the importance that cheese holds in the shop today.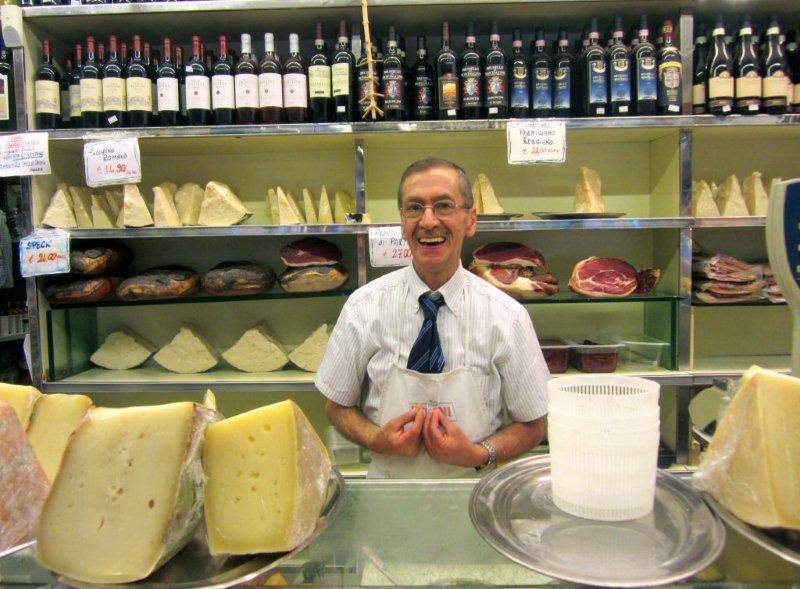 Pass down Via San Francesco a Ripa and you'll smell Antica Caciara before you find it (even more so in summer). The smell of cheese pushes itself out the glass doors into the streets. Pigs' cheeks (or guanciale) hang near the door, and in the window the fresh mountains of snowy ricotta are displayed still in their plastic baskets. Inside the smell of cheese dominates. And it's obvious why. A sheer tower of large, black-skinned wheels of pecorino romano sits in the middle of the floor. Cheese lines the front display case and is stacked in wedges on top of it. More wheels of cheese fill another display case to the side.
If all the varieties of local cheeses weren't enough to get your taste buds stimulated, then the knowledge that these cheeses arrive fresh daily surely will. At 5:30 a.m. Roberto opens his doors to the deliveries that go on for an hour and a half. Burrata (a deliciously creamy mozzarella-type cheese) comes from Puglia. The salumi comes from Norcia (a town famous for its pork products) in Umbria. The mozzarella di bufala is driven up from Campagna. Then of course there is the pecorino that Roberto brings in himself from his own sheep farm. At 7:00 a.m. Roberto opens the doors to customers and his day begins. Already he's busy: customers dart in to pick up cheese and meat before bringing their children to school and heading to work. In Trastevere, the food that Roberto sells is so important that people go out of their way to make sure they have it every day.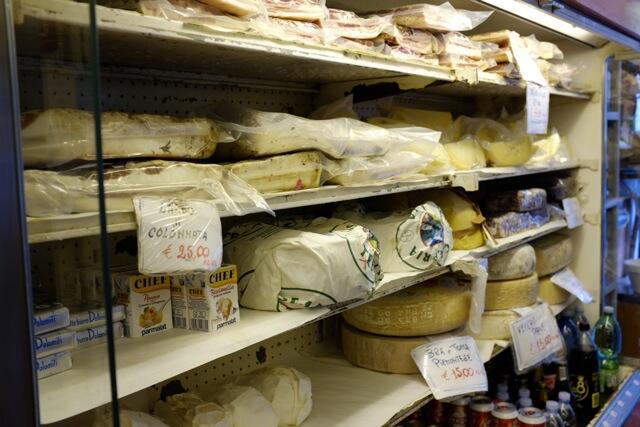 Roberto relays all this to me in his calm and even Italian. His voice is gentle, soft like a Persian cat. Listening to him, you can't imagine him getting angry. And for his even keel he is a respected figure throughout Trastevere. He is always smiling behind his wire-rimmed glasses, always serving high-quality products, always doing his job, always paying respect to each one of his customers. He is known in Trastevere for being as dependable as his over-a-century-old shop.
Separating your eyes from all the cheese, you'll see the that more than just Trastevere sings his accolades. Articles in Chinese, Japanese, English, German, French, and more languages praise the place. Roberto likes to point out a double-spread feature about Italy in a German newspaper because the picture of him and his wife—Anna Chieruzzi, who also works in the shop—is larger than the photo of then-Prime Minister Berlusconi. It is a charming photo that captures the love and partnership the couple uses to run the place.
The other three photographs on the wall, in prime position opposite the door, chart the evolution of the main display case and counter. Standing in Antica Caciara, it's easy to believe that in 113 years this counter is all that has changed. Roberto has preserved the traditional spirit of his ancestors through his love and passion for a way of life that is at least not fading in Trastevere.
* * *
Voted one of the best things to do, Eating Italy Food Tours offer a Rome walking tour through one of Rome's oldest and most characteristic neighborhoods. You can visit Trastevere on your own or on one of our two Trastevere Tours.