2159 Views
One of the Things You Must Do in Rome is Ask Locals Where to Eat
"I didn't really care for the food in Rome." That's what Roger, the IT programmer from Seattle, said to me on the train to Fiumicino Airport and I could feel my heart tighten. Its kind of like when your forgetful younger sister tells you that she accidentally left her cameral on the bus and it had all of the photos from her entire backpacking trip (true story). In moments like these you feel a great deal of compassion for the other person and at the same time you can't help but feeling annoyed at them as well. Damn you Roger! How did you miss out on all the legendary trattorias, the bumping pizzerias, and the bakeries that you can smell from two blocks away. As much as I wanted to express my disappointment, I could do nothing more than shake my head and tell him to email me next time he comes back.
The problem is for every great restaurant, trattoria, or gourmet market there are 5 tourist traps that are doing a great job of ruining Rome's culinary reputation. The story is as old as the Colosseum, people plan out their entire sightseeing schedule, and eating in Rome is just squeezed in whenever their stomach starts to growl at whichever place is most convenient or has the most aggressive hawker. You can't do it not when the stakes are this high. Not when you are jeopardizing the opportunity to eat the best spaghetti alla carbonara that you have ever tried or pizza al taglio that has combinations of toppings that you probably didn't even know existed, or a gelato that wasn't made from some powder mix but with the freshest of ingredients only hours before. I am no food snob and the truth is you don't have to be one to appreciate these basic pleasures. When travelling a delicious meal, especially one that resembles nothing back home can make you forget the 40 C heat, or busloads of other tourists, and even the pathetic state of the US Dollar (as least until the check arrives).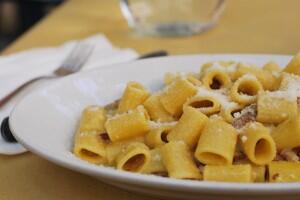 In this town the cure to the common bad meal is rather straight forward- just ask a local where to eat in Rome. Upon carrying out this simple task you will most likely find yourself transported to a place with no pictures on the menu, and if you're really lucky, no English words either. If have those two things going for you than you're probably in pretty good hands and worlds ahead of tourist trap you may have fallen into had you not asked that simple question.
Alternatively you can do a tiny bit of homework before you come to Rome. Just send me an email asking where you should eat and I will happily describe in colorful detail several of the places that make my stomach grow big and happy. Or visit one of the many amazing food blogs and forums on food in Rome.
To give you a little head start I have listed below four places that are so good that it won't be matter what you order it will be just what you were in the mood for. And check out the blogs below for more amazing recommendations.
Restaurants and Trattorias
Pecorino
Via Galvani 64
06.57250539
www.ristorantepecorino.it
All the classics like carbonara and amatriciana are somehow better than almost anywhere else in town and the artichokes a favorite when in season
Flavio Velavevodetto
V. M.TE Testaccio 97
06 5746841
www.flavioalvelavevodetto.it
Try their ravioli alla Flavio is fantastic and their polpette (meatballs) are just amazing.
Roscioli
Via dei Giubbonari, 21
06 6875287
www.anticofornoroscioli.com
The wines and cheeses are worth a visit alone. Not to mention their amazing carbonara. Or just go and have anything from the bakery.
L'Asino d'Oro
Via del Boschetto 73, Rome, Lazio 0084, IT
06 48913832
Their Umbrian spin on the amatriciana is awesome as is their rabbit and lamb.
Italy Travel Blogs
www.parlafood.com
www.foodloversodyssey.com
www.elizabethminchilliinrome.com
www.aglioolioepeperoncino.com
www.anamericaninrome.com