4265 Views
Bruna is one of the stars of Cooking with Nonna, our 4-hour cooking class that teaches visitors to the Eternal City how to prepare classic, home-style Roman recipes (that they naturally get to savor later!). A 7th–generation (!) Roman, Bruna worked in the insurance business before welcoming her twin daughters and became a stay at home mom, homemaker, and brilliant chef. But most importantly, she teaches our cooking classes!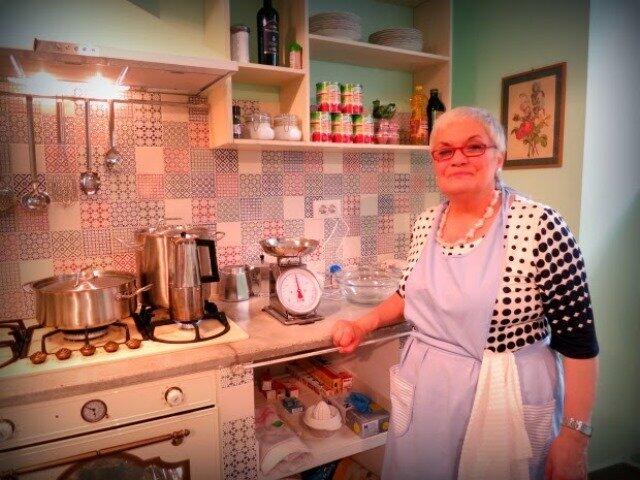 Earlier this week, Bruna sat down with us and shared some of her best tips and insights on the Eternal City.
1) Tell us about your family.
I've been married to my husband Mauro for 45 years. We have 3 children: Fabio who's 43, and Federica and Silvia, who are 40. They're twins – my grandmother was a twin also, so they run in our family. I'm still waiting for grandchildren though!
2) Who first taught you to cook?
My mother taught me how to cook. But I still consider myself a student. I like to try new recipes at home and trade tips with other home cooks. With cooking (as with many other things in life) you never stop learning!
3) The biggest perk about working for Eating Italy Food Tours is…
There's more to Roman culture than just our monuments and iconic attractions. Understanding our cuisine is also understanding our customs, traditions, and thus, our culture – which is Eating Italy's mission.
4) What makes Rome the greatest city on the planet?
Rome is an incredibly unique place. We have monuments, churches, fountains, and piazzas all of great beauty, everywhere you turn. And they're not just your average works of art – they were executed by some of the greatest artists of the Renaissance like Michelangelo, Raffaello, and Bernini!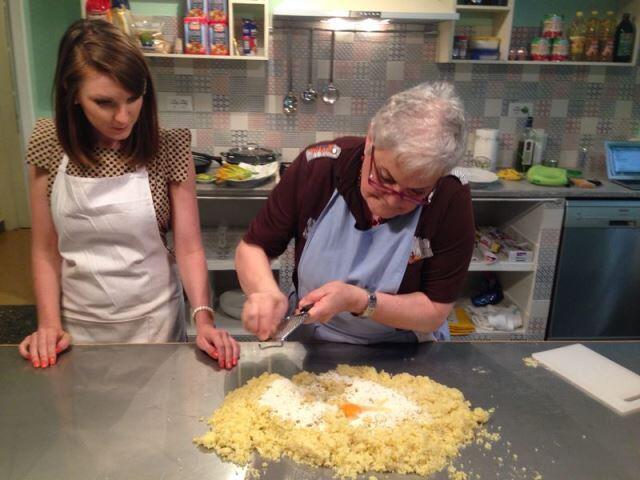 5) Don't leave Rome without…?
Throwing a coin into the Trevi Fountain. That way you'll be sure to return to Rome! Or so the myth says, anyway…
6) What is Rome's best kept secret?
The best kept secrets are the Roman people themselves! We have hearts as big as our beautiful city.
7) If tonight was your last supper in Rome, what might we catch you eating?
There would be many courses (a rich appetizer, a pasta dish, and not one but two secondi – one meat and one fish! – and a fresh, seasonal, fruit salad for dessert) but the company would be the most important aspect, more than the food. I would have my family as my guests: my aunts, my cousins, my children, my husband, and my dearest friends. And of course anyone else who would want to join us! The bigger the group, the better.
8) So you're hosting your own dinner party at home. What knock-out dish are you going to prepare?
It depends on who's coming to dinner! I entertain so often that by now I know the favorite dishes and preferences of my guests. So my menu would change based on them. And I like to think of all of my dishes as knock-out dishes…!
9) What is your favorite part of the cooking class?
I love teaching my students how to prepare gnocchi. Their enthusiasm and delight in discovering how to roll the dumplings down the little gnocchi board (it's what gives them those nice ridges) always makes me smile. Also passing on tips and tricks that can make your time in the kitchen a little easier: for example, don't spend time slicing an onion – use a cheese grater instead!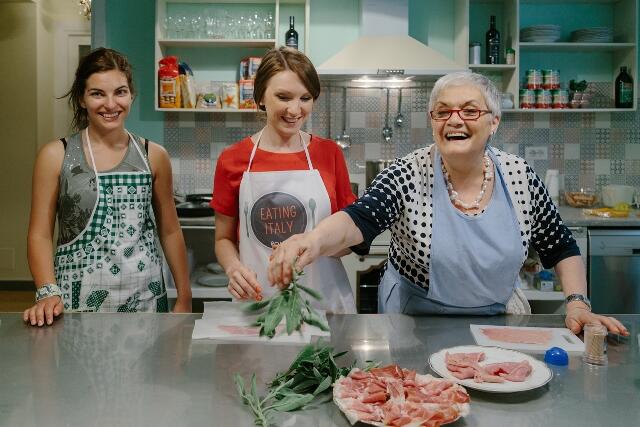 10) What are your hobbies outside the kitchen?
I like reading, going to the theater, movies, knitting, and crochet.