2391 Views
It's no surprise that Rome – the home of the Vatican, St. Francis, and Catholicism itself – is the place to be around Easter time. If you're lucky enough to be visiting and experience Easter in Rome this year, here's all the info you need.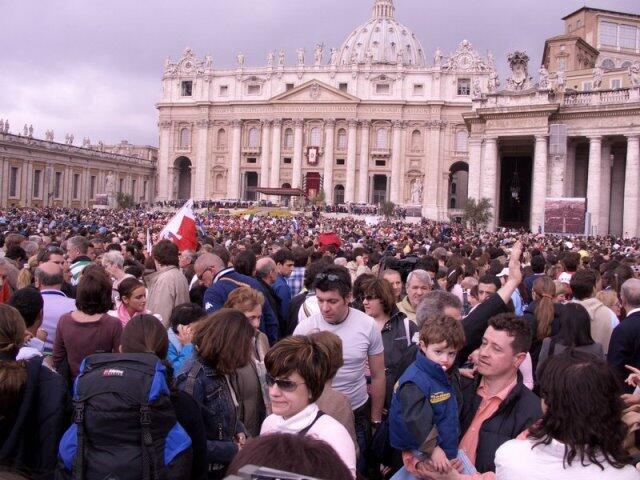 Sightseeing during Easter
Note that while all public museums are open on Easter Sunday and Monday, the Vatican museums and the Sistine Chapel will be closed on both days – plan accordingly!
Holy Week (Settimana Santa)
Holy Week, which begins on March 29 and ends on April 4 this year, starts off with Palm Sunday, which is celebrated with a Papal Mass at St. Peter's Square at 9.30 am and includes the Blessing of the Palms. The rest of the events of Settimana Santa take place more towards the end of the week and offer even more opportunities to see the Pope in action: on Holy Thursday, the Last Supper is reenacted in St. Peter's Basilica, where the Pope washes the feet of 12 priests. On Good Friday, there's a mass with the Pope at St. Peter's Basilica starting at 5 pm. Later that night, the Pope leads the Via Crucis (translated as The Way of the Cross) at around 9.15 pm. The candlelit procession, attended by thousands of pilgrims, goes from the Colosseum to Monte Palatino, and follows the Pope as he leads a prayer at each of the 14 Stations of the Cross, from Christ's death sentence to his burial. On Holy Saturday, there is the night vigil in St. Peter's Basilica, which begins in the evening and continues until midnight, when the ringing of the church bells signals the arrival of Easter morning.
Easter Mass at the Vatican
Easter mass is celebrated at 10.15 am in St. Peter's Square. The mass usually lasts until noon, when Pope Francis gives the traditional Easter blessing: Urbi et Orbi. Tickets for the seats at the mass are free, but need to be reserved very far in advance. If you do not have a ticket, you can most certainly attend the mass anyways, but plan on having to stand among a very large crowd for the duration – the square is sure to be packed that day.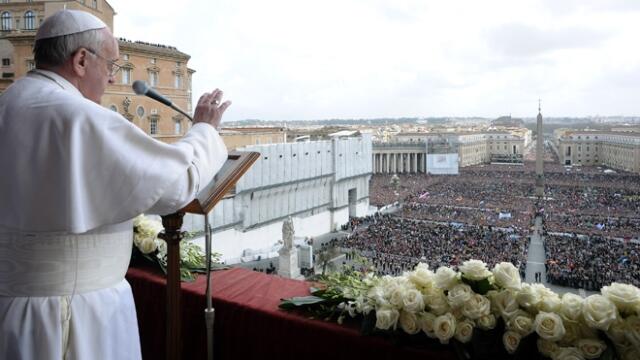 Where and What to Eat
If you're in Italy around Easter, it is essential that you try colomba, a dove-shaped cake (colomba means dove in Italian) that is topped with sugar and almonds and is traditionally eaten for this holiday. The classic colomba is made with candied orange peel (called canditi) but you can also find versions without it if you prefer. Most bakeries will offer homemade colomba at this time of the year – my favorites come from Panificio Mosca, which is conveniently located near the Vatican (Via Candia 16) and Roscioli, in Via dei Giubbonari.
If you're having your Easter lunch in a Roman restaurant this year, keep in mind that many will be closed. A few of my favorites that are open during Easter are listed below.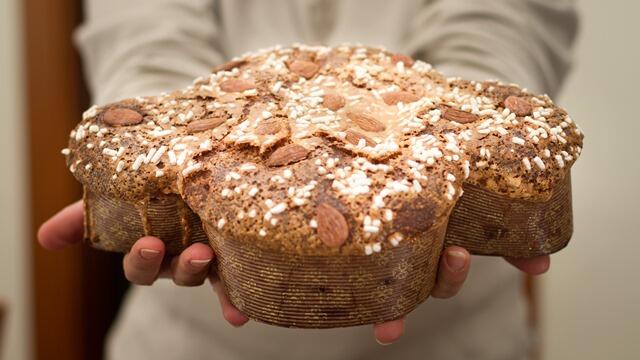 Da Bucatino – One of my favorite restaurants in the Testaccio neighbhorhood, Da Bucatino specializes in classic Roman cuisine. Their version of bucatini all'amatriciana, served in a deep bowl with lots of pecorino cheese, is one of the best I have ever tried. Expect the usual menu with the addition of a few new dishes for Easter.
Via Luca della Robbia 84
+39065746886
bucatino.com
Open: Tue – Sat 12 noon – 3 pm and 7 – 11.55 pm
Flavio Ve l'avevo detto – Flavio Ve l'avevo detto is another great restaurant if you're looking to sample typical Roman dishes. Besides preparing delicious food, the restaurant is also located in a pretty unusual setting – it is built into Monte Testaccio, a hill made from an enormous pile of ancient Roman amphorae that accumulated over many years. Check out the glass wall in the restaurant that affords a good view. In addition to their normal menu they will also be offering a few Easter specialties, like abbacchio al forno (roast lamb).
Via Monte Testaccio 97
+39065744194
ristorantevelavevodetto.it
Open: Daily 12.30 – 2.30 pm and 8 – 11.30 pm
Il Margutta – A vegetarian and looking to skip the lamb at Easter? Look no further than Il Margutta, a vegetarian restaurant near Piazza di Spagna that has been open since 1979. Their ravioli with burrata cheese filling are divine. In addition to serving their normal menu, Il Margutta will also be offering a buffet of €35 per person for Easter.
Via Margutta 118
+390632650577
ilmarguttavegetariano.it
Open: daily 12.30 – 3.30 pm and 7 – 11.30 pm
Ristorante Jolly – Though you will find a few Roman dishes on the menu at Ristorante Jolly, the restaurant specializes in Sardinian cuisine with great seafood dishes. Try the ravioli di cernia – easily the best dish on the menu. In addition to their usual menu, Ristorante Jolly will also be offering two fixed menus, one focused on seafood and the other on meat. Each costs €40 and offers an appetizer, first course of pasta, second course of meat or fish, and dessert.
Via Marcantonio Bragadin 56 (close to the Cipro subway stop, not far from the Vatican)
+390639733727
No website available
Open: daily 12.30 – 3 pm and 7.30 – 11 pm.
Taverna Fori Imperiali – Located in the cozy Monti neighborhood not far from the Colosseum, Taverna Fori Imperiali is a favorite of New York Times food critic Frank Bruni. Be sure to try their cacio e pepe al tarfufo and ask for a list of their daily specials. The restaurant will be offering their usual menu along with a few special dishes for Easter, like agnello (lamb).
Via Madonna dei Monti 9
+39066798643
latavernadeiforiimperiali.com
Open: Mon & Wed – Sun 12.30 – 3 pm and 7.30 – 10.30 pm
Trattoria Perilli – For old-school, unpretentious Roman fare, look no further than Trattoria Perilli – lunch here feels like a meal at my grandparents' house. Over Easter, Perilli is only open at lunchtime (12.30 – 3 pm) and will be offering their normal menu as well as some Easter specialties.
Via Marmorata 59
+39065755100
trattoria-romana.it
Open: Mon, Tue and Thu – Sun 12.30 – 3 pm and 7.30 – 11.15 pm
Lo Zodiaco – Situated at the top of the Monte Mario hill, Lo Zodiaco offers a stunning view of Rome while you enjoy your meal. In addition to its usual menu, Lo Zodiaco will be offering a fixed menu for €40 per person consisting of an appetizer, first course, second course, and dessert. Check their website to see what will be on the menu.
Via del Parco Mellini 88/92
+3906 35496744
zodiacoroma.it
Open: daily 12.30 – 3.30 pm and 7 – 11.30 pm
La Pasticceria Siciliana – If you're looking for a café that is open for Easter breakfast, try La Pasticceria Siciliana, not far from the Vatican – in addition to serving up the usual cornetti that day, they will also be sure to have some freshly baked colomba.
Via Cipro 79
+390639746807
lapasticceriasicilianaroma.it
Open: daily 6.30 am – 11 pm
For any other restaurant you have in mind, do remember to call in advance and to be sure that they're open – and for a meal on Easter, do make a reservation!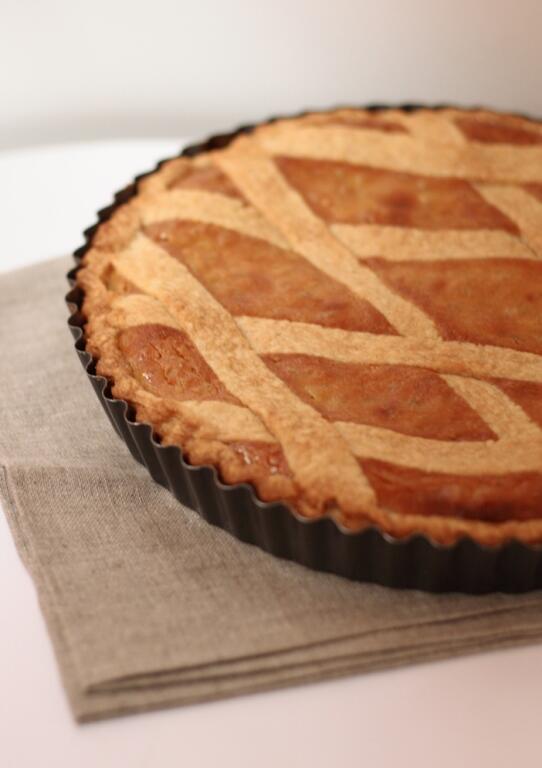 Easter Recipes
If you're looking to try out some classic Italian Easter recipes at home, be sure to keep in mind: pastiera, a traditional ricotta cake made with orange zest and grain, carciofi alla romana, or braised artichokes with mint, and of course, agnello or roast lamb.
Pasquetta Holiday in Rome
The day after Easter Sunday is a public holiday in Italy, called Pasquetta, which literally means "little Easter." Pasquetta is a day where Italians traditionally organize picnic lunches with their friends and families. If you're looking to spend Pasquetta in Rome like the Italians do, head to Il Giardino degli Aranci, Villa Pamphili, or Villa Borghese, which all offer a great setting for a picnic.